Bydgoszcz 2021: Athletes to look out for
Plenty of European, Paralympic and world champions among the nearly 700 athletes competing in Poland next week
27 May 2021
Imagen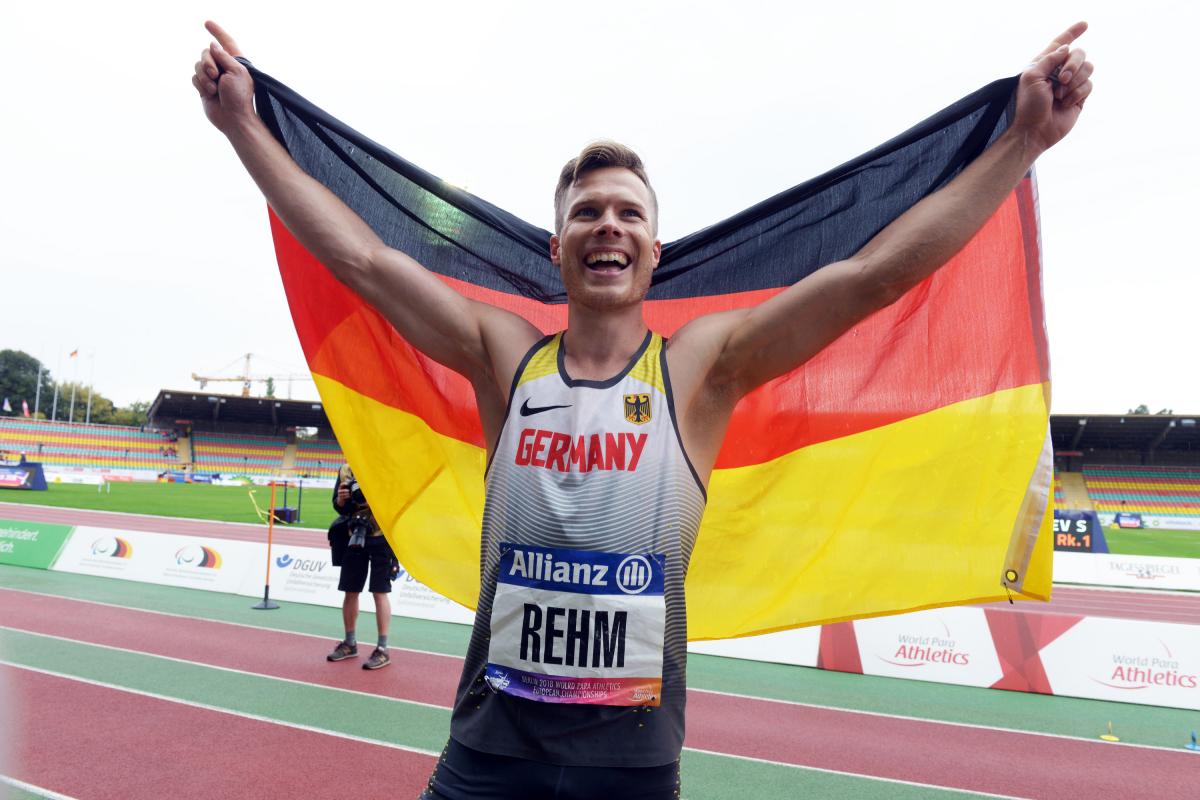 ⒸRalk Kuckuck/BS Berlin
By World Para Athletics
Some of the world's best athletes will be heading to Bydgoszcz, Poland in early June for the 2021 European Para Athletics Championships.
It will be seventh edition of the Europeans, and the first to take place in Poland. The country finished first in the medals tally at the last Championships in Berlin, Germany in 2018.
The competition kicks off on 1 June (Tuesday) with nearly 700 competitors from 44 nations. Here are some of the top names to watch in 86 track, 20 jump and 58 throw events.
Four Jumpers
Fleur Jong, Netherlands
The women's long jump T64 on 4 June will be one of the highlights of the European Championships. France's Marie-Amelie Le Fur took gold at Berlin 2018 with Dutch jumper Marlene van Gansewinkel in second and Great Britain's Stef Reid in third. The trio will be in Bydgoszcz facing a new medal contender in top form.
Two weeks ago, Netherlands' Fleur Jong became the first female T62 athlete to go over the 6m-barrier in the long jump with a new world record of 6.02m at the Nottwil 2021 Grand Prix in Switzerland (81cm better than her previous record).
Luca Ekler, Hungary
When Luca Ekler arrived in Berlin for the 2018 Euros she was a newcomer in a team that had failed to win a gold medal at the previous Europeans in Grosseto, Italy in 2016. Three years later, she comes to Poland as the European and world champion in the women's long jump T38.
Ekler will go for her second European title in the morning session on 4 June. The 22-year-old will also compete in the women's 100m and 400m T38.
Markus Rehm, Germany
Germany's blade jumper may have four Paralympic gold medals to his name, but the European Championships are certainly special for Markus Rehm.
The men's long jump T64 world record holder will compete right on day one looking at beating his own mark established at the Berlin 2018 Euros (8.48m). Earlier in May Rehm jumped 8.47m in a national competition in Germany.
Oksana Zubkovska, Ukraine 
The Ukrainian T12 long jumper has dominated her class for more than one decade. Oksana Zubkovska is the current three-time Paralympic champion (Beijing 2008, London 2012 and Rio 2016) and also three-time world champion.
Surprisingly enough, Bydgoszcz 2021 will mark her European debut and she will be name to beat at the women's long jump T12 on 3 June in the morning session.
Four racers
Kayleigh Haggo, Great Britain
Berlin 2018 made history as the first major Para athletics championships to count with RaceRunning events in the competition programme. Kayleigh Haggo took a silver in Germany and then turned it into gold one year later when RaceRunning made its World Championships debut at Dubai 2019.
The British runner will compete in the women's 100m RR3 in the evening session on 4 June.
Marcel Hug, Switzerland
Switzerland will field one of the strongest wheelchair racing teams in Poland led by two-time Paralympic champion Marcel Hug. 
The Swiss Silver Bullet will take on the men's 800m, 1500m and 5000m T54. He took gold in all three races at Berlin 2018.
Peter Genyn, Belgium 
The Belgium wheelchair racer switched from wheelchair rugby to Para athletics in 2014 and in that same year took two silver medals at the European Championships in Swansea, Great Britain.
Since then he has topped the podium twice at Paralympic Games and has won gold in all Euros – including two at Berlin 2018. Genyn will compete in the men's 200m T51 on 2 June and the men's 100m T51 on 5 June.
Timothee Adolphe, France
European champion in the men's 100m T11 at Berlin 2018 and world champion in the men's 400m T11 at Dubai 2019, the French blind sprinter will be in action in both events in Poland. Adolphe is set to compete in the 400m on 3 June and in the 100m on 5 June. 
Four throwers
Alia Issa, Refugee Para Athlete Team
When Alia Issa comes to the field on 3 June to compete in the women's club throw F32 she will be come the first female refugee athlete to take part in the European Championships.
Born in Greece in a family of Syrian refugees, Issa number one objective in Bydgoszcz is to achieve a good mark to earn her the qualification to the Tokyo 2020 Paralympic Games in August. 
Faustyna Kotlowska, Poland
The Polish thrower discovered Para athletics watching the Rio 2016 Paralympics and two years later was already on the podium as a bronze medallist in the women's discus throw F64. She repeated the result at the Dubai 2019 World Championships but last year broke the world record in the event (36.53m) at a national competition in Krakow and is favourite for gold at home.
Faustyna Kotlowska will be one of the starts to join the action on day one morning session on 1 June.
Kim Lopez, Spain 
Spain will travel to Poland with 43 athletes and among them will be Rio 2016 men's shot put F12 Paralympic champion Kim Lopez.  He topped the European podium at Swansea 2014 and Grosseto 2016, but finished behind Ukraine's Roman Danyliuk both at Berlin 2018 and the Dubai 2019 Worlds. 
Lopez and Danyliuk will meet again at 10:00 AM on day one in Bydgoszcz.
Manolis Stefanoudakis, Greece 
Rio 2016 Paralympic champion in the men's javelin F54, Manolis Stefanoudakis is a two-time world champion who missed his third gold by one centimetre at Dubai 2019. 
He will be in search of his first European gold following four consecutive silver medals (Stadskanaal 2012, Swansea 2014, Grosseto 2016 and Berlin 2018). Stefanoudakis competes on 5 June, closing day at Bydgoszcz 2021.