Sprinter and hip-hop artist Timothee Adolphe preaches positivity
French Para athlete releases new single "La Banane"
08 Sep 2020
Imagen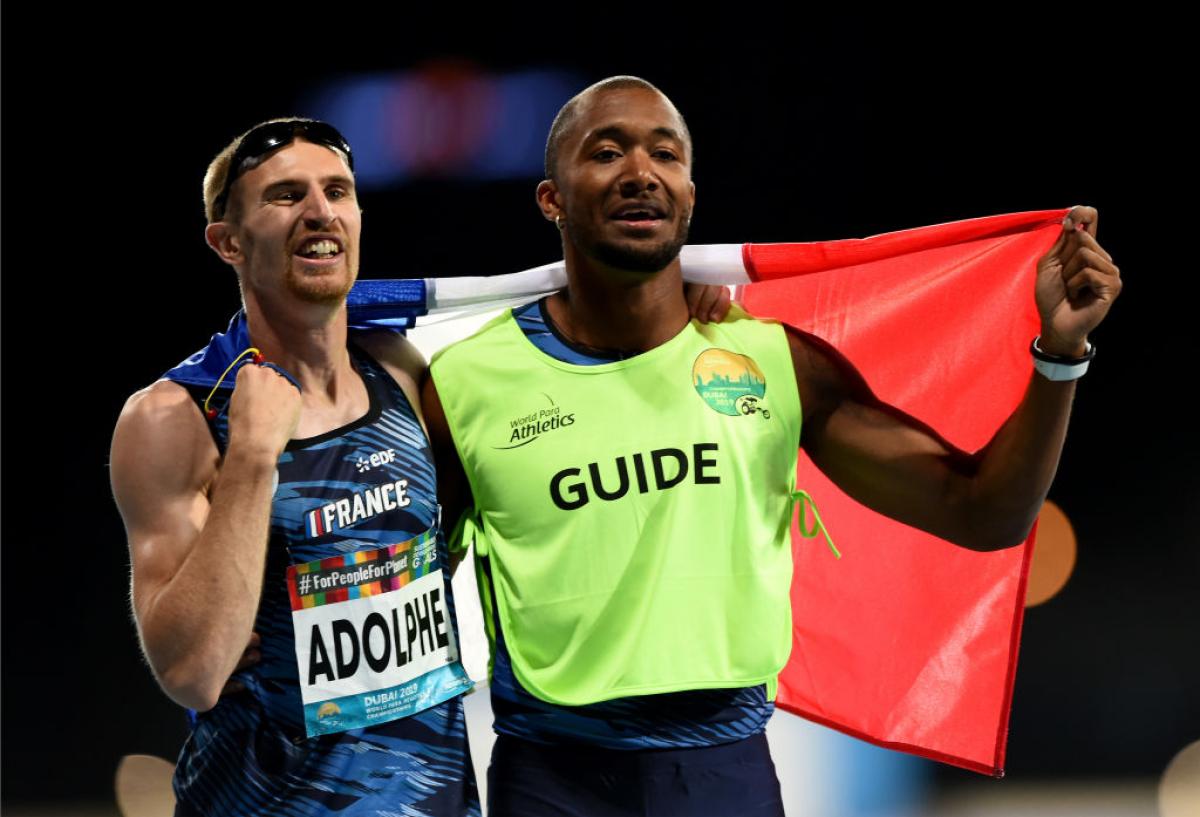 ⒸGetty Images
By Aryanna Prasad | For the IPC
With all the challenges from the COVID-19 pandemic, French Para athlete Timothee Adolphe is motivating people to power through adversity by keeping their bananas. 
Adolphe's banana endorsement is not nutritional advice. In French, the expression "avoir la banane" means "to have the banana," a figurative description of an enthusiastic, face-splitting grin. It is part of the lyrics in the 400m world champion's latest rap single "La Banane," which describes his personal story, with the lyrics expressing how he grew up with a disability.  
"It's a universal idea — I'm not sure about the US, but in France, this resonates with people with a disability," said Adolphe, who won the 400m and silver in the 100m T11 events at the Dubai 2019 World Para Athletics Championships. 
"There are often people with the idea, 'Oh, poor thing, he can't do this, he can't do that,' so the idea behind 'La Banane' is to say, 'Voilà, here is a typical journey for a person with disability—my life is full of projects, and it doesn't stop me or my game from being equal, nor does it dim my smile.'"
One line in his single reads: "My story as a little guy, with great damage, collecting incidents: valiant and unconscious. Retinal detachment: I screw up badly. Right after the cataract, my eyesight falters. Right eye loss, I'm three years old, but don't feel sorry for me."
The runner-turned-Renaissance man cites quite varied musical influences, from hip-hop and reggae to nature sounds and piano instrumentals. While Usain Bolt and Michael Jordan are two of his personal heroes, his musical "heroes" include talented R&B crooners Neyo and Drake. 
When asked about his workout playlist, the competitive Adolphe laughed and described it as "a little warlike." His appreciation for battle tunes translates to his own work, encouraging fans to tackle obstacles as they seek happiness. 
"There's a theme of difference, of how a smile can capture your essence," he said. "After all, a smile costs nothing to wear—it's not a big thing, but it's actually worth a lot." 
When the 30-year-old learned that the Tokyo 2020 Paralympics would be postponed to next year, he described it like a "blow to the head" but remained optimistic. 
"I am someone who's very positive, so I said to myself, 'Let's try to use this time to prepare to be even better for next year,'" he recalled. "Now I have even more time to perfect myself and be in the best shape."
Adolphe took quarantine limitations in stride, training during France's confinement by cycling as his coach and former Olympian Arthemon Hatungimana guided him through workouts over the phone. Towards the end of June, they reunited and trained with next year's Games in mind.
The vision impaired athlete holds 100m and 200m European records. When asked if he has any goals for 2021, he replied, "I'd like to go and seek a new world record." 
The 100m T11 record is held by the USA's David Brown (10.92), and Adolphe has complete confidence in his preparations under coach Hatungimana, who has trained the sprinter since he was a 10-year-old growing up in Guyancourt, France. Adolphe's athletic team Team du Guepard Blanc (TGB) "knows him perfectly", according to Adolphe—and they have a good feeling about tackling the world record in 2021. 
The postponement has also opened more family time in the countryside. When he is not relaxing in the garden, the French athlete is hard at work on his creative projects. He has a one-man show scheduled for the end of November, and he plans to drop his first hip-hop EP this September. Adolphe also plans on adding another first to his resume next year: he is set to release the first-ever video game for people with a vision impairment in early 2021.