Canadian stars to face international rivals again as World Cup returns to Canmore
Beijing 2022 qualifications on the line as Canada hosts six Para cross-country and biathlon races with over 125 athletes from 15 nations
03 Dec 2021
Imagen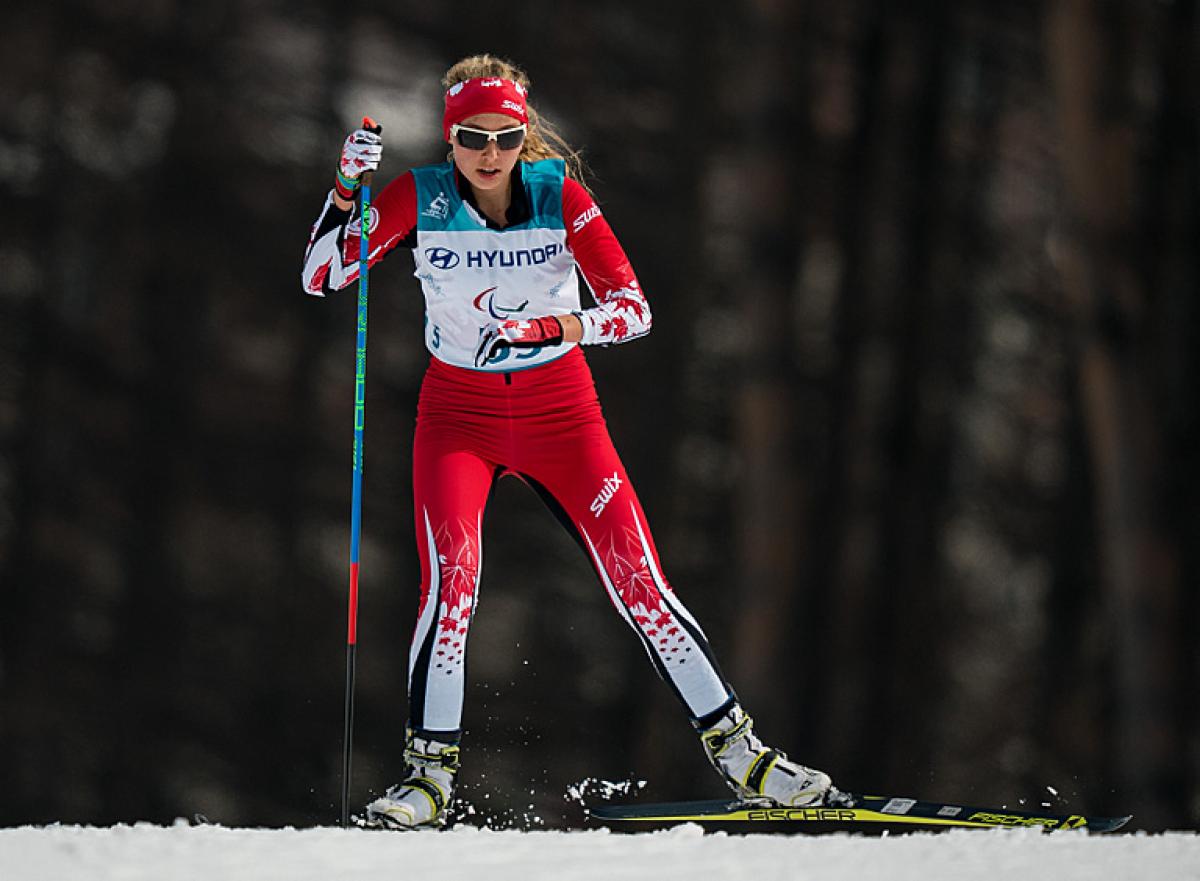 ⒸBob Martin for OIS/IOC
By Lena Smirnova | For World Para Snow Sports
The World Para Nordic Skiing World Cup is returning to Canmore, Canada this weekend as the home athletes look to measure up against their foreign competition again after spending most of past season out of the international spotlight.
Canmore is hosting six races in Para cross-country and Para biathlon from 4-12 December to open the 2021-22 World Cup season. Over 125 athletes from 15 nations are set to participate in the event, including 17 homegrown stars. 
MAPLE LEAFS
The Canadian team has representation in five of the six categories featured in Para Nordic skiing, including 13-time Paralympic champion Brian McKeever in the men's vision impaired, men's and women's standing Paralympic champions Mark Arendz and Natalie Wilkie, and three-time Paralympic bronze medallist and 2019 world champion in men's sitting Collin Cameron.
With the exception of a small group of athletes who competed at the season's closing World Cup in March 2021, most Canadian skiers did not take part in international races last season and will be testing themselves against foreign rivals for the first time after a long break.
This includes triple Paralympic medallist Natalie Wilkie.
"This upcoming season is big for me, and it's different in that I haven't raced against my international competitors for almost two years," Wilkie said. "My only benchmark has been racing and training with my Canadian teammates, so competing at the Canmore World Cup will give me a good idea of where I rank in the world."
Wilkie will take part in all six races at the Canmore World Cup with her toughest competition likely to come from fellow PyeongChang 2018 champion Ekaterina Rumyantseva and teammate Brittany Hudak who took two bronze medals at the World Cup in Vuokatti, Finland last spring.
"I am expecting a good hard competition in Canmore to start off this season. There are many athletes competing who are fast in the early season, but every skier here is hungry to race again and I am looking forward to many hard battles," Wilkie said.
"One athlete who stood out to me last year is my teammate Brittany," she added. "She skied very well, and knowing where Brittany was placing on the international stage was a great benchmark for me since she and I train together a lot."
The women's standing competition will also feature the World Cup debut of Nepal's Sita Bhandari who previously competed in Para taekwondo.
SKI TRACKS TO BEIJING
Like his teammate Wilkie, Collin Cameron is returning to international racing during the Paralympic year and hopes to get the season off to a good start on home snow in Canmore.
"The biggest challenge, managing travel with COVID aside, will be just not doubting my own abilities that have gotten me to where I am now in my sport," Cameron said. "It will be great to get back to some racing with the best athletes in the world and see where I'm at going into this really unique season."
Cameron last competed at a World Cup in Altenberg and Dresden, Germany in January 2020, winning a medal in three of his four races. Aside from going for medals at the home World Cup, Cameron is hoping to use it to gain momentum for the Beijing 2022 Paralympic Winter Games.
"Going into this year is unique because I'll be experiencing my first full 'quad' of training full time since jumping into Para Nordic and biathlon in late 2015," Cameron said. "I'd like to build on my past results from four years ago and hopefully add some more colours to all the bronze sitting in my mother's china cabinet!"
Cameron's top competition in the men's sitting class will be multiple Crystal Globe winner Ivan Golubkov of Russia and the only man who managed to defeat him, twice, last season, Giuseppe Romele of Italy. Skiers from USA and Great Britain could also challenge for medals.
Great Britain's Steve Arnold did race at the World Cup level last season, thus collecting the points needed to be eligible for Beijing 2022 where he hopes to make his Paralympic debut. 
"With the main goal of this season being the Paralympic Games and trying to qualify for that I'm mostly training through the World Cups and World Championships to put me in the best shape possible for Beijing," the British sit skier said of his season's goals.
Like many athletes, Arnold has used the COVID-time lull in competitions to hone his technique. 
"Although it was difficult to get away on snow and training camps, it was easy to train on roller skis and in my small gym at home without the usual distractions of normal life," Arnold said, adding that he saw the biggest change in his sprint performance. "I've never really liked the sprint race but with the improvements I've made in the gym and on my pole speed I'm definitely in a better place than I was in previous season."
CANMORE CONTENDERS
Canmore has hosted the Para Nordic World Cup twice since 2005 and is considered one of the best ski courses in the world. For Canadian athletes, it is also a regular training ground.
"I'm very excited to be racing on home snow here in Canmore," Wilkie said.
"It is a confidence booster to be so familiar with the course, and know from experience how I can race it and which sections to push hard on. I'm also thrilled to have many Canadian friends and family coming out to Canmore to cheer for me and my teammates."
Aside from strong representation in the women's standing and men's sitting classes, the home team is likely to get medals in the men's vision impaired races where Canada's most decorated winter Paralympian of all time, Brian McKeever, will face off against long-time rival Zebastian Modin of Sweden and last season's Russian winners Stanislav Chokhlaev and Nikolai Polukhin.
In the women's vision impaired, it could be a Russian sweep with Vera Khlyzova and Anna Panferova leading the charge. Their teammates will also be trying to extend their dominance in the men's standing class as Vladislav Lekomtsev, who was undefeated last season, races against France's Benjamin Daviet who came closest to beating him on several occasions.
Meanwhile in the women's sitting, the advantage will be with the USA skiers, Oksana Masters and Kendall Gretsch. Both skiers recently added gold medals from the Tokyo 2020 Paralympic Games to their winter gold from PyeongChang 2018.
Complete results from Canmore 2021 will be available on the World Para Nordic Skiing website.