Day 1 review: Australia's Greco snags first gold of Games, China sabre sweep
Australia finish first day on top of the medals table with 10 while China come in second with a total of eight, including five golds
25 Aug 2021
Imagen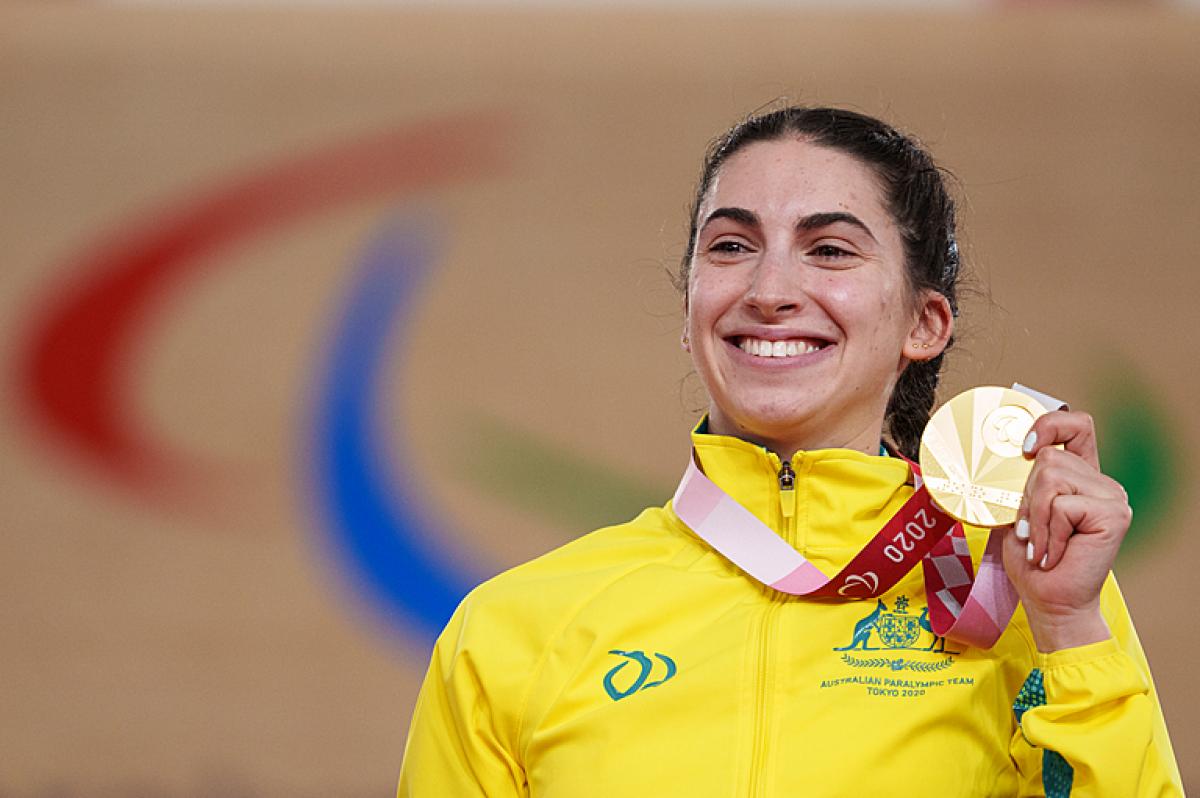 ⒸOIS/IOC
By IPC
Australia opened the Tokyo 2020 Paralympic Games with a golden start on Day 1 (25 August), thanks to a pair of world record times in the track cycling at Izu Velodrome.
Paige Greco became the first gold medallist of the Games, and also won her first Paralympic title on the track, in the women's C 1-3 3000m individual pursuit. The two-time world champion twice lowered her world record, an even more impressive feat since launching into the spotlight only two years ago. 
"It means so much," the 24-year-old said. "When I think about all the people that helped me get here, the staff and all my friends and family, it's amazing. I owe it all to them."
Her compatriot Emily Petricola followed up by winning the C4 category, and cut more than six seconds off her own world best time earlier in the qualifier, before overlapping Rio 2016 champion Shawn Morelli of the USA to win the final. She hopes her win inspires others with a similar disease. 
"MS (multiple sclerosis) is a horrible disease," she continued. "It takes a really big toll on your life, your whole life changes with it. And I really hope that people with MS see this and feel that there is a lot that you can do and achieve despite what's going on with your body."
Australia finished top the medals table with 10, four more gold medals coming from the pool.
CHINA CLEAN SABRE SWEEP 
It was a historic night for wheelchair fencing, with the women's sabre A and B categories debuting at the Paralympics. China's Bian Jing and Tan Shumei became the first two Paralympic champions in women's category A and B, respectively. 
In the men's category A, Li Hao, 26, had the upper hand on seven-time Paralympic medallist Tian Jianquan in the semi-final, then went on to defeat the 22-year-old Artem Manko of Ukraine in the final for a surprise gold medal. 
"Tian is my role model, he's very experienced, and I've been competing against him so many times, but I've never beaten him," Li said. "I didn't expect this result at all. I think he had a lot of pressure on him from his performances in the previous Games. I felt very relaxed, and maybe that's why I won. But he is and always will be my role model."
Feng Yanke became the newly crowned champion in the category B, helping China come in second in the medals table (eight total, five golds) at the end of Day 1.  
AUSTRALIA CONTINUE SUCCESS IN POOL
The golden day for Australia spilled into the Tokyo Aquatics Centre, as they grabbed four titles (of the 16 on offer). 
The tone was set in the first race when Will Martin won the men's 400m freestyle S9, with Lakeisha Patterson immediately repeating the feat in the women's equivalent. Rowan Crothers took the men's 50m freestyle S10, as Ben Popham rounded off his nation's successful day in the men's 100m freestyle S8.
"One thing that really makes Australia stand out is the fact that we don't just have these elite Paralympic athletes," Crothers said. "We have these elite athletes, and these elite programmes that are also representing at the Paralympics, and I think that's just amazing."
There was history in the men's 100m backstroke S1 when Iyad Shalabi became the first Israeli-Arab to win a Paralympic medal when he took gold at his fourth Games.
A pair of world records were set by the RPC – coming from Valeriia Shabalina in the women's 100m butterfly S14 and with Roman Zhdanov in the men's 50m breaststroke SB3.
The ever-dominating Ihar Boki of Belarus, who won the most medals at Rio 2016, added his 12th Paralympic title when he was just outside his own world record in the men's 100m butterfly S13.
Brazil's most decorated Paralympian Daniel Dias claimed the 25th Paralympic medal of his career with bronze in the men's 200m freestyle S5.

DANES SHOCK AUSTRALIA IN WHEELCHAIR RUGBY
Just as Australia had plenty to celebrate, their wheelchair rugby team also suffered the shock of the Games so far after falling to debutants Denmark 54-53 in the preliminary rounds. 
Sebastian Frederiksen was the star performer for the Danes, giving a masterclass in clock management to push his side one goal in front with only two seconds of a tense match remaining at Yoyogi National Stadium.
When double Paralympic gold medallist Ryley Batt of Australia failed to reach a pass on the frantic final play, the ball rolled out to spark wild celebrations on the red half of the court.
"Australia are the best in the world normally, so we knew it would be a tough game," said Frederiksen, who scored 29 goals.
"They have some really, really good players in Ryley Batt and Chris Bond but we also knew we could keep it close and if we were lucky, we could probably win at the last."
DUTCH TIP-OFF TOKYO 2020 ON HIGH
Netherlands women's wheelchair basketball team began their quest for a historic Paralympic title in the sport with a defensive-led win over the USA in the opening rounds. 
Bo Kramer said her team's intensity was to a 68-58 triumph over Rio 2016 champions USA, who are only returning three players from that squad five years ago. 
Their toughest rivals Great Britain, who are expected to battle with the Dutch for gold, had a surprise defeat to Canada 73-54. 
Meanwhile, the Japanese women's team celebrated a 73-47 victory over regional rivals Australia to kick off their home Games on a high.