Greek father and son making Paralympic history
Lazaros and Leontios Stefanidis get ready for their Games debut competing in men's shot put F33 and F20, respectively at Tokyo 2020
25 Aug 2021
Imagen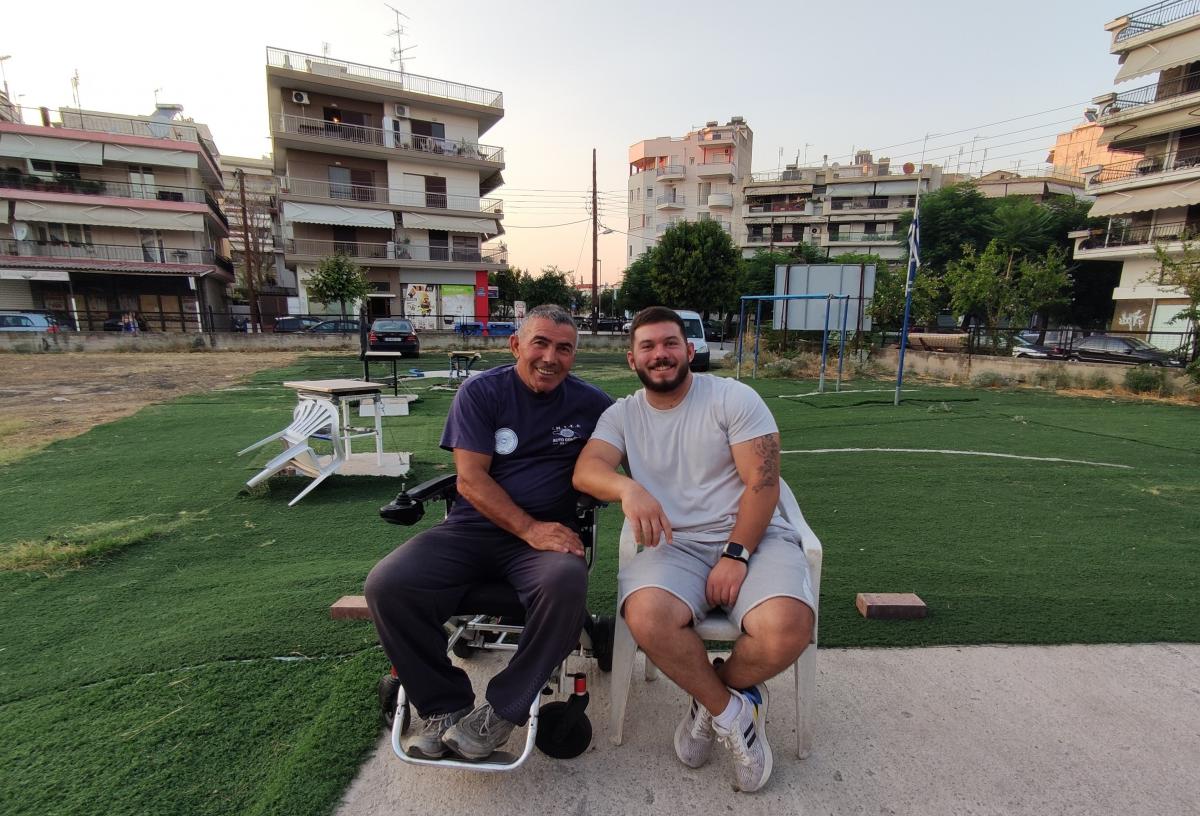 ⒸNPC Greece
By World Para Athletics
When Lazaros Stefanidis decided to create an athletics club in his hometown in Greece he wanted to give persons with disabilities more opportunities to practice sport and become a Para athlete like him. 
What he did not imagine was that his son Leontios would become one of the stars of the club and that now, father and son will be together competing at the Tokyo 2020 Paralympic Games.
They will be the only father and son at the Paralympics in Japan. 
"This is the best story written in sports, I feel already as a winner. It is a unique feeling and we are all very happy," said 64-year-old Lazaros. 
The Greek has already competed in three World Para Athletics Championships but he will be making the Paralympic debut – just like his son.
The 22-year-old Leontios will be in action in the men's shot put F20 on Tuesday, 31 August. Lazaros will compete in the men's shot put on 4 September.
"I am proud that I will compete with my father at the Paralympics and that we will go together to the Games. I feel blessed that we will be together."
Stefanidis the father remembers the first time his son saw him competing and says that he had nothing to do with Leontio's preference for the shot put.
"He has been with us [in competitions] since he was a baby. Both my children grew up in sports and in athletics and they learned to love it. He has trained since he was 12 in all throw disciplines, but he chose shot put and I hope he will stay healthy and be a very successful Paralympic athlete."
Together at the European Championships
Stefanidis the son, added: "I chose athletics because of my father, but shot put was not because of him. It is very dynamic, you need a lot of technique, patience and persistence."
Hard work and persistence paid the price. The two had the first opportunity to represent Greece in a major international championships in June when they took part in the European Para Athletics Championships in Bydgoszcz, Poland.
Leontios did not take a medal but that was just a detail as he achieved his main goal to qualify for Tokyo 2020. 

"I finished fourth in the Europeans and my son finished fifth. There is no better feeling to compete together with your child. I have seen all his path developing as an athlete, so I feel very special. I believe we will see extraordinary things at the Paralympics," Lazaros said.
And the son has already learned important lessons from the most experienced thrower in the house.
"[He taught me to] never give up. Because the human strengths can reach unknown barriers and you can reach points that you never imagined. So you always have to try and you will be awarded with good results," Leontios added.
The two will not be the only representatives from the AS Lazaros Stefanidis O Makedonas athletics club in the Paralympic Games. 
"We will also have Athanasios Konstantinidis (F32), Athanasios Prodromou (T20), Kostantinos Tzounis (F56) competing. I think we are the sport club with the most athletes in Para atthletics at the Paralympics and we all have very good prospects for the Games," said the proud club founder.
The 10-day Para athletics competition programme starts on Friday 27 August at the National Stadium.