Tokyo Paralympics: Para athletics day 3 preview
Super Sunday will see 20 medal events in the National Olympic Stadium with Ireland's Jason Smyth running for his fourth 100m Paralympic gold
16 Aug 2021
Imagen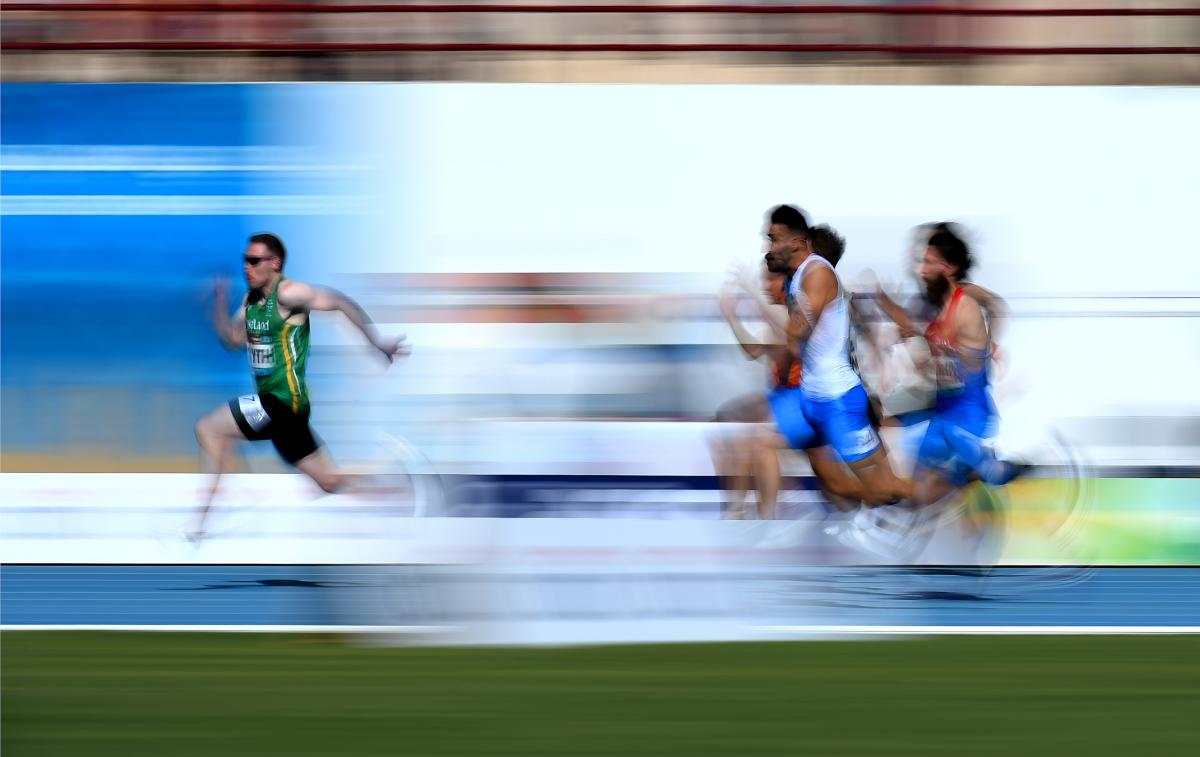 ⒸTom Dulat/Getty Images
By World Para Athletics
Day three of Para athletics at Tokyo 2020, 29 August will be a Super Sunday with 20 medal events at the National Olympic Stadium in the Japanese capital.
Six events will take part in the morning session with the women's long jump T12 opening the programme.
Ukraine's Oksana Zubkovska will be aiming her fourth consecutive Paralympic title. The vision-impaired jumper already bagged the European Championships title this season in Bydgoszcz, Poland.
Algeria's Lynda Hamri has been on the podium in all major Para athletics events since the London 2012 Paralympics. Spain's Sara Martinez is another podium contender. 
The first field event of the day will be the men's shot put F53 with five names standing out. Greece's Che Jon Fernandes is the defending Paralympic champion while USA's Scot Severn will be eyeing his first gold in a major event after finishing second in all World Championships and Games since Lyon 2013.
Czech Republic's Ales Kisy will come to Tokyo as the current world champion from Dubai 2019 although he could only manage a bronze at this year's European Championships (Azerbaijan's Elvin Astanov took the title). Iran's Alireza Hemami is the London 2017 world champion and Dubai 2019 bronze medallist.
The women's discus throw F64 is likely to be a close contest between China's Juan Yao (Rio 2016 Paralympic champion and Dubai 2019 world champion) and Poland's world record holder Faustyna Kotlowska who took European gold at home in Bydgoszcz in June.
Next in line will be the first track event of the day, the women's 200m T36. China's Shi Yiting has been the dominant figure in the race as the world record holder, defending Paralympic champion and two-time World Championships gold medallist (London 2017 and Dubai 2019). 
New Zealand's Danielle Aitchison will be making her Games debut but already impressed with a silver in her first major international event at Dubai 2019.
Speaking of dominance, Great Britain's Hannah Cockroft will be looking at another gold medal in the women's 100m T34. Five-time world champion, two-time Paralympic champion and world record holder, she may even lead a British podium sweep.
Kare Adenegan is a silver medallist from Rio 2016, London 2017 and Dubai 2019 while Fabienne Andre will make her Paralympic debut as the current European champion in the race. 
The men's shot put F40 wraps up the morning session with Portugal's Miguel Monteiro in top form as the world record holder and European champion. RPC's Denis Gnezdilov and Croatia's Matija Sloup are likely to be his main rivals. 
Afternoon session
A packed afternoon session with 14 medal events will start with another shot put competition, this time in the women's F20 class. 
Great Britain's Sabrina Fortune is the Dubai 2019 world champion who denied Ukraine's Anastasiia Mysnyk her first major championships gold in UAE. Mysnyk also took silver at the London 2012 and Rio 2016 Paralympic Games. 
The first on the track will be the women's 800m T53 finalists. China's Hongzhuan Zhou has been the face of the race in the Paralympic Games since her home gold at Beijing 2008. 
She followed it up with more victories at London 2012 and Rio 2016. But then lost her first World Championships gold medal in eight years at Dubai 2019 finishing third behind Australia's winner Madison de Rozario and Switzerland's Catherine Debrunner. 
De Rozario is also the world record holder while Debrunner took European gold in June. 
Another women's event right at the beginning of the session will be the long jump T37. Eight competitors will be trying to beat China's world record holder Xiaoyan Wen. 
She will be defending her Rio 2016 title with a CV that also includes double-World Championships gold (London 2017 and Dubai 2019).
More McFadden
The women's 800m T54 will come next with USA's Tatyana McFadden targeting another gold medal. She is the defending champion from London 2012 and Rio 2016. 
McFadden did not compete at the Dubai 2019 Worlds and saw China's Lihong Zou take her title. Amanda McGrory finished second in Dubai and can give USA another medal in the race. 
Three men's events will follow next, starting with the discus throw F52. The event has been dominated by European throwers for more than a decade, more specifically by Latvia's Aigars Apinis who has three Paralympic medals to his name (gold at Athens 2004, Beijing 2008 and Rio 2016, silver at London 2012).
Poland's Piotr Kosewicz  and Robert Jachimowicz shared the podium with Apinis at the Dubai 2019 Worlds finishing behind the Latvian with silver and bronze, respectively.
Another male event with a strong gold medal favourite is the men's high jump T47. USA's Roderick Townsend-Roberts is the world record holder who has won all major titles since the Doha 2015 Worlds. 
He will be defending his Rio 2016 Paralympic gold against China's Hongjie Chen who took silver at Rio 2016 and the Dubai 2019 World Championships.
The men's 400m T11 has four athletes as favourites to make it to the finals but the race is likely to be a very close call. Brazil's Daniel Mendes is the world record holder and Dubai 2019 silver medallist, while his compatriot Felipe Gomes finished second at Rio 2016 and third in Dubai.
Spain's Gerard Descarrega is the defending Paralympic champion but finished second at this year's European Championships losing the title to France's Timothee Adolphe – also the Dubai 2019 world champion.
Another race set to be a very close contest is the women's 200m T35. China's Xia Zhou is the reigning Paralympic champion but Rio 2016 silver medallist Isis Holt of Australia has two World Championships gold in her collection (Doha 2015 and London 2017).
Another gold medal candidate is Great Britain's Maria Lyle, Dubai 2019 world champion and Rio 2016 bronze medallist.
In the women's javelin F34 China's Zou Lijuan has not seen any rivals in recent years. The world record took gold at the last Paralympics in Rio and also topped the podium at the Worlds in London and Dubai since then.
Finland's Marjaana Heikkinen finished second to Lijuan in all three events. 
Who is the fastest Paralympian?
Another event with a very strong favourite is the men's 100m T13. Ireland's Jason Smyth is a three-time Paralympic and five-time world champion who has not been beaten in more than a decade. 
He will also be keen to defend his post as the fastest man ever in the Paralympic Games with his 10.46 from London 2012. 
Namibia's Johannes Nambala and Australia's Chad Perris finished second and third behind Smyth at Rio 2016.
Next will be the men's 400m T53 in which world record holder Brent Lakatos from Canada will be going head-to-head with defending champion Pongsakorn Paeyo from Thailand. 
Lakatos beat Paeyo for gold at the London 2017 Worlds but the Thai wheelchair racer came back at Dubai 2019 finishing first with the Canadian in second. 
Another world record holder looking for his first 400m gold medal is Tunisia's Yassine Gharbi in the T54 class. He won gold in the last two World Championships but finished with the bronze at Rio 2016. 
Defending champion Kenny van Weeghel from the Netherlands will be aiming his third Paralympic gold. China's Liu Yang finished between the two in the final in Rio five years ago.
Hosts Japan will have high expectations for the penultimate race of the day with Tomoki Sato among the favourites in the men's 1500m T52. He is the double-world champion from London 2017 and Dubai 2019 lost Paralympic gold in Rio to USA's Raymond Martin.
Hirokazu Ueyonabaru took silver at Dubai 2019 and is another Japanese medal hope.
The final race of Super Sunday will mark the Paralympic debut of another candidate to the throne of world's fastest Paralympian. 
Norway's Salum Kashafali is unbeaten in major events in the men's 100m T12 taking gold at the Dubai 2019 Worlds and Bydgoszcz 2021 Euros. His world record is 10.45 from a national event in Oslo in 2019. 
Brazil's Fabricio Junior took silver at Dubai 2019 and beat Rio 2016 Paralympic champion Leinier Savon Pineda of Cuba to take gold at the Lima 2019 Parapan American Games in Peru.
Complete schedule and results can be found on Paralympic.org.