Disappointment leads Sandeep Chaudhary to glory
Indian thrower focused on gold in Dubai following world record
23 Jun 2019
Imagen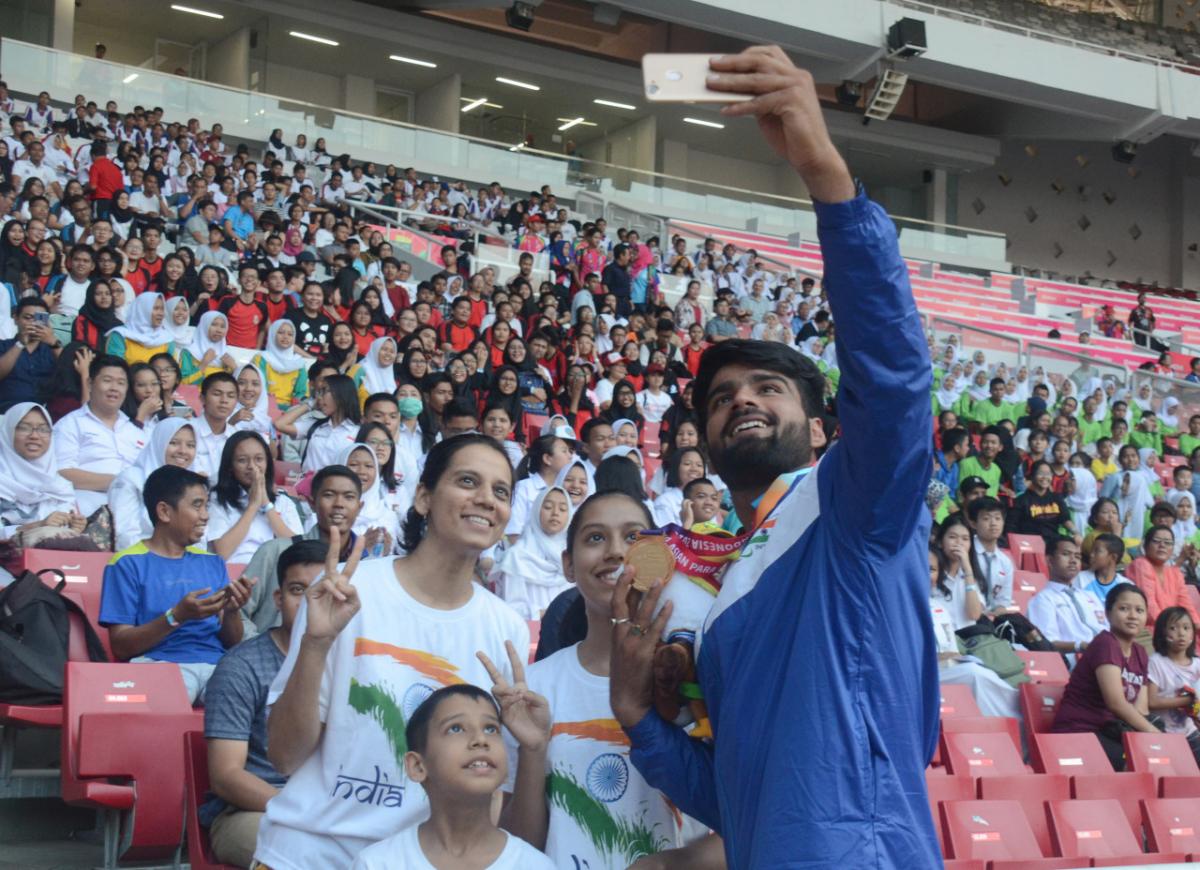 ⒸAsian Paralympic Committee
When Sandeep Chaudhary realised he had finished fourth in the javelin F44 at Rio 2016, he lay down on the ground and cried.
The competition continued around him; Trinidad and Tobago's Akeem Stewart took his final throw, sealing gold with 57.32m.
But still Chaudhary remained, stretched out with his head buried in his arms.
"It's hard to describe how I felt, I was lying on the track crying and nobody cared about me. But the gold and silver medallist came to me and said but you are the youngest, you have the capability to win more than the gold," explained Chaudhary, who finished out of the medals behind Stewart, Canada's Alister McQueen and Kiwi Rory McSweeney, having thrown a best of 54.30m.
"They said, still you are fourth and then I realised that yes, if they are saying I can do well then I must believe in myself - and after that I will do well.
"I missed out on a medal by a slender margin and it kept haunting me for a long time. When I returned to India from the Games, I realised there is no difference between fourth and fortieth place. I took the failure as motivation and worked harder."
Last year Chaudhary's patience and hard work finally paid off.
At the 2018 Asian Para Games in Jakarta, Indonesia, he claimed his first major title with a new world record, throwing a huge 60.01m.
Speaking not long after winning Asian Para Games gold, he said:
"The Asian Para Games was a really great thing for me in my life. All the things like coming back to India, the welcome ceremony and the respect from the people. It's one the greatest achievements in my career.
"The medal and moreover the world record [he achieved in Indonesia] are the result of my patience, hard work and focus of the past year. It's so special.
"Before Jakarta I didn't get anything in my life in terms of support. But now I hope I will get (support) from the government and support from private sponsors. But the main thing I get is respect. It's a great achievement for me to gain that respect."
Now the 23-year-old has continued to reap the rewards of his effort and commitment this year, too.
At the Grosseto Grand Prix in Italy earlier this month, Chaudhary added a remarkable five metres on to his previous world record mark, finishing the competition with a best of 65.80m.
Of his likely opposition at the Dubai 2019 World Para Athletics World Championships in November, no-one has yet thrown over 60 metres so far this season; in fact, Chaudhary was the only one to do so last year too.
Posting on social media afterwards, he was quick to acknowledge those around him:
"Really happy to set a world record in Italy of 65.80m in Para javelin for India and thanks to Indian government and my coach and my team gosports and my sports staff to be with me in my journey as my supporter."
The result in Grosseto means that Chaudhary, who broke his hip in a car accident aged 12, also achieved the qualifying mark he requires for the Tokyo 2020 Paralympic Games.
But three years on from his Rio heartache, Chaudhary is determined to take things one step at a time.
"In my mind it's the World Championships in Dubai, because I don't have a world title yet. So first that will be my focus. The competition there will indicate what will happen in Tokyo."