Double delight for Thailand in wheelchair racing
Pongsakorn Paeyo, Athiwat Paeng-Nuea stun strong field for golds
Finland's Pekka Leo Tahti's dominance comes to end, settles for silver
01 Sep 2021
Imagen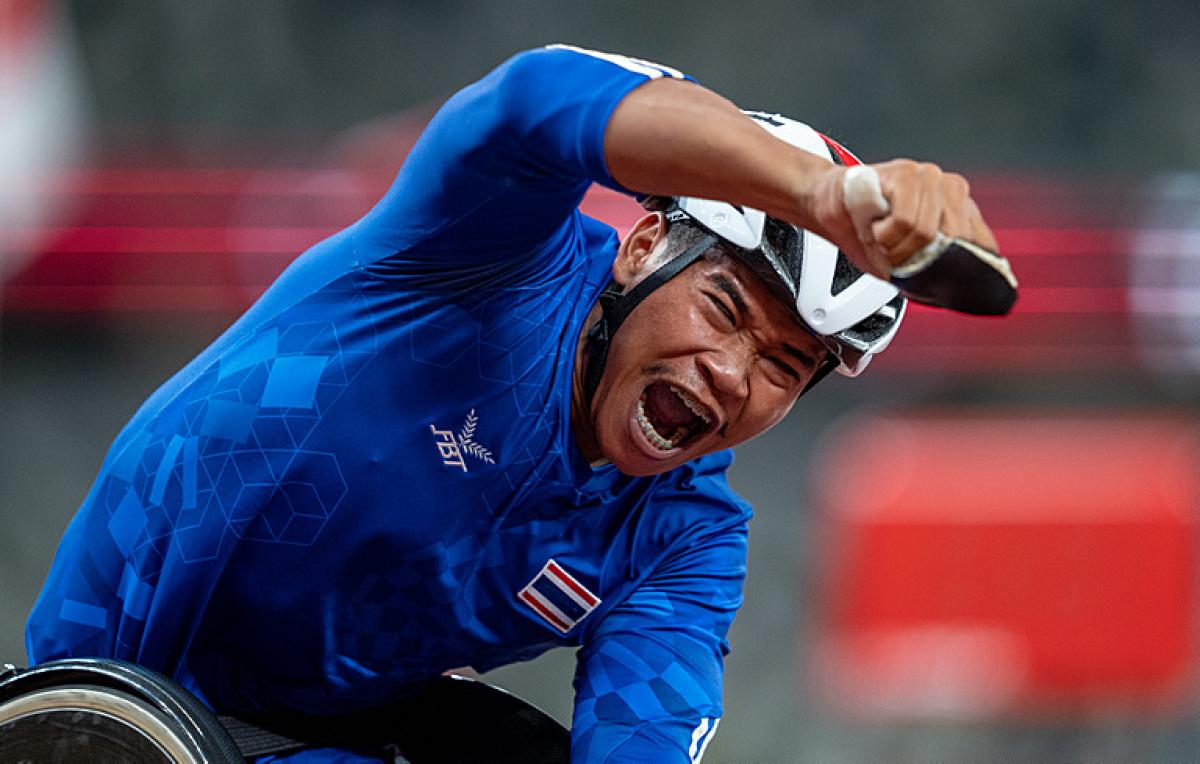 ⒸOIS Photos
By ND Prashant for the IPC
On an overcast evening at the Tokyo 2020 Paralympic Games, it rained gold for Thailand at the Olympic Stadium.
First, Pongsakorn Paeyo struck like thunder to claim gold with a personal best of 14.30s in the men's 100m T53. Immediately after that, Athiwat Paeng-Nuea was lightning fast to clinch gold in the men's 100m T54 with an Asian record of 13.76s.
The victory could not have been sweeter for Paeng-Nuea as he had ended the long lasting reign of Finland's Pekka Leo Tahti, who has been ruling the sport ever since he won gold at the Athens 2004 Paralympic Games.
Tahti with a time of 13.85s settled for silver, while Mexico's Pablo Juan Garcia Cervantes pocketed bronze.
"I'm really happy to win here and all credit to my training. There is no such secret to our success, it is just working hard and trying to keep improving. I have no goals for now," said a modest Paeng-Nuea after this memorable victory.
Speaking about his showing, Tahti said he had good confidence going into the contest as he was feeling good after the heats.
"In the last 40 metres of the final, I didn't push so well because I had small problems with the balance, and the 100m is very sensitive," added Tahti, who, however, vowed to come back strongly.
"I have had a fantastic career so far and wins always give me motivation. But silver also gives me the motivation to be better the next season.
"So, I am going to continue at least for the next year, maybe even to Paris 2024.
"I want to show that I'm getting older, but not slower."
Thai wheelchair racer Athiwat Paeng-Nuea Ⓒ OIS Photos
 
Coming back to the men's 100m T53, Paeyo was elated that he could jump one place further than Rio and complete a grand double in Tokyo. Earlier in the week, he had clinched gold in the men's 400m T53.
"I had won silver in Rio and now gold here, so it's a great relief and I'm really excited. It's another gold for me and for Thailand. It is a great honour and to see our nation's flag go up is truly special," said Paeyo, who finished ahead of Canada's World record holder Brent Lakatos (14.55s) and Saudi Arabia's Adbulrahman Al Qurashi (14.76s).
Paeyo will be now looking to complete a hat-trick of titles in Tokyo when he competes in the men's 800m T53 final on Thursday (2 September).
"I was confident of getting the golds as I've worked so hard for this. I'm hoping of getting a third gold in the 800m. That's what I'll be trying my best to do," said a Paeyo, confident that his achievements would do a world of good for kids and the generations ahead.
"I'm confident that these golds will prove really meaningful for the sport in my country. The Paralympics are the biggest competition and now I have performed at the biggest stage. I hope it will inspire young people to get into the sport," said Paeyo, revealing that he was able to continue training despite the COVID restrictions, while respecting the safety norms set by the government.
"Thankfully, we managed to keep training. We followed the policy of social distancing and nothing was really different for us. The medals have come at the testing COVID times and so I dedicate to everyone in Thailand who have braced this tough situation," said Paeyo, who wanted the kids in Thailand to learn from him and believe in themselves. "If I can do, then they surely can!"