'End of the World' discovers Para ice hockey
In southernmost tip of Argentina, national able-bodied ice hockey team goaltender creates sticks and sledges to grow a new sport
07 Nov 2020
Imagen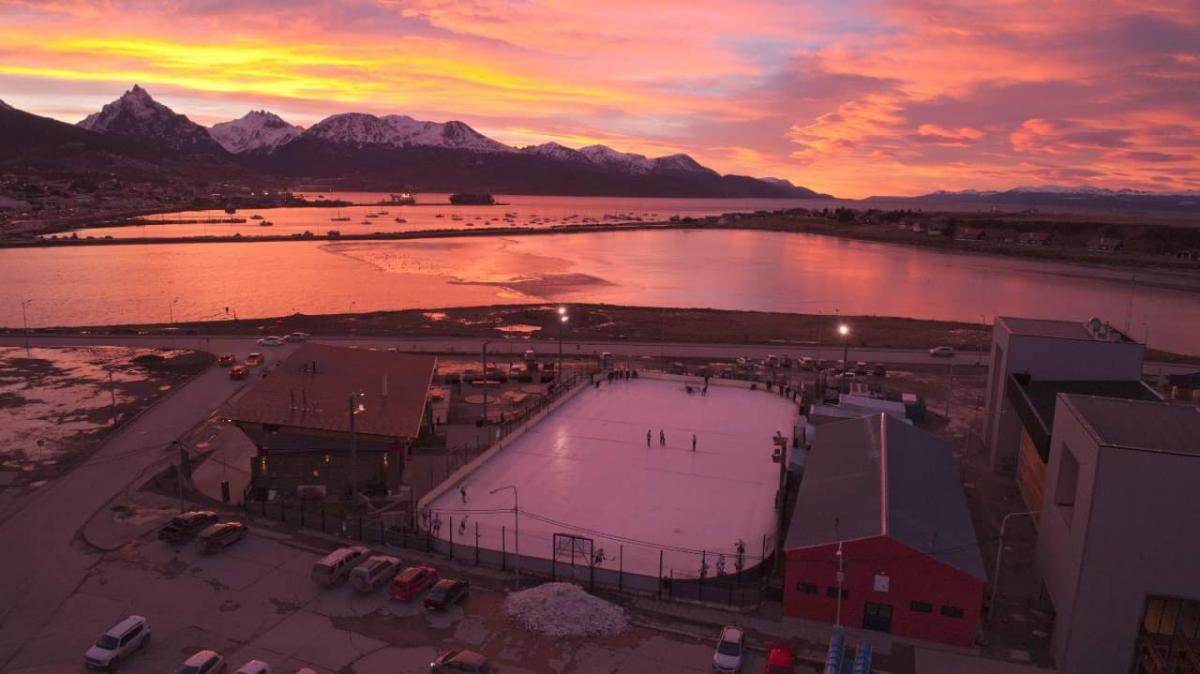 ⒸNicolas Badaracco
By Stuart Lieberman | For World Para Ice Hockey
Nicolas Badaracco has been a goaltender on Argentina's national ice hockey team since it made its international debut in 2012.
Now, he is dedicating just as much time to his sport off the ice. He is working to bring Para ice hockey to the "End of the World," otherwise known as Ushuaia, the southernmost city at the tip of Argentina. 
Ushuaia is the first known city in Latin America where Para ice hockey is starting to take off.
"Everyone has to have the opportunity to play ice hockey," Badaracco said. "Here, there are a lot of people who cannot even try to play because the sport barely exists. So, I started investigating how Para ice hockey works, and then I started to make plans for how to build my own sledge and made drawings for it."
Badaracco has played ice hockey since he was 11 years old, experiencing the sport at the international level while also coaching the next generation of players in his country. Additionally, he now works as the manager of Ushuaia's Olympic-sized outdoor ice rink.
In 2019, he flew to Miami, Florida with Argentina's national team to compete in the LATAM Cup, a tournament held to help grow the sport's presence throughout Latin American countries.
Prior to one of his games he met Ron Robichaud, the head coach of the Florida Sled Bandits team. Robichaud invited Badaracco to try Para ice hockey for the first time while he was there.
"It was amazing," Badaracco said. "It's very hard. Even for me, as someone who plays hockey for a living and who knows his body, it was very hard. To skate straight is hard - at least the first time, but after that you can learn."
Robichaud gifted Badaracco a sledge after that so he could take it back to Argentina as a model to copy and create several more.
In Miami, Badaracco also met Karina Villegas, a forward on the USA women's development Para ice hockey team who lost her right leg at age 13 after being struck by a government vehicle while standing outside a school in Venezuela. 
Villegas, who fled to the USA in 2001, immediately agreed to help him introduce Para ice hockey to Latin American countries.
"When I met her in Florida, she fell in love with the idea and brought me some sticks — my first Para ice hockey sticks — so I could copy those sticks here in my country," he said.
Badaracco has since recruited four athletes with a disability to the sport locally. He is working with the local government in hopes of receiving funds from the Ministry of Education to help grow Para ice hockey, but budgets are now frozen due to the COVID-19 pandemic.
In the meantime, from 30 November to 4 December, he will lead a Para ice hockey information session as part of the Facundo Rivas Tournament, an annual multi-sport festival for people with a disability. 
This year, the event will be held virtually for participants in Argentina, Bolivia, Brazil, Chile and Uruguay. Villegas will also be helping out with the festival.
"There are a lot of people who can probably play they sport, yet they don't even know what it is," Badaracco said. 
"There is going to be a model to showcase how Para ice hockey is played and how they can develop this sport in their cities. I already have four athletes who are training here, and I'm trying to adapt my sledge for people to use on all surfaces with wheels, too," he added.