Lena Schroeder deftly juggles training and frontline duty
'Times are hard. [But] it will get better,' says Norwegian Para ice hockey player who is working in the ER during the pandemic
17 Jun 2020
Imagen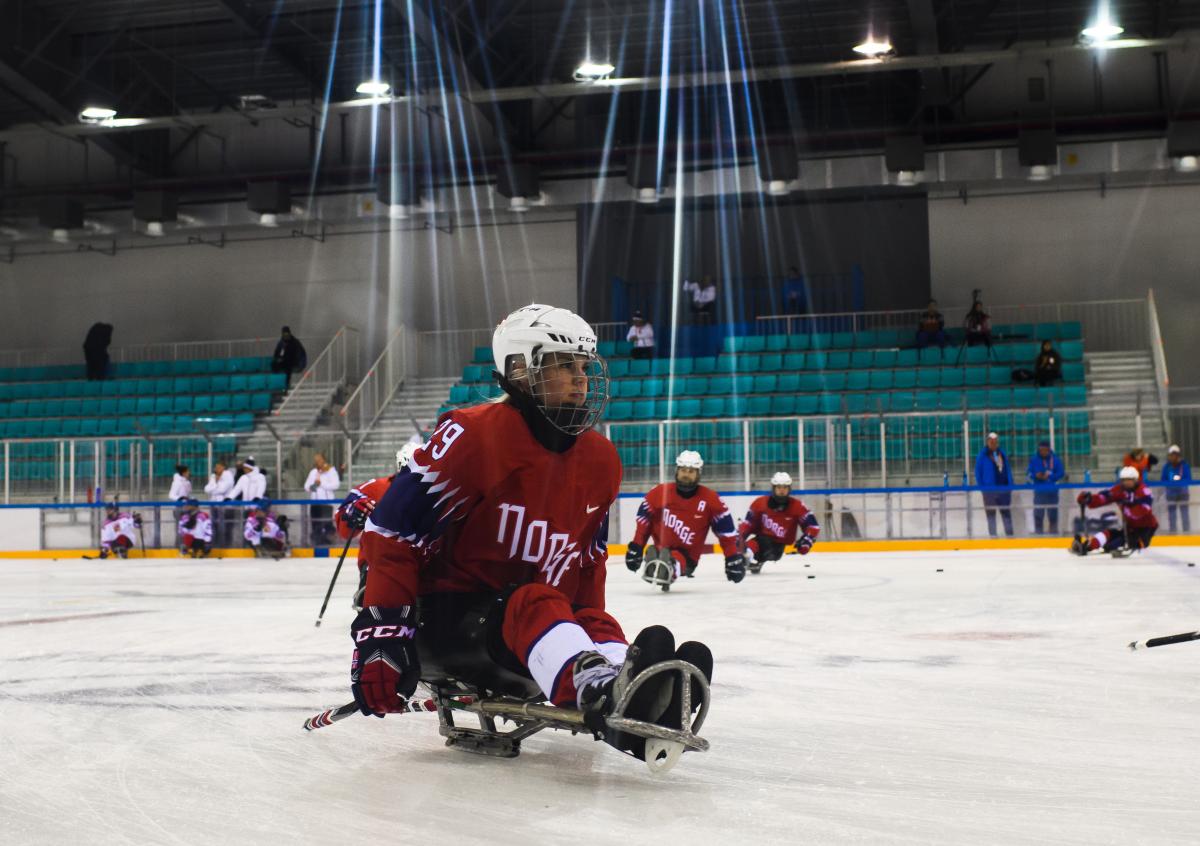 ⒸJoel Marklund for OIS/IOC
By Stuart Lieberman | For World Para Ice Hockey
Over the last four months, Norwegian Para ice hockey player Lena Schroeder has swapped her sledge and sticks for mask and medical gown.
Instead of competing at the World Para Ice Hockey European Championships this spring, which were cancelled due to the COVID-19 pandemic, she has been spending most of her time at medical clinics and hospitals.
When the pandemic first began, she was working as a nurse and lab assistant at a local medical clinic that took in patients with fevers or airway symptoms who were unable to schedule appointments with their own doctors. She worked eight hours per day in full protective gear.
Then in April, as the pandemic worsened, she was assigned to work as a doctor in the cardiology ward of a major hospital right on the outskirts of the Norwegian capital, Oslo. 
Dressed in full protective gear, she spent her days treating isolated patients with heart disease and testing them for COVID-19. 
This week, she will begin taking 13-hour shifts working in the emergency room (ER), identifying patients who have COVID-19 in order to isolate them from everyone else.
It has been quite the whirlwind, witnessing people suffering every day, but Schroeder is trying to look at it all with a glass half-full attitude. 
"Honestly, I'm happy to have work to go to," said Schroeder, who received her medical degree from the University of Oslo last December. "So many people have lost their jobs either temporarily or permanently because of COVID-19. I'm glad that I have income, and that I'm able to help out with the situation at the same time."
Two years ago, Schroeder made a name for herself at the PyeongChang 2018 Paralympic Winter Games when she became the first female player to take part in Para ice hockey at the Paralympics since fellow country woman Britt Mjaasund Oeyen participated in the Lillehammer 1994 Games.
 
In recent days, with facilities beginning to slowly reopen, she's been able to transition her home workouts — which consisted of strength and core training, yoga and workouts on the SkiErg — to training at the Olympiatoppen, the Norwegian national training centre in Oslo.
"I'm working out as much as I can," Schroeder said. "Now that it's getting warmer, I have many workouts outside with a racing chair and ski poles. Interval training works like a charm, so it's a lot of that these days."
"I've also been working out at home with my boyfriend and teammate Morten Vaernes, and we've been able to have strength training a few times a week because we're national team players. Most fitness centres are closed, but the centre for national teams is open to a few people at the time," Schroeder added.
Even after being on the frontline seeing COVID-19 patients and having her Para ice hockey training regimen completely altered, Schroeder, at the end of the day, is still able to remain optimistic. 
Her message to everyone in the Paralympic Movement right now is simple: "It will get better."
"Times are hard, not only with COVID-19, but with so many different things," she said. "This too shall pass."