Expectations are high for Ray Martin who heads to Rio 2016 as the man to beat
The US T52 racer heads to his second Paralympics aiming to win three gold medals.
22 Aug 2016
Imagen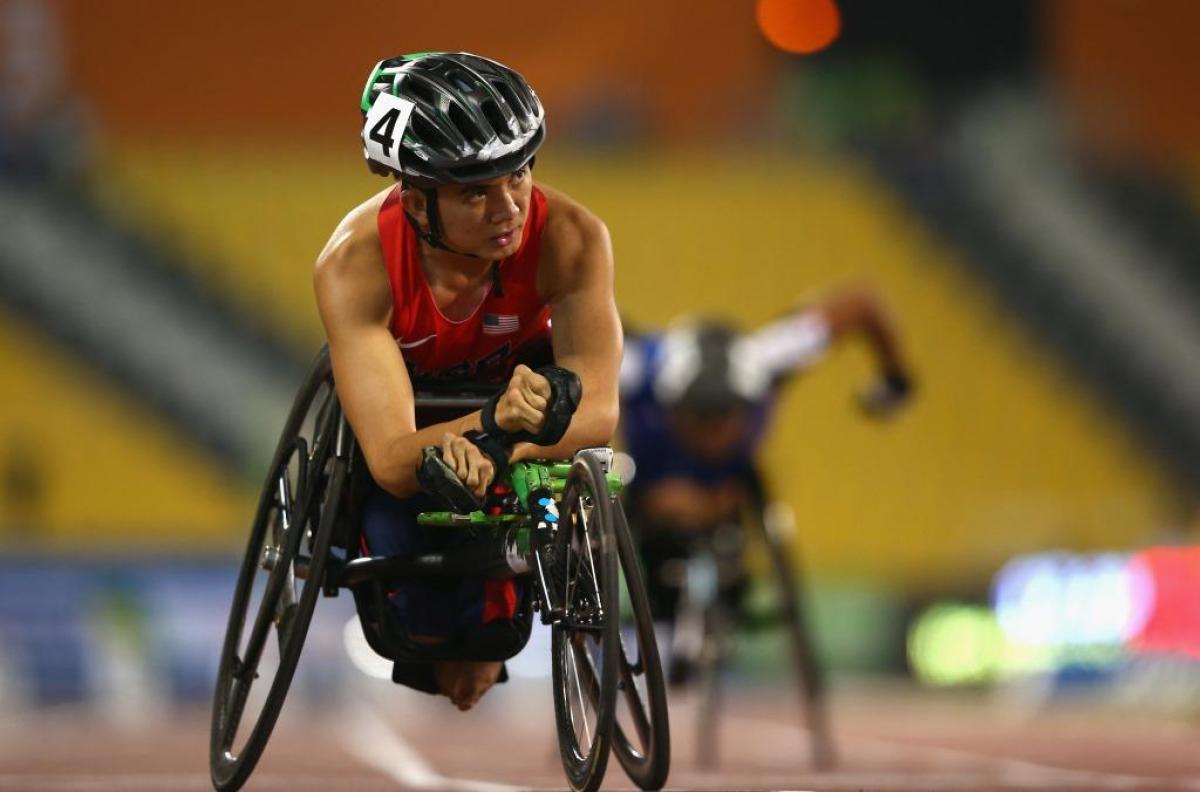 ⒸFrancois Nel/Getty Images
By IPC
Ray Martin was a relative unknown when he arrived in London four years ago for the 2012 Paralympic Games; he left with four gold medals and a new-found status as the man to beat in the men's T52 track events.
Living up to those winning performances at London 2012 means Martin has set the bar high this time around – he admits that anything less than three golds out of three events at Rio 2016 would be difficult to accept.
"When you have gotten to where I've gotten it really is a little bit disappointing when you do get anything less than what you did when you were a young 18-year-old. So that kind of adds to the pressure," admitted Martin, who takes on the 100m, 400m and 1,500m T52 in Rio de Janeiro.
Pressure also comes in the form of his rivals.
As the multiple world champion, reigning Paralympic champion and multiple world record holder in his class, the American has had to accept that he is a 'marked man' when it comes to competition time.
"It's tougher mentally that's for sure," he admitted.
"I would say physically the training is all the same but you've got to think about before, nobody was really watching out for you and for things like the 800m you flew under the radar.
"At this point doing the 1,500m I'm going to have to really watch out and control the race because everyone's going to be looking out for me."
Martin has been careful to adapt his preparations accordingly; he also believes the experiences he gained from and since London 2012 will prove invaluable.
"I've sat down with my coach a couple of times and he says that I really have to take control of the race," explained Martin.
"That doesn't necessarily mean that I go out and lead – I just have to be aware of how I'm feeling and where everybody is in terms of the pack. It definitely has changed training a little bit – we've had to run a couple of simulation 1,500m to see how different race situations would go.
"I feel like in four years I have grown quite a bit – just in terms of getting my feet wet a little bit more. Racing more over the last four years has definitely seasoned me a bit more and made me a better racer in terms of smart decisions.
"The 100m was my first race in London and I kind of let go of the high pressure situation of trying to win and just tried to run my own race. So I know how to go in to races now so hopefully I can just go out and execute."
Of course ignorance can be bliss too – as Martin was reminded of recently when he watched videos from his races in London.
"One of the commentators made a comment about how, when you are young and it's your first Games, you really don't know the kind of situation you are in.
"I didn't really understand it at the time, but going in to my second Games I think that's definitely the case.
"Because while I have been there and I know the kind of feeling it is going in to the stadium, I think that knowing that ahead of time means there's a lot more to think about."
Martin's opposition have also been giving him plenty to think about - US teammate Gianfranco Iannotta currently tops the world rankings for the 100m T52 after beating Martin to the line at the Nottwil Grand Prix in Switzerland in May; Tomoki Sato of Japan won the 400m T52 world title last year in Martin's absence.
Another American, 30-year-old Steven Toyoji, is ranked second in the world behind Martin in the 1,500m – he finished just 0.31 seconds behind Martin at the US Trials in July.
"Gianfranco was doing very well in Switzerland and he actually beat me in the 100m a couple of times and I just had to refocus and talk to my coach," admitted Martin.
"I think it was more a confidence thing but he's definitely coming up, and the Japanese athletes and Steven Toyoji in the 1,500m are a lot to think about. Even beyond them there are probably about six or seven who are probably medal potential in that event.
"The 100m and 400m it's my race to win or lose whether I get off the blocks well, whether I transition well, whether I finish well. That's all on me. But for the 1,500m it's not just me.
"I do feel good about the fact I have pretty good top speed – that helps. It's just sometimes it comes down to more than that."
__
Sport fans from around the world can now buy their Paralympic tickets for Rio 2016 from authorised ticket resellers (ATRs)
The IPC's Global ATR is Jet Set Sports, and Rio 2016 tickets and packages can be purchased on the CoSport website.
Residents of Brazil can buy 2016 Paralympics tickets directly from the Rio 2016 website.
Visa International is the exclusive payment card and the official payment system for the Paralympic Games.