Former soldier Henson reports for Doha 2015 duty
The captain of Great Britain's Invictus Games team last year, is aiming for a top five finish in the 200m T42 at the IPC Athletics World Championships.
19 Oct 2015
Imagen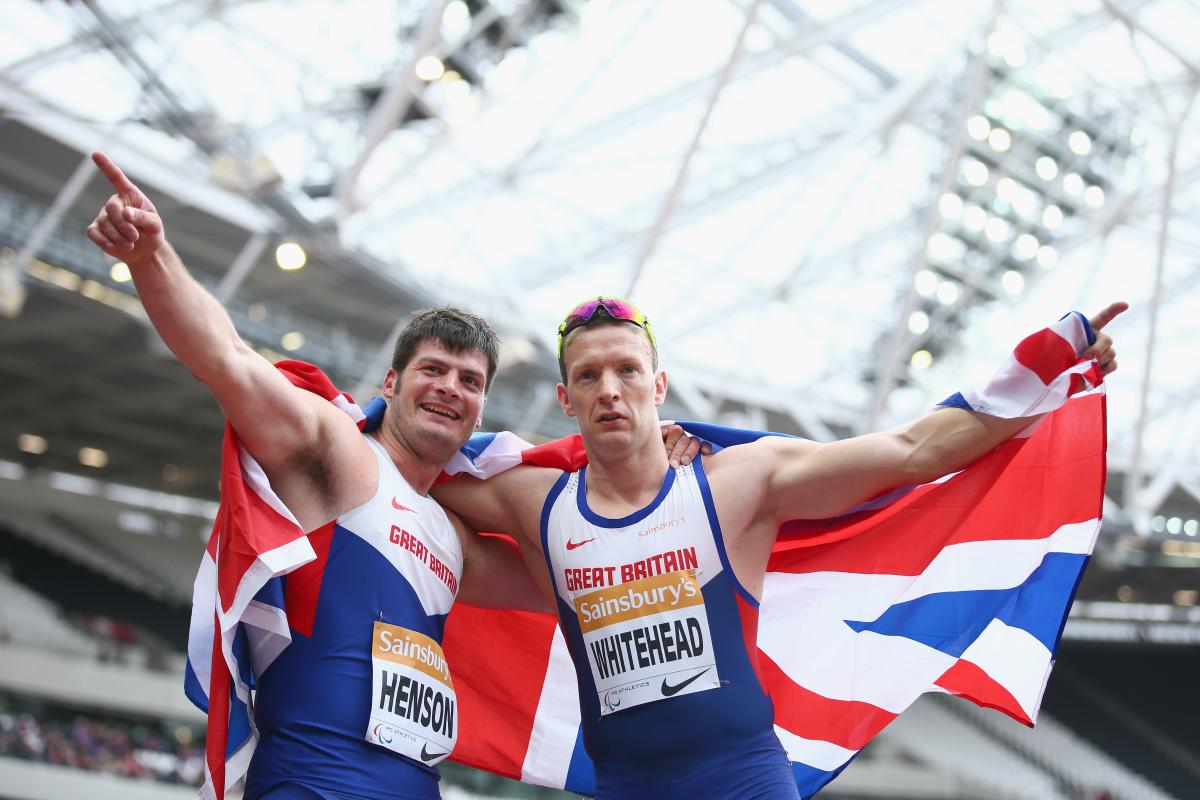 ⒸGetty Images
"I'm lucky to be put in this position now where I get to go and represent my country again. It's huge for me."
Representing your country is an honour for any athlete, but for Great Britain's Dave Henson, who lines up at this week's IPC Athletics World Championships in Qatar (21-31 October) it has already taken on a different meaning in his life.
The former British army troop commander turned T42 sprinter, took up athletics after years serving as a soldier – and that background has given him a different perspective on his sport.
"I'm so lucky to be where I am for so many different reasons – one, I'm not in a box in the ground which is obviously the biggest thing," said Henson who will be Great Britain's flag bearer at Wednesday's Opening Ceremony.
"So I just try and go out and enjoy what I can. I'm lucky to be put in this position now where I get to go and represent my country again. It's huge for me."
In February 2011 Henson was on patrol in Afghanistan when he stepped on an improvised explosive device. He had to have both legs amputated – one at the knee, one above. Lining up at the 2015 IPC Athletics World Championships presents an entirely different challenge.
"There is no life and death, so I don't have that kind of nervousness about it. But I am my own worst enemy when it comes to things like this, I put a lot of pressure on myself because I like to win and I like to do well."
That mind set may well have propelled Henson in his military career, but it has also helped him adapt to his life now, both as an academic in amputee biomechanics and out on the track.
An enthusiastic runner before his accident, Henson knew that the sport could help form an important part of his rehabilitation – he just did not realise how big a part of his life it would become.
"Running was my escape when I had legs and I wanted it to be my escape when I didn't, so I made a conscious effort to get on to my running blades," he explained.
"Running is a pleasure, training hard is a pleasure. It's almost selfishly indulgent for me, I like to do it. Hard work has never been something which I find difficult to apply my mind to.
"The thought of running blades was something that inspired me to get up and get active quicker. I got my first set of blades 10 months to the day since I lost my own legs and that was a big thing for me."
Henson prides himself on his fitness – a major milestone was being able to pass the military fitness test before he left the army. But he is also driven by the work he carries out alongside athletics.
Although it is a tricky balancing act for the 31-year-old to juggle training, family life and an academic career, Henson is able to use his PhD studies and research work to help improve his performances on the track – and vice versa.
"Understanding how my body works as an amputee bio-mechanics researcher completely influences the way that we deliver our training on the track," he explained.
"The knowledge is completely complementary. Each week I'm learning about new things about how my body works, and each week I am seeing progress on the track."
Still, stepping on to the world stage is something that the Southampton man does not take lightly. His participation at the Warrior Games in the USA in 2012, then the Invictus Games on home soil in 2014 and most recently July's IPC Athletics Grand Prix Final in London gave him a taste for what lies ahead.
After the Invictus Games, Henson compared his times to the T42 world rankings, "realised I was actually alright at it" and decided he would apply more time to track and field.
Now he will step on to the track in the 200m T42 in Doha – an event headed up by his British teammate Richard Whitehead, the reigning world and Paralympic champion.
Henson knows he faces a stellar field – he is aiming for a top five finish, but of course Whitehead's achievements only serve to motivate him even more.
"Richard is an inspiration but we are both competitive people. I'd love to get to the sort of times that he's achieving, but the reality is he is more of a mentor and guide at the minute in terms of talking me through his experience and how to deal with the pressure of the situation; how to be a successful athlete."
If Henson continues to apply himself on the track in the way he is accustomed to - with determination and a will to succeed – there is no reason he cannot become a formidable rival to Whitehead and those around him.
In the meantime, reality has yet to sink in.
"Sometimes you have to take a minute and think if this actually is all happening or if it is kind of a dream. Why is this happening to me? I'm just some bloke from Southampton. But it's happening, and this is mega."
The Doha 2015 IPC Athletics World Championships will take place between 21-31 October, attracting 1,300 athletes from 100 countries. You can watch all the action live at www.doha2015.org
Related Images