German sensation Rehm in focus at Dubai
'If we get some tail wind, I'm sure there will be some big jumps'
12 Nov 2019
Imagen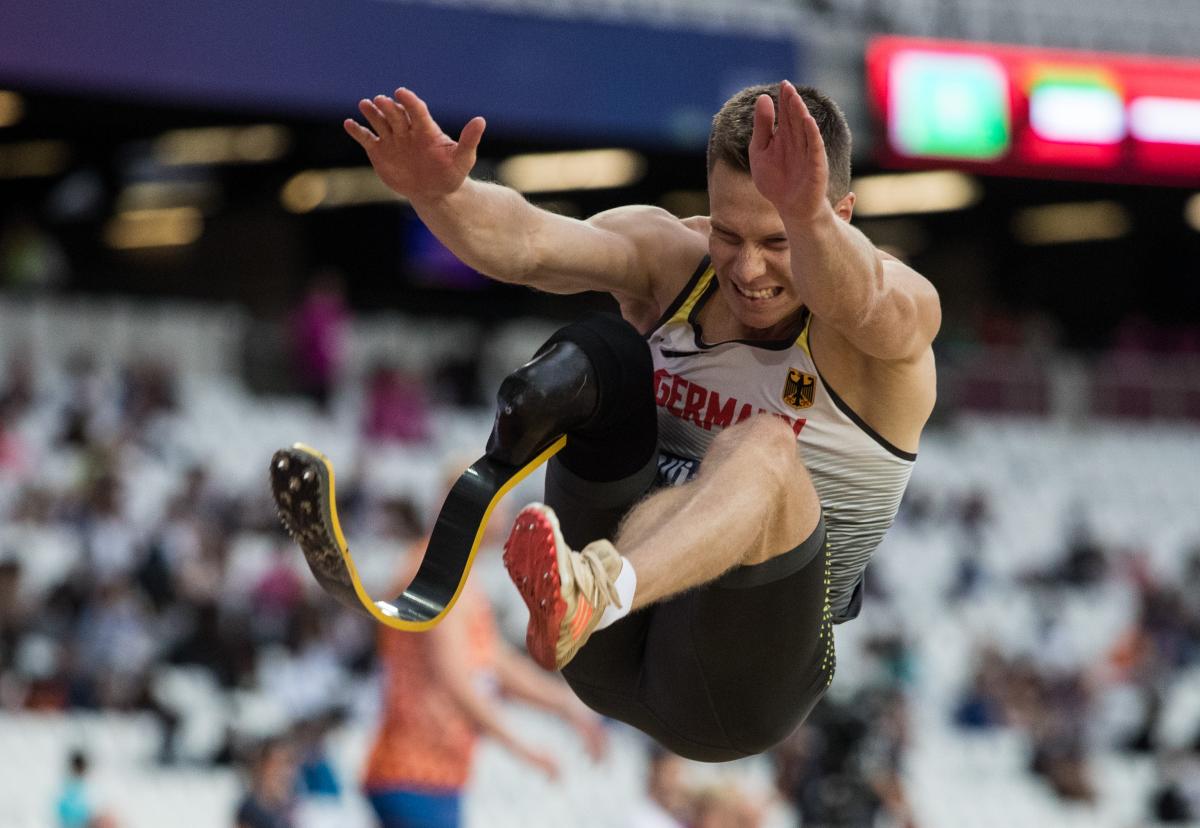 ⒸBob Martin
By AMP Media | For World Para Athletics
DUBAI: Even after a wakeboarding accident at the age of 14 resulted in the loss of his right leg, it was never in Markus Rehm's nature to even think about looking back.
A sports lover before the incident, a record-chaser since, his single-minded determination and love of competition have forced people to rethink the limits of how far a para athlete can go.
There are a handful of moments that have shaped the course of Markus Rehm's life, each with aftershocks just as big as that which he faced as a young teenager and have left him heading to the 2019 Dubai World Championships planning for the biggest jump of his life.
Rehm loved the long-jump before his accident and saw no reason why he wouldn't still be able to continue afterwards. A charity organisation saw his story in a magazine and he was invited to do some trampoline tricks – learned through his wakeboarding training - at an event to show just what is possible with a prosthetic.
It was there that he met Jörg Frischmann, boss of the Bayern Leverkeusen para sports club and the man who would deliver a defining moment in Rehm's life.  
"In 2008 we were in his kitchen talking about what I had done in sport," says Rehm. "Later that evening, he gave me my first blade, saying it was 'an investment for the future'. At the time I was learning to be a prosthetist so I knew just how expensive blades were and I refused to accept it but he insisted. I will never forget it. That was a life-changing moment."
Today, Rehm wears blades that have been specifically designed with his input but, when he first started wearing them, there was hardly any advice to follow, nobody to tell him the best way to adjust it or what techniques to use.
"My first coach was a World Champion javelin thrower. Everyone was laughing about us, saying 'how can a javelin thrower teach long jump?' but I think this was key to my success. She never tried to force me to jump in a certain way.
"She could see what I was doing but couldn't feel the blade. Javelin isn't purely about strength or run up, it's feeling, and it's similar with jumping. If you're not close enough to the device you're using, you won't be successful no matter how strong you are."
Now living and training at Leverkeusen, by 2011 Rehm was heading to Christchurch for his first World Championships. There, he jumped over seven metres to win gold, a moment that would prove to be the first stage in what remains a ceaseless pursuit of 'the limit'. Or, rather, breaking it.
"If you'd told me then how far we would go in the years after, I would never believe it."
Of course, there is no perfect jump, but that is both something that Rehm appears to be both intimately aware of and utterly driven by.
 
"With every success I felt I could do more," he says. "The year after, I jumped 7.54m and still felt I could do more. Then at London 2012 the question was asked 'could a para jumper go beyond eight metres?' and I just had the feeling that someone, not necessarily me, would."
One year later, Rehm jumped 7.95m at the World Championships. From that moment he knew beyond doubt that eight metres was a barrier waiting to be broken. That became his personal target and the focus of all his training.
"That situation, knowing so clearly what your goal is, makes training and everything such a pleasure, knowing exactly what you're training for."
Reaching those distances brought complications, too. Rehm's coach alerted his federation that he had a para athlete jumping the qualification distances for the German National Athletics. He said they should prepare for how to react to that possibility.
"In 2014 I was allowed to compete but there was this big debate about it. So, I just focussed on being in the best shape possible but other athletes made it clear they weren't happy I was there."
After Rehm won the gold, smashing through the eight-metre ceiling in the process, those discussions grew even louder.
"When I started out, everyone was like 'wow, great job, you're doing so well on the blade but as soon as it came to beating able-bodied athletes it was no longer a disadvantage. But I saw that as a good thing. If you're telling me you're worried I'm as good as you, then that's a great compliment."
That was the first and last time Rehm was allowed to compete in the national rankings. He is still on record as the 2014 German long-jump champion, but was not allowed to defend the title at subsequent appearances.
Every year since, his distances would have been gold-winning jumps, but the blade controversy – despite simply wanting to replace what he doesn't have – never fully went away.
"With a blade you still don't have any sense of feeling, you have to control it through your knees, hips and upper body, you can't adjust little things. It has got more relaxed each year, though, and it is still great to compete against those athletes.
"I see myself as an advert for our sport. If you want to come and see people jump really far or run really fast, then you can see us. I just want to break down barriers."
Now, unsurprisingly, Rehm has his sights set on recording the greatest distance ever by a German long-jumper, currently at 8.54m. And Dubai well be the location for that next career landmark.
"I think Dubai will be great environment," he says. "The temperatures are perfect, I jump better if it's a bit warmer, so that's good for me. My season has gone really well, the average overall distances have been my best yet, so I want to end it well. If we get some tail wind, I'm sure there will be some big jumps," he concludes – with the air of a man ready to deliver.