Gold Coast 2018: Mark Barr closing in on dream
World number one targeting first Para triathlon world title
11 Sep 2018
Imagen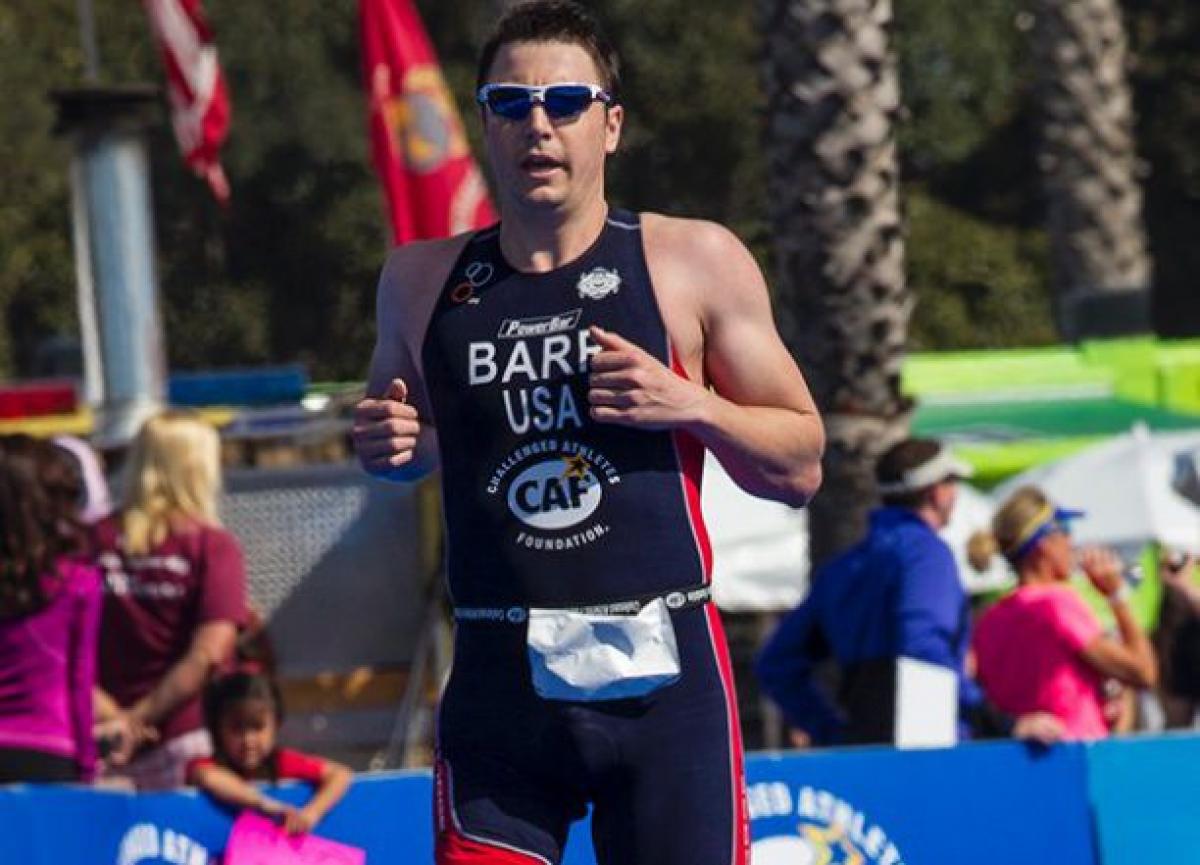 ⒸPaul Phillips/Competitive Image
By Adam Bailey | For the IPC
Mark Barr has won all his races this season, but the US Para triathlete knows only one matters: the World Triathlon Grand Final on 15 September in Gold Coast, Australia.
But like most of his wins in the men's PTS2 this year, Barr anticipates a similar battle to the tape in Australia.
"I expect it will be close and there might even be a sprint finish to decide the winner," Barr said. "I have been very fortunate this year to come away undefeated in the World Para Triathlon Series. Each of the races were very closely contested and I know there are a handful of PTS2 athletes with enough talent that could pull out a win at World Championships so there are no guarantees, it's really any man's race."
"A dream of mine"
Barr has competed in Para triathlons since 2012 and six World Championships. But it is only this season where everything seems to come together.
There is a reason for that.
"To win and become world champion has always been a dream of mine, and to be able to do it with my parents there would be epic," Barr said. "They have spent so much time and money traveling to every World Championships race since 2012 and have never seen me win a race, so to win World Championships with them there would be amazing."
Barr has the added challenge of juggling his training around his work as a nurse in the trauma-surgical intensive care unit at the Texas Medical Centre.
He works 12-13 hours shifts, three times a week. One of those "work days" is Barr's off-day from training.
Having another job gives Barr a work-life balance. But it still involves careful planning.
"The other tricky part of managing a full-time job and Para triathlon is getting time off for races," Barr explained. "If possible, I will try to compact my work schedule by working three shifts in a row early in the week on race week so that I can be off and not have to use vacation time for all my races."
Life before, during and after cancer
Barr had his right leg below the knee amputated due to bone cancer.
It was a nurse, also an amputee, who introduced him to Para sports during his treatment.
"It was very encouraging to know that other amputees were competing at a high level of sport still and gave me hope for the future which was extremely important at the time," Barr said.
"Sport has always been a huge part of my life pre-cancer and amputation and an even bigger part of my life post cancer.
"I have travelled the world and made friends in every corner of the earth because of sport. Sport has and will always, play an important part of my life."
The 32-year-old has gone on to compete at three Paralympic Games – twice as a Para swimmer in 2004 and 2008, before competing in Para triathlon in 2016 as the sport made its Paralympics debut.
"I originally got into Para triathlon simply to stay in shape after retiring from swimming," Barr said. "It wasn't until I got beat pretty bad at my first World Championships in 2012 that I really started to train and take the sport seriously.
"Early on in my career Stephane Bahier dominated our category and then Andy Lewis came along in more recent years," Barr added. "I was always competitive but never at the top. Being ranked number one in the world puts a target on your back for everyone else and that feeling is new to me, but I gladly embrace it."