Gold meets Golden as McFadden mixes with movie idols
Paralympic champion reveals all about her Golden Globes experience
24 Jan 2018
Imagen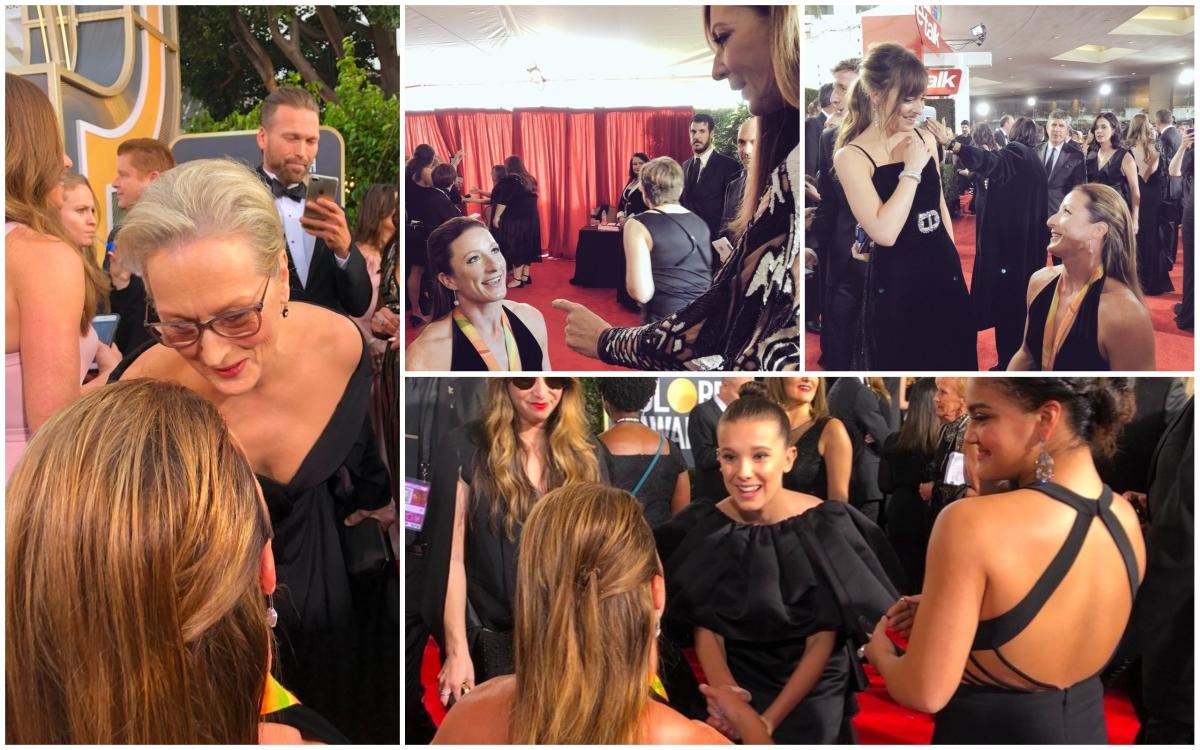 ⒸTatyana McFadden
By IPC
"Of course you get nervous. There are lots of photographers and lights and people who are just amazing. And you're in such awe. You do become a little bit light headed. ... and the red carpet is long."
The Golden Globes are known for being one of the hottest tickets in Hollywood, as acting superstars gather for the first major awards of the season. In 2018 though, it was not just the entertainment elite who took their turn down the red carpet, with some of the world's biggest Paralympic stars joining the Hollywood party.
Multi-Paralympic, world and Grand Slam marathon champion Tatyana McFadden was one of those invited to the ceremony, glamming up for the night in a chic black dress, perfectly accessorised with one of her four Rio 2016 gold medals.
Paralympic.org caught up with McFadden to chat about her unique experience, one much different to the sporting events she is used to.
Paralympic.org: Did you ever think you would get an opportunity like this?
Tatyana McFadden (TM): To be invited as an athlete was amazing. And what was really cool was before the red carpet on Sunday (7 January), they have a 'Gold Meets Golden. It's where the actors and actresses can meet all these Olympic and Paralympic athletes, and that was put on by Coca-Cola.
It was really personal as well because you can sit down and talk with the actors and actresses. For example I had a donut with Jessica Chastain. And I love her. She's an amazing actress and has a huge belief in the [Time's Up] movement [raising awareness on sexual assault, harassment and inequality in the workplace] that is going on right now.
Was it easy for you to approach the celebrities or did they approach you?
TM: For the Gold Meets Golden, it involves athletes. It's really cool because they know that you are an Olympian or Paralympian.
They have so much respect for us. It was really cool because we are in such awe meeting them, and in return they are in such awe meeting us. They come up to us and tell us 'We can't do what you guys do. To train at that level, or reach the Games at that level and win a medal.'
I met some of my favourite people like Ricky Martin, Jessica and Meryl Streep. They are really down to earth.
I went up to them, or they came up to me. It was just so much fun.
Who were some of the other celebrities you got to meet?
TM: I have to go through my photo album here. Nick Jonas, Nicole Kidman … I met the cast from "Game of Thrones."
It was such a surreal weekend. I don't know if there's such a thing as having too much fun, because I had too much fun.
I met Dakota Johnson, Helen Mirren, Matt Damon – he was really cool.
A few celebrities put on my medal.
We're all there to celebrate all our accomplishments. … It's such a prestigious awards show. I've never been invited to an awards show of that calibre before.
What were some of the best reactions you got from celebrities?
TM: A lot would say, 'You're so fit! Look at your arms! What is an easy workout regime were I can get my arms just as toned?' I had a lot of workout conversations.
Take us through what it was like on the red carpet. Where you a bit nervous?
TM: You do get nervous but you have to remember it's for fun, and it's about celebrating the accomplishments I not only had as an athlete and representing athletes there, but also the accomplishments of what has been done in the movie industry and in Hollywood. They have fought for equality and rights for women – there's a much bigger picture. …That weekend we wore black. And I think that was the coolest part.
Of course you get nervous. There are lots of photographers and lights and people who are just amazing. And you're in such awe.
You do become a little bit light headed. ... and the red carpet is long.
How many times around the track do you think it would be?
TM: I don't actually know. We were on the red carpet for a long time. We arrived at 2:30 and then we got off the red carpet pretty much when the show started. We were hanging out and talking to celebrities there.
What was it like to be with other celebrities and high profile people, and be a collective voice for certain social issues?
TM: You always make a statement when there is more than one person, when there is a unity like that. And everyone pretty much wore black on the red carpet for whatever cause they were fighting for because the time is up.
As an athlete we do fight for our own right as well. Especially for the Paralympics, we fight for equality, we fight for equal payment, sponsorship and more awareness and more TV time. Even off the Paralympics, in the professional world of World Championships or marathons, we are trying to strive for equal rights and treatment as well. It's always been that issue. It was really cool to be part of the movement.
Was there anyone you wish you could have met but did not t get the opportunity to?
TM: The woman who plays 'Wonder Woman,' Gal Gadot.
What was your favourite moment of the Golden Globes experience?
TM: In Gold Meets Golden when Ricky Martin asked to FaceTime my parents. They don't have to do that. And it was so nice and genuine. And I would also say meeting Meryl Streep. She took the time to talk with us and chat. She also doesn't need to do that. And she took a good amount of time to talk to all the athletes.
They're genuine, and they love what they do.