Indonesia 2018: Deepa Malik seeks elusive gold
India's most celebrated Paralympian will not settle for second
02 Oct 2018
Imagen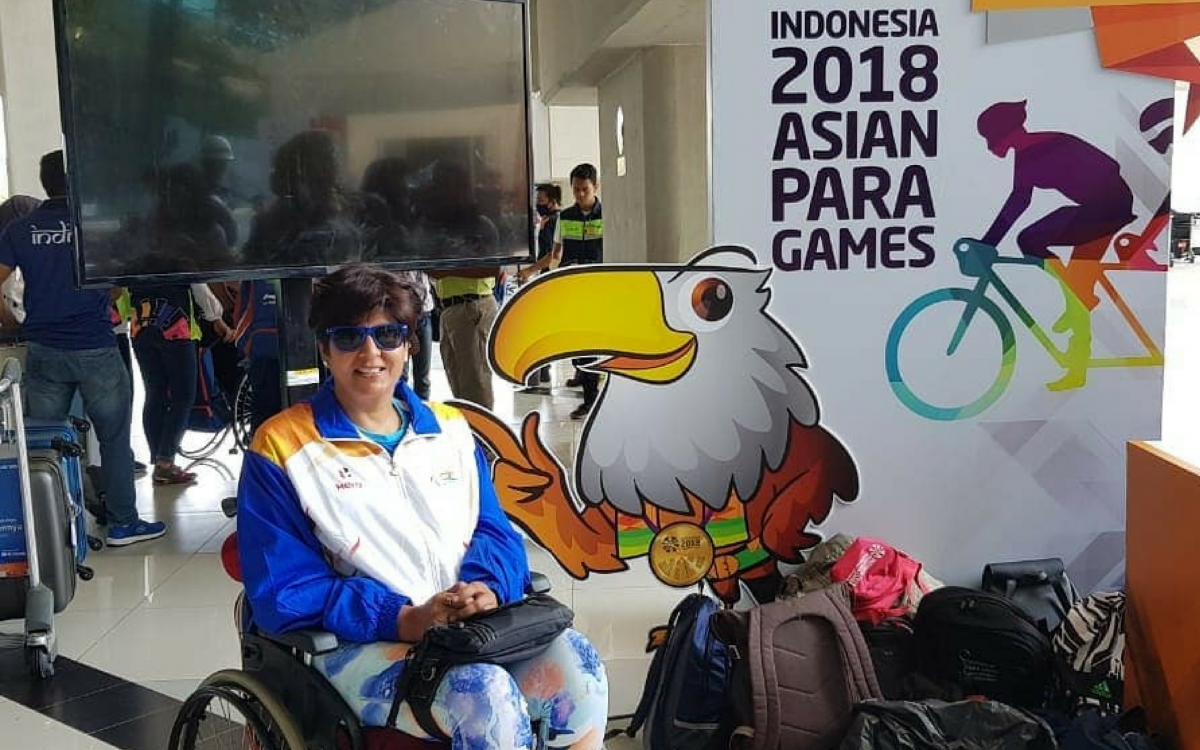 ⒸDeepa Malik/Instagram
By World Para Athletics
India's most celebrated Paralympian, Deepa Malik, has achieved many firsts.
The first Indian woman to represent her country at a Paralympic Games; the first to win a medal.
The first Indian with a disability to obtain a rally driver's licence; the first woman in the world with her disability – she is paraplegic after being diagnosed with a spinal tumour nearly 20 years ago – to drive the Khardungla Pass, regarded by many as the highest motorable pass in the world.
But there's one achievement that so far eludes her – major Para athletics gold.
Now Malik hopes to change that.
"I really want it," said the Rio 2016 silver medallist, who takes on the discus and javelin at the Asian Para Games, which begin on 6 October.
"I am not one to settle for second. I would love to come first. I've had so many firsts. When I look back I find it very surprising that I was the first (Indian woman) to win a medal at the Asian Para Games, the World Championships, the Paralympic Games - but it has not been a gold.
"My first Asian Para Games was bronze, the second was silver, so I hope I can raise my bar and get a gold this time, but the competition is very tough. In my own class (F53) I know I am the best but in the mixed class (discus F51/52/53 and javelin F53/54), that's where the challenge lies."
Malik's house in Delhi is laden with awards, medals, plaques and photographs – not to mention the postage stamp and drinks bottle emblazoned with her face.
She has achieved four LIMCA world records; one for the longest Pan-India drive by a paraplegic woman, another for swimming the River Yamuna for one kilometre, against the current. A film about her life story is in the pipeline.
The hundreds of accolades – including five Presidential honours – don't just come from sport however.
A voice for people with disability
Malik is passionate about social change, disability awareness and women's empowerment and is an ambassador and committee member for a number of government initiatives.
Still, finding time for sport remains a priority.
"I just love it so much now. It started as a journey to declare ability beyond disability, not to accept the typical stereotypical image," explained Malik, who celebrated her 48th birthday last week.
"I have become a voice for the people with disability. Because now people know me, they hear me. So my role has become larger than just sports. What keeps bringing me back to it is that I love outdoors; I love doing sport."
Malik's first love was motorbike riding, a sport she enjoyed before her paralysis. It was biking that she returned to first after three surgeries and nearly 200 stitches between her shoulders left her wheelchair-bound.
"I wanted to be a biker again, I used to do that. Then I heard that car rallies were happening and I wanted to do that too," she explained.
"I realised that I needed to strengthen my shoulders so I came to Delhi for better rehabilitation and was introduced to hydrotherapy.
"When I was put in the water I realised I was floating, not drowning. I realised there was one physical activity I could do independently. That became something very close to my heart."
Malik's interest in Para sports quickly grew and after returning home she began competing in Para swimming.
But the cold water she trained in took its toll on her body, not to mention the time and effort required to get in and out of the pool.
Commonwealth Games as inspiration
By 2009 she had discovered Para athletics. The 2010 Commonwealth Games in Delhi provided further inspiration.
"That was my turning point – I stayed in the athletes' village and I realised that was my calling."
As a self-confessed thrill seeker, a seamless transition to throwing might seem unlikely, but for Malik, it was about more than the sport itself.
"I do realise that what I did as a rally driver and biker was a very personal achievement," she explained.
"When I do athletics, that belongs to 1.3 billion Indians – the whole platform changes. The sense of pride because you are wearing your country's colour and you have the entire country backing you - that's a different high altogether."
As for the Asian Para Games, Malik believes she's capable of more.
"As a known personality it adds a positive pressure as you are carrying the hopes of so many. But that inspires me towards my goal and I really want to perform well there.
"I want to at least better myself from my previous records and I think that's what every athlete should aim for."