It's a China sweep in wheelchair fencing closing day at Tokyo 2020
Chinese team won in men and women's foil team events at the Makuhari Messe, finishing with a record 20 medals overall
29 Aug 2021
Imagen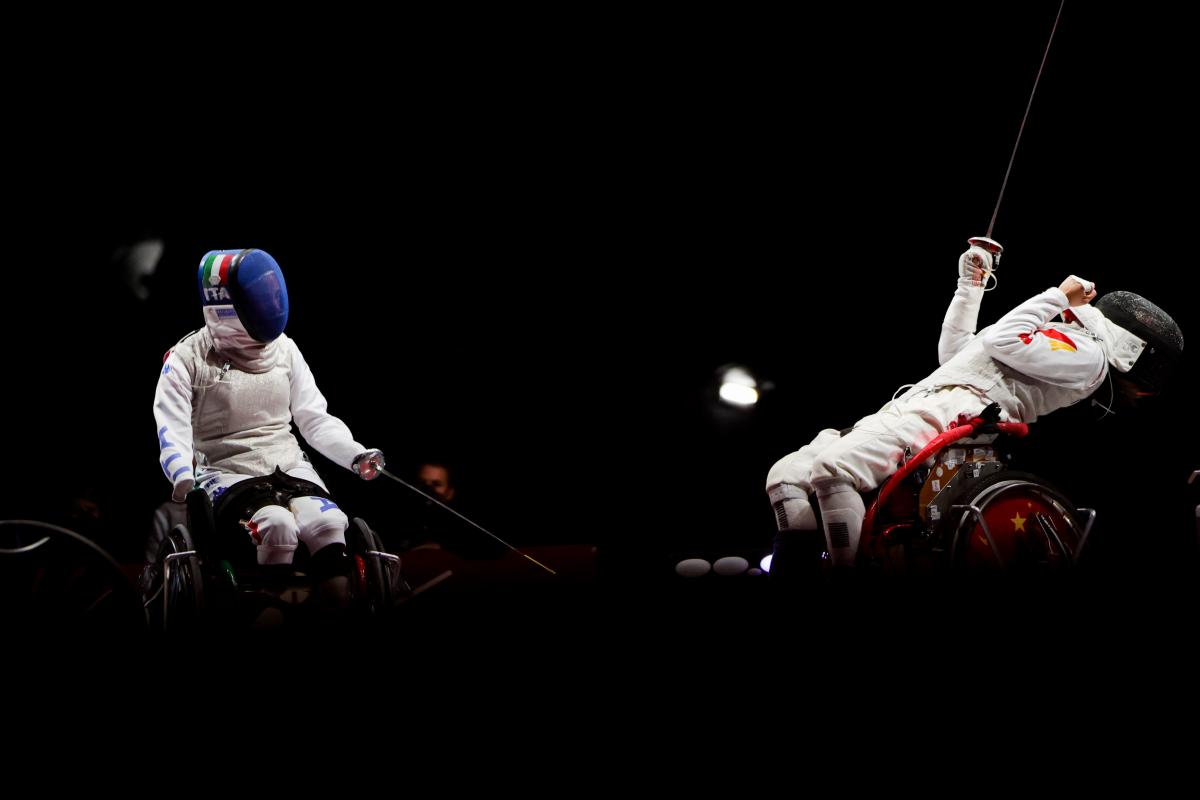 Ⓒ Carmen Mandato / Getty Images
By OIS
China swept on closing day of wheelchair fencing in Tokyo 2020, with wins in both foil team events at Makuhari Messe Hall B on Sunday. With the result, the team ended the sport medal table in first place for the fourth consecutive Paralympic Games, with 20 medals - the highest tally they have ever achieved.
In the women's contest, they beat Italy 45-41, while the men defeated Great Britain 45-38.
The Chinese women's team team was formed by Gu Haiyan, Zhou Jingjing and Rong Jing, while the Italians had Ionela Andreea Mogos, Loredana Trigilia and two-time Paralympic foil individual champion Beatrice Maria VIO (ITA), who scored 40 of Italy's 41 points in the gold-medal match.
"We were aiming for gold today, but we can be happy with silver because it's still an improvement from five years ago when we got bronze," Bebe Vio told the Olympic Information Services (OIS). 
In the men's foil team, China picked up a record-breaking 11th gold in wheelchair fencing at Tokyo 2020. For the British, it was their fifth silver medal at Tokyo 2020, confirming them as the most-improved team in the competition from just one medal at Rio 2016.
"This gold medal is kind of different for me because this is my first time with these guys, we've got a new team, new start and everything. It's different. This is a team sport and we're always good in team events. We train ourselves to the best of our possibilities, and today we had a good condition and so we performed really well today," said Sun Gang, who had as partners Hu Diaoliang and Li Hao.
The British team was formed by Piers Gilliver, Oliver Lam-Watson and Dimitri Coutya. 
"It is a real testament to how far we progressed and what strong contenders we are. I've always had huge respect for the China team, they're incredibly quick and very hard working. For us to come away with a result like this, and being so close to them, really shows that we've come such a long way and that we're well within their reach," affirmed Coutya, who was the only male fencer to collect a medal in all four events he competed in - three other bronzes besides today's silver.
Men's foil team bronze went to France, their sole wheelchair fencing medal at Tokyo 2020, while Hungary ended up with the bronze in the women's event.