Ktila, Tlili, gear up for home Grand Prix in Tunis
Tunisian track and field stars prepare to defend Paralympic titles this September by competing at IPC Athletics Grand Prix.
23 Mar 2016
Imagen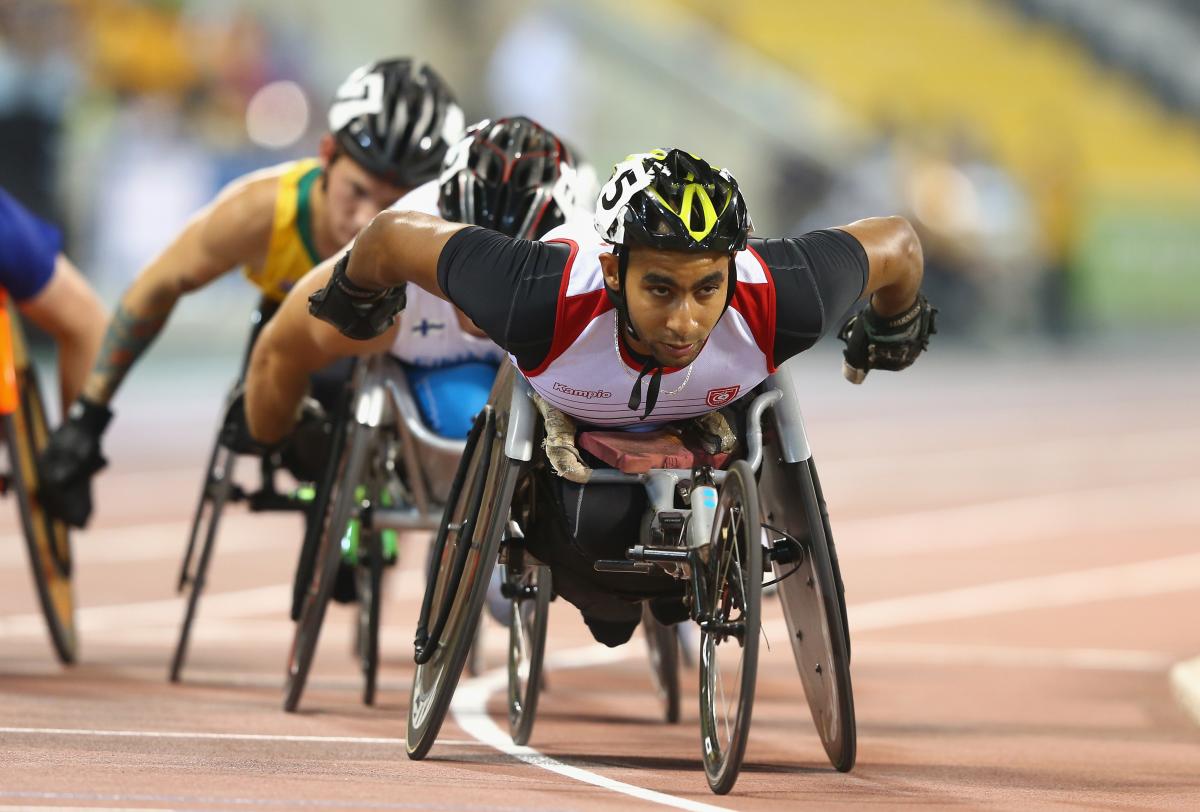 ⒸLOC Doha 2015 | Getty Images
By IPC
"The Paralympic Games is the most prestigious event ever, and I cannot describe my feeling when I won gold in London and Beijing.
Tunisia is fast becoming a powerhouse in para-athletics and two of the country's biggest stars, Walid Ktila and Raoua Tlili are now two of the biggest names on the world stage.
The north African country finished fifth in the medals table at last year's World Championships behind China, Russia, the USA and Great Britain - winning an impressive 11 golds, three silvers and a bronze.
Now Ktila is determined to keep his home nation at the forefront of people's minds as he gears up for the third Grand Prix of the IPC Athletics season - the 10th Tunis International Meeting, which takes place at Rades Athletics Stadium in Tunis, Tunisia from 24-26 March.
The multiple world and Paralympic champion has dominated T34 track events in recent years, and preserving his hold over his rivals remains key.
"It is hard to arrive at the top, I am working hard for it and I must work more and more to do the harder thing: keep my position at the top," he admitted.
"It is a long time since the last time I was beaten, the most important thing is that we learn from our defeat and always look to train hard to go beyond the bad periods."
It's difficult to imagine Ktila going through any hard times on the track – as well as winning every major competition he took part in last year, the 30-year-old broke the world 100m and 800m T34 world records. What inspires him to keep going?
"Raising the flag of my country Tunisia and making people hear the Tunisian anthem with my gold medals," he replied.
"My goal is to again break my world records. I admit that it is not easy because I'm always thinking about improving my strengths and eliminating my faults."
While Ktila is hoping for a repeat of his winning form on the Grand Prix circuit this year, he also believes a strong performance on home soil will not only help him prepare for this year's Paralympic Games, it is also a chance to encourage - and enlighten - others.
"The Grand Prix is a good opportunity for me to evaluate my preparations for Rio. All the team worked hard after Doha 2015. Each year the Tunis meeting is better than the last - for us, it is a chance to inspire all Tunisians and show them that disability is not an obstacle to achieving our goals," he said.
For two-time Paralympic champion Tlili, the reason behind Tunisia's success is straightforward.
"There is no secret for this success, we are well supported by the Tunisian federation, we work hard during the whole year, and many athletes like me are doing sacrifices like being far from family," she explained.
Tlili won two global golds in Qatar five months ago – smashing the discus F41 world record that she set at the Tunis Grand Prix earlier that year, as her team-mate Fathia Amaimia picked up silver.
Maintaining that unbeaten record is also a top priority for the 26-year-old – and, more importantly, turning her London 2012 discus silver medal to gold at Rio 2016.
"In Doha, my goal was two gold medals, I did not expect a world record and I am glad that I did it. I must work harder to achieve my goals in Rio," explained Tlili, who also won shot put gold and discus silver at the Beijing Games in 2008.
"The Paralympic Games is the most prestigious event ever, and I cannot describe my feeling when I won gold in London and Beijing.
"The discus gold medal is very important for me. That's why I am focused on this event with my coach Dali Ben Zina. I hope that I will be able to once again raise the flag of my country at Rio 2016."
Expect to see that flag raised numerous times during the Rio Games.
The 2016 IPC Athletics Grand Prix in Tunis, Tunisia runs from 24-26 March.