Liu hopes Beijing Grand Prix acts as catalyst to challenging Guilhermina
The Chinese Asian Para Games champion will be competing at the IPC Athletics Grand Prix in Beijing and hopes to challenge her Brazilian rival later this year.
08 Apr 2015
Imagen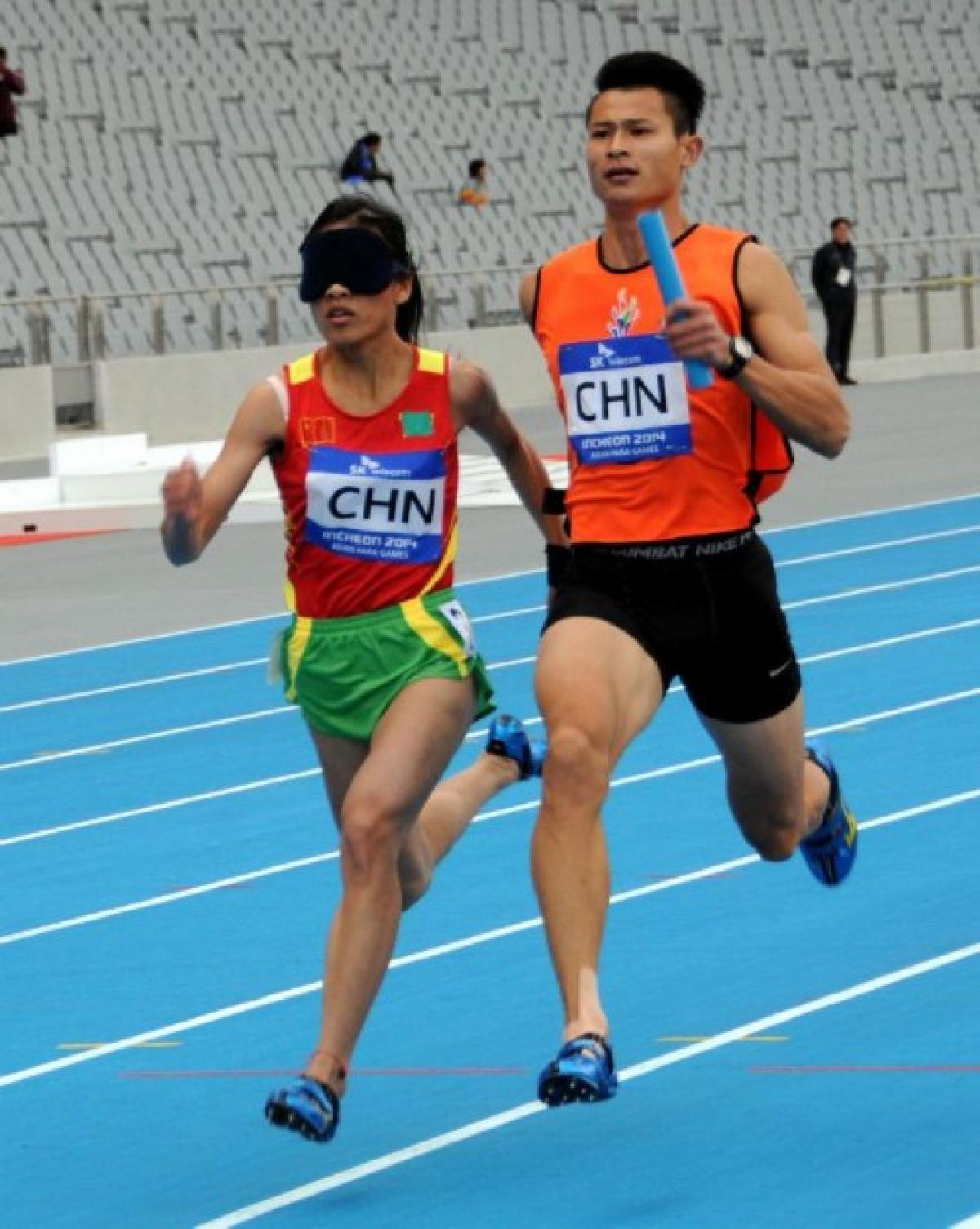 By IPC
"Expressing myself in the international area was always a dream of mine – it's been a dream since I was a little girl"
China's Cuiqing Liu will line-up at the IPC Athletics Grand Prix in Beijing, China, in two weeks' time (18-20 April) hoping to go one step further towards her dream of becoming a major player on the para-athletics stage.
The 23-year-old visually impaired sprinter last took part in the meeting in 2013, finishing second behind her compatriot and rival Yan Chen in both the 100m and 200m.
Liu's time of 14.11 in the 100m Beijing two years ago left her sitting down in 14th in the world rankings, whilst her 27.69 finish in the 200m T11 meant she sat seventh in the 200m T11 world list.
But since then, Liu's improvement has been nothing short of spectacular. She ended last year ranked second in the world over 100m (T11), just behind Brazil's multiple world and Paralympic champion Terezhina Guilhermina.
And with the rest of the world starting to sit up and take notice, Liu believes this could be the time for her girlhood dreams to become reality.
"Expressing myself in the international area was always a dream of mine – it's been a dream since I was a little girl," she said.
With her new-found confidence, Liu showed that she is more than capable of putting in a winning performance on the international stage, racing to victory at last October's Asian Para Games in Incheon, South Korea.
Liu clocked 12.32 on her way to 100m T11 gold, beating Yan Chen in the process, and she added victory in the 200m T11 too. Second place was no longer an option.
Indeed, another scintillating performance – this time over one lap - meant a new Asian record of 57.75 – just over 1.5 seconds outside the world record Guilhermina set back in 2007. That time also meant Liu finished 2014 as the number one T11 sprinter in the world over 400m.
If that was not enough, Liu triumphed alongside her teammates in the women's 4x100m T11/12/13. The Chinese quartet of Gouhua Zhou, Yan Chen, Lin Zhu and Cuiqing Liu ran a blistering 49.74 – another new regional record.
Liu believes that her success at the 2014 Asian Para Games marked a significant breakthrough, as she now focusses on success at the 2015 IPC Athletics World Championships in Doha, Qatar in October:
"I feel happy and I consider that it is a good beginning for me," she explained. "I hope that I can get ahead of myself and make up a stronger self to show the world."
That sort of form could well provide a glimpse of what Liu is capable of - it could also mean that she develops from a potentially world-class para-athlete to one who is a serial medal winner at world and Paralympic level.
Of course there is no doubt that beating Guilhermina to the top of the podium will present a considerable challenge. The Brazilian has medalled at every Paralympic Games and World Championships since 2004, winning three Paralympic gold and eight world titles in the process.
At 36-years-old, Guilhermina holds the world records in the 100m, 200m and 400m (T11), but coming up against the Brazilian does not faze the less experienced Liu.
"I am looking forward to being an opponent for Terezinha Guilhermina for the rest of the season," said Liu.
"I think Terezinha Guilhermina is a great Paralympian. I enjoy having such a strong athlete to race against. The great opponent can encourage me to improve myself.
"We are opponents in the game, and we can also be best friends in real life. Terezinha's spirit brings optimism and indomitable courage to the sport."
But for all her progress in her individual races over recent months, Liu also places special emphasis on the 4x100m relay.
"Out of all the events in which I compete, the relay is my favourite because it's not only dependent on individual power but also needs group co-operation," she explained.
A strong Cuiqing Liu should mean a strong China relay squad over the next few years, but in the meantime her rivals in Beijing - be they from home or abroad – will have to be at their very best if they want to get the better of this determined star in the making.
The IPC Athletics Grand Prix in Beijing, China, takes place between 18-20 April.