London 2017: Day 5 athlete morning reaction
Athletes give their reaction as the World Para Athletics Championships reach the halfway point.
18 Jul 2017
Imagen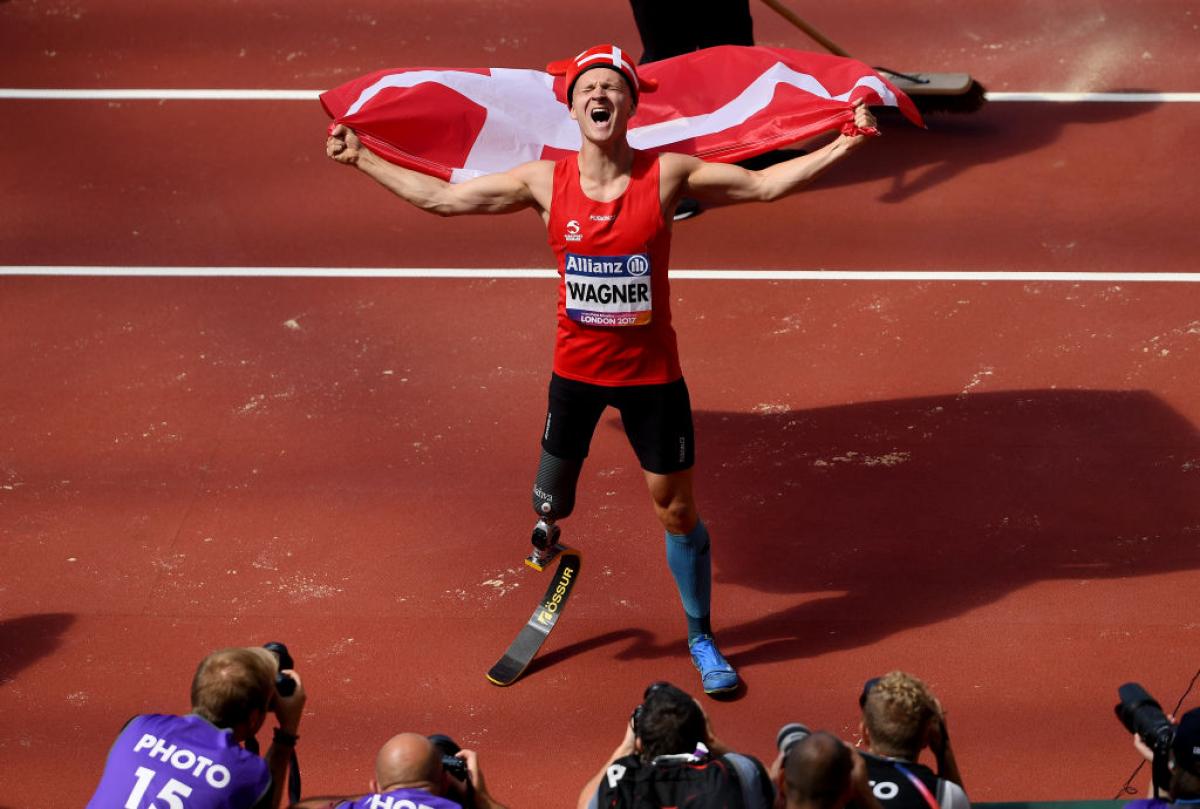 ⒸMike Hewitt - Getty Images
By IPC
This page will be updated with athletes' quotes throughout the eighth session of the World Para Athletics Championships London 2017 on Tuesday (18 July) morning.
Men's Discus Throw F52
Andre Rocha (BRA) – Gold, WR
"You cannot imagine how important this competition was to me. Just a couple of months ago, I was not sure I would be able to compete in London. I had a serious back injury and had a spine operation just a couple of months before the Paralympics in Rio so I could not start there.
"This medal belongs to all the people who stayed with me during these hard times – my family, my friends, my coach… It means a lot to me and it is a very emotional moment today.
"I was very disappointed after three throws because I wasn't doing well but I was nervous because this is my first world championships. I knew it was just about myself and I could do it with one big throw."
Women's discus throw F44
YAO Juan (CHN) - Gold
"This is the second time I have won a gold medal in this stadium. I won the shot put at London 2012. When I walked in this morning, all the memories came flooding back.
"After Rio I have taken a job and I also coach other athletes, so my training has not been so systematic as before. But I was able to train properly in the training camp beforehand. "
Men´s Triple Jump T20
Dmytro Prudnikov (UKR) – Gold, WR
"I did almost everything to jump well in London. In the end, it was not that easy because I had some pain in my knee after I got a bit injured. But generally I am satisfied with my jumps as they went well and technically it was also good. I felt in shape and was ready for the world record because I trained a lot. Also the crowd helped me a lot.
"I can say this was one of the most important victories in my life and I want to thank my family and the fans for their support. Now, I will have one month holiday and then will train for the European championships next year."
Women's Shot Put F54
Yang Liwan (CHN) - Gold
"London is my lucky place. I won two golds here in 2012 and the second I walked in this morning I knew it was going to be my day. Five years ago I broke the world record here but I didn't expect it today, I just did my best and hoped to win.
"When I saw that the Tunisian (Hania Aidi) was in London I could see she was in good shape. I was a bit scared to be honest, and I knew it would be a tough competition. I am so excited to win.
"Now I have two golds, but I don't know about winning all three – the discus is not my strength."
Women's discus F11
Zhang Liangmin (CHN) - Gold
"My only thought today was to win. It's great that China won gold and silver. Hongxia (Tang) is my friend. We know each other well through sport and are good friends except during comeptiton, then we are rivals. Afterwards we become friends again.
"I love sport. It is the most important thing in my life. I am very lucky to be here competing in the UK. There is such a warm welcome."
Men's shot put F46
Mathias Uwe Schulze (GER) – Silver, PB
"I have been dreaming about this medal for so long. This is my best result at the international competition and the 15 metres for the first time at a major event, I am over the moon. I promised my coach and the physio that if I do well, I would invite them for a dinner to the Jamie Oliver´s restaurant. So we will go."
Men's long jump T42
Daniel Wagner (DEN) - Gold
"This is incredible. To get beaten for the 2015 title (silver medal) was so hard and it's a incredible release to win the gold medal here. I have often got my arse kicked by the older guys. But I've worked so hard to get my first world title.
"You have such great crowds in London. It is like a Paralympic Games with the feeling and celebration.
"I lost my leg doing gymnastics in 2008 and since then I have been trying to get back to my old life. I got into track and field but gymnastics has always been my roots.
"I have some plans that are a bit of a secret. They may involve something on a board in South Korea. I have always had a dream of competing at both the summer and winter Games.
"I won a bronze medal in snowboarding at the 2015 world championships. I want to help develop the sport. It is not 100 percent that I will go to the (PyeongChang) Paralympics Games next March but it's my next goal."
Live coverage and results from the World Para Athletics Championships London 2017 can be found each day at www.worldparaathletics.org/London2017. Around 1,150 athletes from 90 countries will compete in 202 medal events between 14-23 July.