London 2017: Top quotes
These champions were anything but lost for words at the World Para Athletics Championships.
27 Jul 2017
Imagen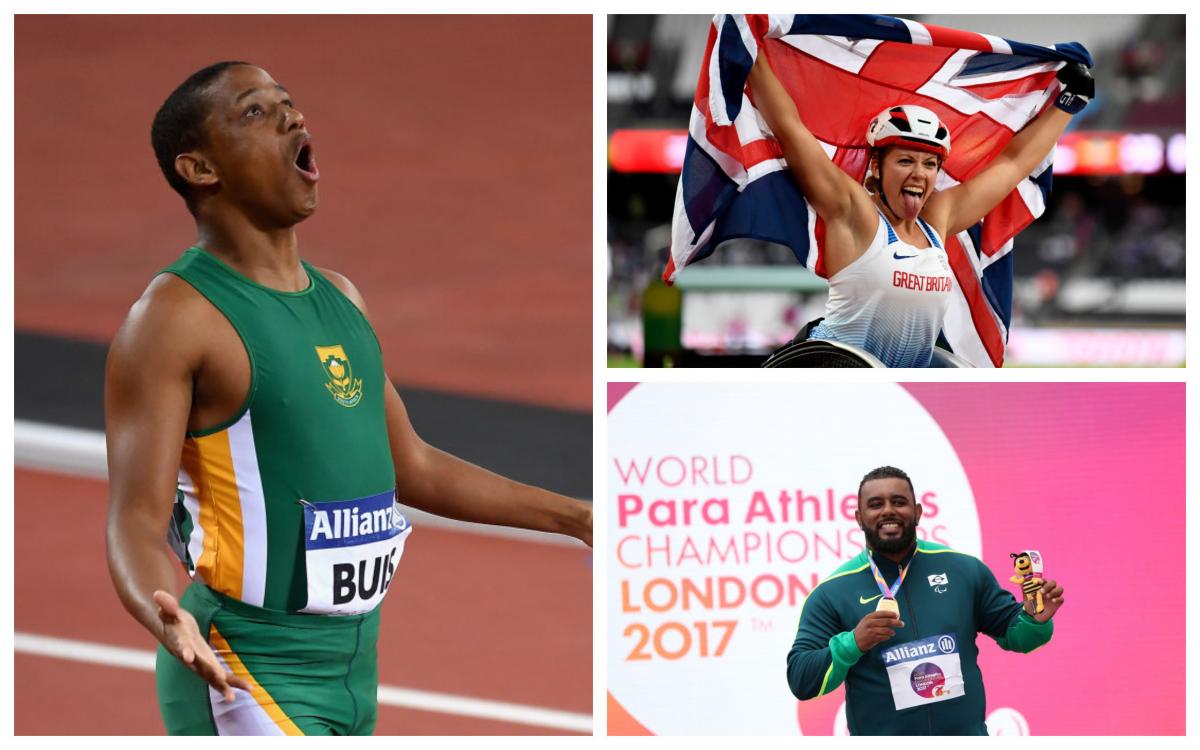 By IPC
You've just won a World Championship gold medal...emotions are inevitably running high. How do you put it in to words? Here are our top quotes from London 2017.
Nassima Saifi (ALG) – Gold - Women's discus throw F57
"Why have I won all of these medals? If you had seen me in training, you would see it is torture. I have to have a strong desire. My coach shows no mercy. There is no left or right, just his way.
"But a month and a half ago, we got married. Training is training and personal is personal. He is romantic off the training field. We haven't had time for honeymoon yet but I will give him the medal as a wedding present."
Dyan Buis (RSA) – Gold - Men's 200m T38
"I was running so fast I thought, 'Please call the fire brigade, I'm on fire.'
Stef Reid (GBR) - Gold - Women's Long Jump T44
"I felt nervous coming in this morning but once I came out, I thought: "I am at home". I didn't want to be the silver girl for ever.
"I have been in this sport since 2006 and it's now 2017 that I am in the middle of the podium...It feels amazing. It has been a long journey. "
Thiago Paulino Santos (BRA) – Gold - Men's Shot Put F57
"I want to thank my family so much. My wife is pregnant right now and this child is going to be born to a father who's a world champion. My first child was born when I won my first competition and now it's happened again. I am so thankful for what has happened to me today."
Hannah Cockroft (GBR) – Gold - Women's 400m T34
"I'm feeling really emotional. I even had a little cry. I was confident until yesterday when I got full of cold. When I came to the start line I felt like I had nothing to put into the race.
"All the way round I was thinking 'I can hear the girls coming. I'm not going fast enough, I'm not going fast enough.' So to get that result when I was feeling like this is such a relief.
Yang Liwan (CHN) – Gold - Women's Shot Put F54
"London is my lucky place. I won two golds here in 2012 and the second I walked in this morning I knew it was going to be my day. "
But it's not always about winning…
Jack Gladman (GBR) – ninth – Men's 1,500m T38
"These people are the best fans in the world without a doubt. I should have been part of that atmosphere. I bought a ticket: that's how much I didn't think I would be here. My nan is sitting in the seat that I should have had. This is insane.
"I have just run at the World Championships, I can't believe what has happened.
My laces came untied in the first 50m and I thought that it was all about to turn from my dream race to my worst nightmare, but I gave it everything and I am in the top 10 in the world. Amazing."