Madeira 2022: Ami Omer Dadaon pulls plot twist on day of world records
Men's 50m freestyle S4 sees two records in one day on Thursday while Brazil's Santiago and USA's Smith take their fifth World Championships gold
16 Jun 2022
Imagen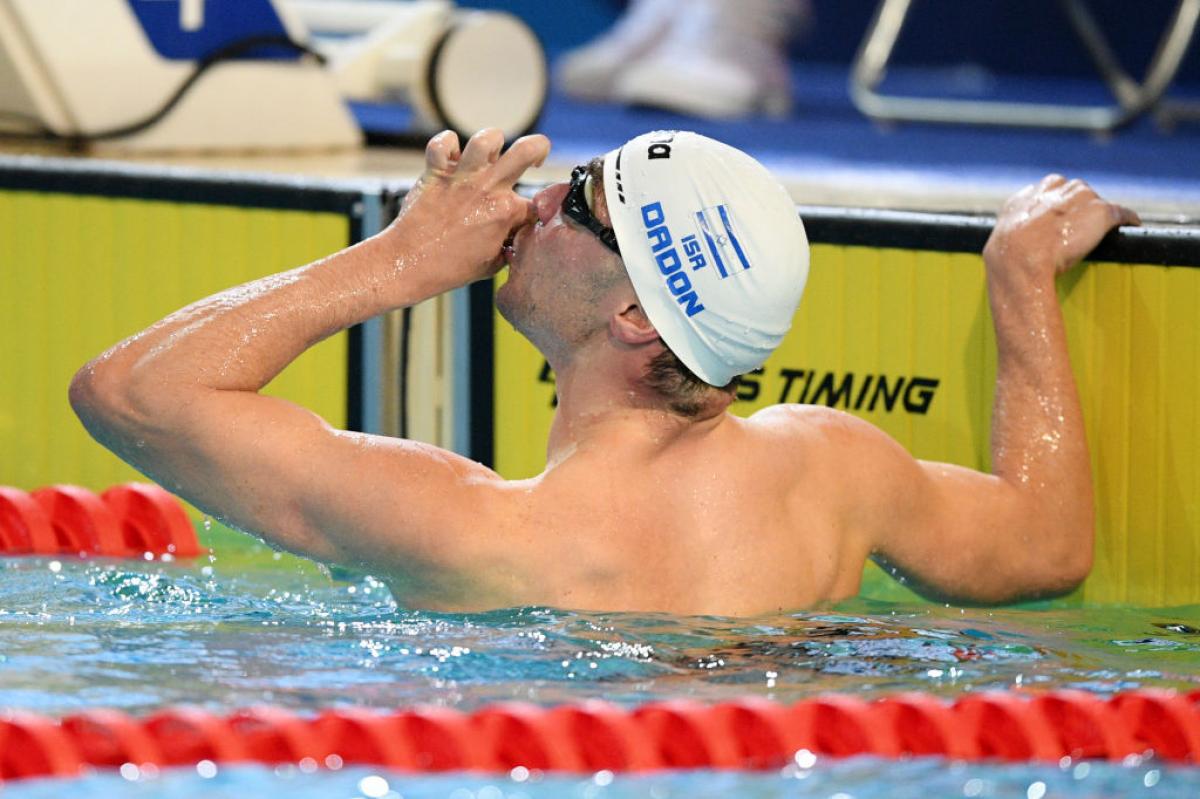 ⒸOctavio Passos/Getty Images
By World Para Swimming
One event, two world records. Madeira 2022 saw a plot twist in the men's 50m freestyle S4 when Israel's Ami Omer Dadaon beat world record holder Cameron Leslie to take the gold and set a new world mark on Thursday (16 June).
Other two world records fell in the fifth day of the World Para Swimming Championships in an evening session in which Brazil's Maria Carolina Santiago and USA's Leanne Smith reached their fifth victory this week.
Italy continues to top the medals standings after three victories and 19 gold medals in total followed by USA (16) and Brazil (15).
It was still 9:50 in the morning when the first world record of the day fell in the Funchal Swimming Pools Complex. New Zealand's Leslie won the men's 50m freestyle S4 heat 2 in 36.75 lowering his own mark in 0.27 (36.75).
"I stuck the race plan and it went really well. I enjoy the 50 metres freestyle so I'm going to go hard and leave it all out there," Leslie said.
Winner of heat 1, Israel's Dadaon had other plans and swam the final 0.50 faster to take his second gold at Madeira 2022 (36.25).
"I finally succeed to have my first world record [in the 50m freestyle]. Now all the world record in the freestyle belongs to me. It was a really tough race, I prepared to this and I feel it was really at a hard pace," said the Israeli who is also the Paralympic champion in the event.
Sixth gold for Santiago
Brazil's Santiago picked her six medal and fifth gold in Madeira in the women's 100m freestyle S12 (59.62), her final event at this year's Worlds. 
"I thought I was too old for this [six-race] programme," the 36-year-old said with a smile. "It was really tough, this race was very difficult. In the end I felt my legs and my arms were already burning. But I made it."
Gabriel Bandeira put Brazil on the top of the podium again breaking the men's 200m medley SM14 world record (2:07.50). The Brazilian also won the men's and women's 50m freestyle S8 with Gabriel de Souza and Cecilia Araujo, respectively.
Ukraine's Anna Hontar was responsible for the last world record of the day in her victory in the women's 50m freestyle S6 (32.75). 
Team Ukraine also celebrated wins in the men's 50m butterfly S7 with Andrii Trusov (29.28, championships record) and Oleksii Virchenko in the men's 50m freestyle S13. 
USA's Smith equalled the women's 50m freestyle S3 world record (40:32) to take her fifth win in five events at Madeira 2022 so far. Anastasia Pagonis in the women's 100m freestyle S11 gave USA its second gold of the day.
Italy's triple triumph
Italy's power trio Antonio Fantin, Simone Barlaam and Stefano Raimondi visited the top of the podium again on Thursday. Fantin set a new championships record in the men's 50m freestyle S6 (29.16) while Barlaam triumphed in the men's 400m freestyle S9. 
Raimondi picked his fourth gold and fifth medal at Madeira 2022 in the men's 100m butterfly S10 in 54.67 (championships record).
Great Britain was another team with a triple triumph. Bethany Firth won her fourth gold in a third podium sweep with Jessica-Jane Applegate (silver) and Louise Fiddes (bronze) in the women's 200m medley SM 14.
Tony Shaw finished 0.14 ahead of Hungary's Zsofia Konkoly in the women's 400m freestyle S8 and Grace Harvey bagged a gold in the women's 100m breaststroke SB5.
Dutch swimmer Rogier Dorsman also joined the group of medallists with four victories at Madeira 2022 finishing first in the men's 100m freestyle S11 (56.65, championships record). Lisa Krueger picked the first win of the day for the Netherlands in the women's 100m butterfly S10.
Australia was another nation with two golds on day fiver while Azerbaijan, Canada, Germany and Mexico had one victory each.
All medallists, records and results of the World Para Swimming Championships are available here. 
You can watch day six (Friday, 16) live on World Para Swimming website and Facebook page.