Marcel Hug taking nothing for granted in New York
Swiss Silver Bullet targeting fourth marathon win of 2017
02 Nov 2017
Imagen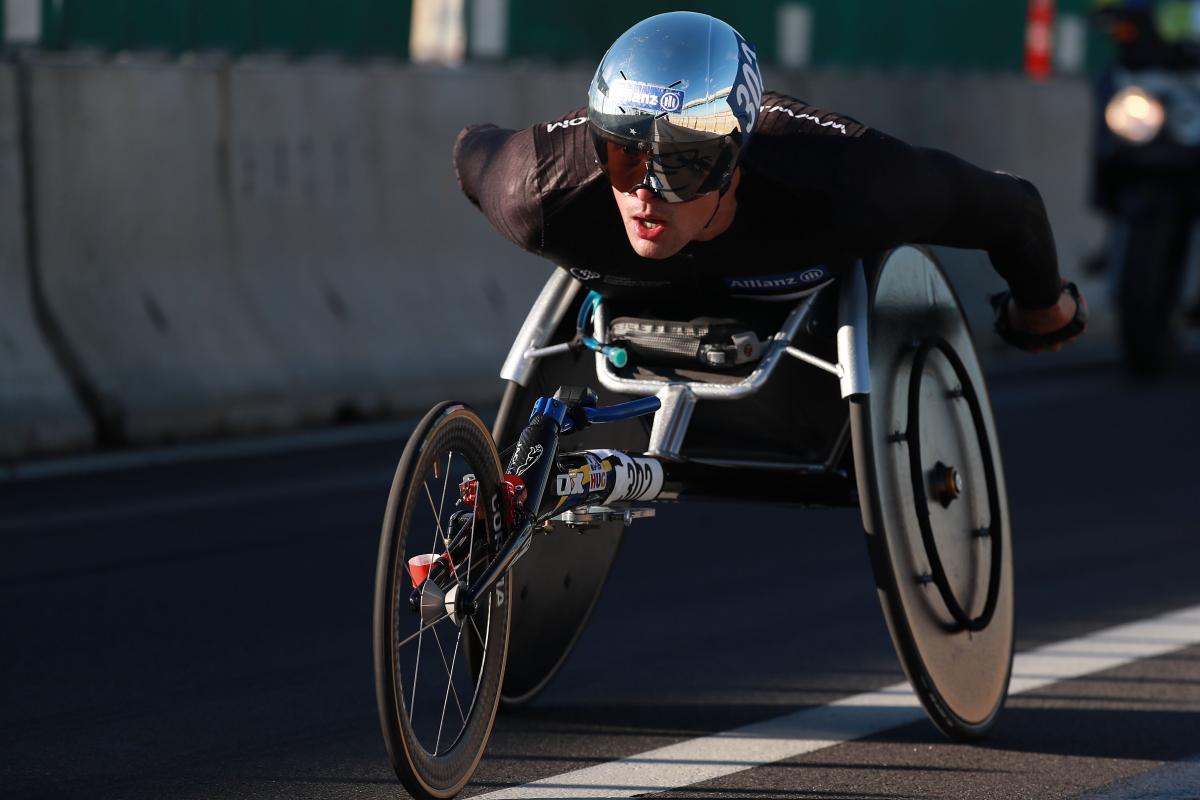 ⒸGetty Images
By IPC
"For now I'm not too confident, I still have to compete, finish, have no injuries, no problems with materials, no crash – so you never know!"
Marcel Hug may have thought he was in the form of his life last year, but 2017 is proving just as successful as the Swiss racer looks to complete a hat-trick of wins in the New York Marathon on Sunday (5 November).
The 31-year-old won six major marathons in 2016 including the Paralympic title – he also won 800m T54 gold in Rio.
And while this year he finished second behind Briton David Weir in the London Marathon, Hug, who won in Boston, Berlin and Chicago, believes he is in equally impressive form in 2017.
"It's difficult to compare with last year – maybe about the same condition," admitted Hug. "Last year I think it was the best year I had so far, and this is quite similar."
Still, the Swiss Silver Bullet, who won 800m, 1,500m and 5,000m T54 gold on the track at the 2017 World Para Athletics Championships, believes he's still got more to give, adding:
"Especially in the marathon. Maybe on the track it's difficult to keep this level but in the marathon I think I still can improve."
Hug will line up in New York this week without his arch rival Kurt Fearnley, as the Australian chose to remain at home with his wife who is due to give birth.
The 36-year-old has posed the biggest threat to Hug over 26.2 miles in recent months – he finished second behind Hug at Rio 2016 and in London, Chicago and New York last year, and was also runner-up in Chicago last month.
But even without the five-time winner and course record holder (1:29:22 by Fearnley in 2006) on the start line, Hug knows there are others who could pose a threat; not least the formidable Japanese racers Kota Hokinoue, Masazumi Soejima, Tomoki Suzuki, Sho Watanabe and Ryota Yoshida.
"I think even if Kurt is not there it will be an exciting race," said Hug. "There are some other good athletes this year, especially the Japanese – Suzuki is very strong in the marathon. It depends who is strong in the uphill, this is maybe the key in New York – the uphills."
In fact Hug rates the course, which starts with a long incline over Verrazano-Narrows Bridge, as the toughest of all the major marathons around the world. The first mile is the longest and steepest hill on the course.
He also believes racing uphill is one of his strengths, although he remains coy about how he will tackle the start, given that Fearnley is normally the one to lead out strongly.
"Kurt usually does a very strong fast start uphill and it was very difficult to follow," explained Hug.
Would he take on that role himself? "Maybe, but I don't know – I think I will decide at the start how I feel. Maybe I will do a fast start and try, maybe not.
"First priority is the place, but the second priority depends on the weather, of course. If it's good conditions, not too cold, if I feel good, maybe I could try to go for the course record."
Then there is the small matter of vital Abbott World Marathon Major Series points – another title Hug hopes to defend. This time last year Hug had Series X sewn up; now he heads to New York with 66 points at the top of the leaderboard, with Weir and Fearnley second and third on 25 points and Hokinoue fourth on 16 points. Sunday's race could well provide an opportunity to extend that lead, with three more marathons still to come in Series XI next year. But he's taking nothing for granted.
"I'm in a good position right now but I think if I would win the New York marathon it's much better – for now I'm not too confident, I still have to compete, finish, have no injuries, no problems with materials, no crash – so you never know!"