Markus Rehm jumps to history in Bydgoszcz
Germany's Paralympic champion improves his own world record by 14 centimetres on the opening day at the European Championships
01 Jun 2021
Imagen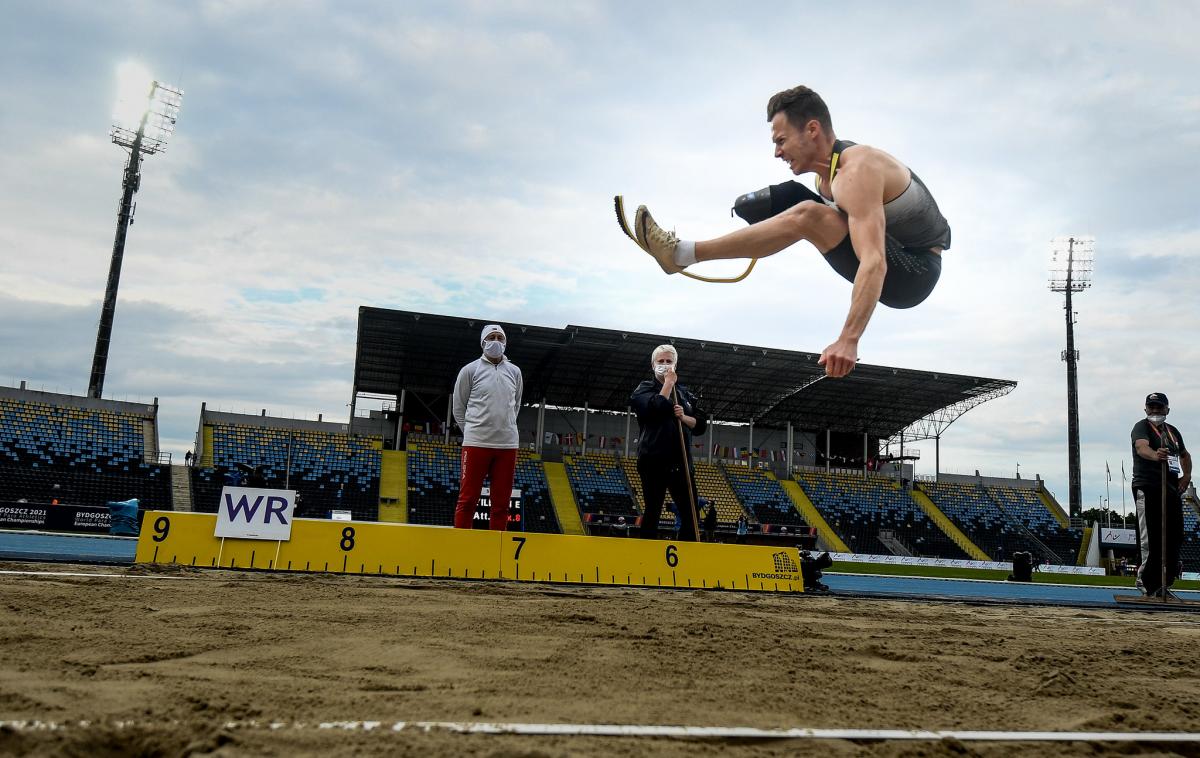 ⒸBartlomiej Zborowski
By Paloma Gutierrez and Filip Ozbolt | For World Para Athletics
Markus Rehm leapt to history on the opening day of the European Championships in Bydgoszcz, Poland, on Tuesday (1 June) setting a new world record in the men's long jump T64 with impressive 8.62m.
The German blade jumper added 14 centimetres on to his previous record, also set at the European Championships three years ago in Berlin, Germany.
"I feel amazing. To get the world record is always great. I did it a few times already, but it still feels special. I think it went well for me today", Rehm said.
It was his eighth European Championships gold medal and fifth in the long jump.
"This season was really well for me already. I had two competitions and in the first one, I was just one centimetre shy of the old world record. I am consistent at the moment and I need to stay healthy to keep the success coming," the three-time Paralympic champion added.
Dimitri Pavade from France took the silver medal with 6.98m, while Italy's Marco Cicchetti managed to get the bronze with his season-best jump of 6.72m.
Rehm took the lead right in his first attempt of 8.19m. He improved his mark and got closer to the world record in the next jump (8.46m). Then pulverised his own record in his third attempt. 
Only 14 athletes in the history of long jump – in able-bodied or Para athletics – have jumped further than the result achieved by the German athlete in Poland.
His next challenge will be the Tokyo 2020 Paralympic Games in August, where Rehm will be defending the world jump title from Rio 2016 and London 2012.
"It's my main competition this year and I will try to reach my peak there. It is getting harder because I put my limit higher and higher. I'm in good shape and I hope I can jump some distances as I did in Bydgoszcz," he added.
First golds for Blango and Streimikyte
28-year-old Columba Blango from Great Britain was another shining star in the afternoon session at the Euros in Bydgoszcz. He won the men's 400m T20 with a new European record of 47.90.
"I knew I had to go hard in the beginning. It was my main goal to get in the last 100 metres as the first one in the rankings. I achieved that and managed to win", said Blango who won his first major international title in Bydgoszcz.
Another European record fell in the women's 1500m T13. Ireland's Greta Streimikyte won her first European Championships gold medal with a time of 4:39.27.
Out of 18 finals in the evening session, seven saw new championships records – all by athletes from different nations. France's Pierre Fairbank was responsible for one of them getting his second consecutive gold medal at the Euros in the men's 100m T53 (15.48).
"Three years ago I finished first in Berlin and I am happy to repeat the same result here in Bydgoszcz. It feels a little bit strange because this was my first competition in a long time. I am happy with the result", said Fairbank.
Reigning world and Paralympic champion Rhuzdi Rhuzdi from Bulgaria won the European title in the men's shot put F55 with a 12.27m-throw. 
Catherine Debrunner got the first win in Bydgoszcz for Switzerland in the women's 100m T53 (17.26s), while Frantisek Serbus from the Czech Republic broke the competition record in the men's club throw F32 (34.31m).
Three more records were broken by Lithuania's Andrius Skuja in the men's javelin throw F46 (47.84m), Russia's Khetag Khinchagov in the men's long jump T38 (6.41m) and Turkey's Zubeyde Supurgeci in the women's 100m T54 (16.83s).
Hosts top the medals tally
Russia, Czech Republic and Poland won two gold medals each in the afternoon session. 
The second Czech gold came with Eva Datinska's triumph in the first event of the afternoon, the women's discus F38 (26.78m).
Aleksandra Zaitseva from Russia got her new personal best in the women's shot put F20 (13.29m).
Poland's Michal Derus picked his fourth consecutive European title in the men's 100m T47 (11.00), while his compatriot Bartosz Tyszkowski won the men's shot put F41 with a new season-best (13.51).
Finland's five-time Paralympic champion Leo Pekka Tahti bagged his fifth gold medal at the European Championships in the men's 100m T54 (13.95). 
Austria's Thomas Geierspichler (men's 400m T52, 1:07.28), Italy's Martina Caironi (women's 100m T63, 15.01s) and Ukraine's Yuliia Pavlenko (women's 100m T11, 13.31) won the other gold medals in track events.
Hosts Poland lead the medals tally after day one with 13 medals, including five golds, five silvers and three bronze medals.
Complete results from day one and the day two schedule can be found on the Bydgoszcz 2021 website.
The European Championships are live on the World Para Athletics website and Facebook page (with geo-block restrictions in Spain, Poland, and the United Kingdom).