Ostrava 2019 overtime-thriller fuels USA
Defending champions looking to remain the only team to win back-to-back world titles when they return to Czech Republic in June
27 Apr 2021
Imagen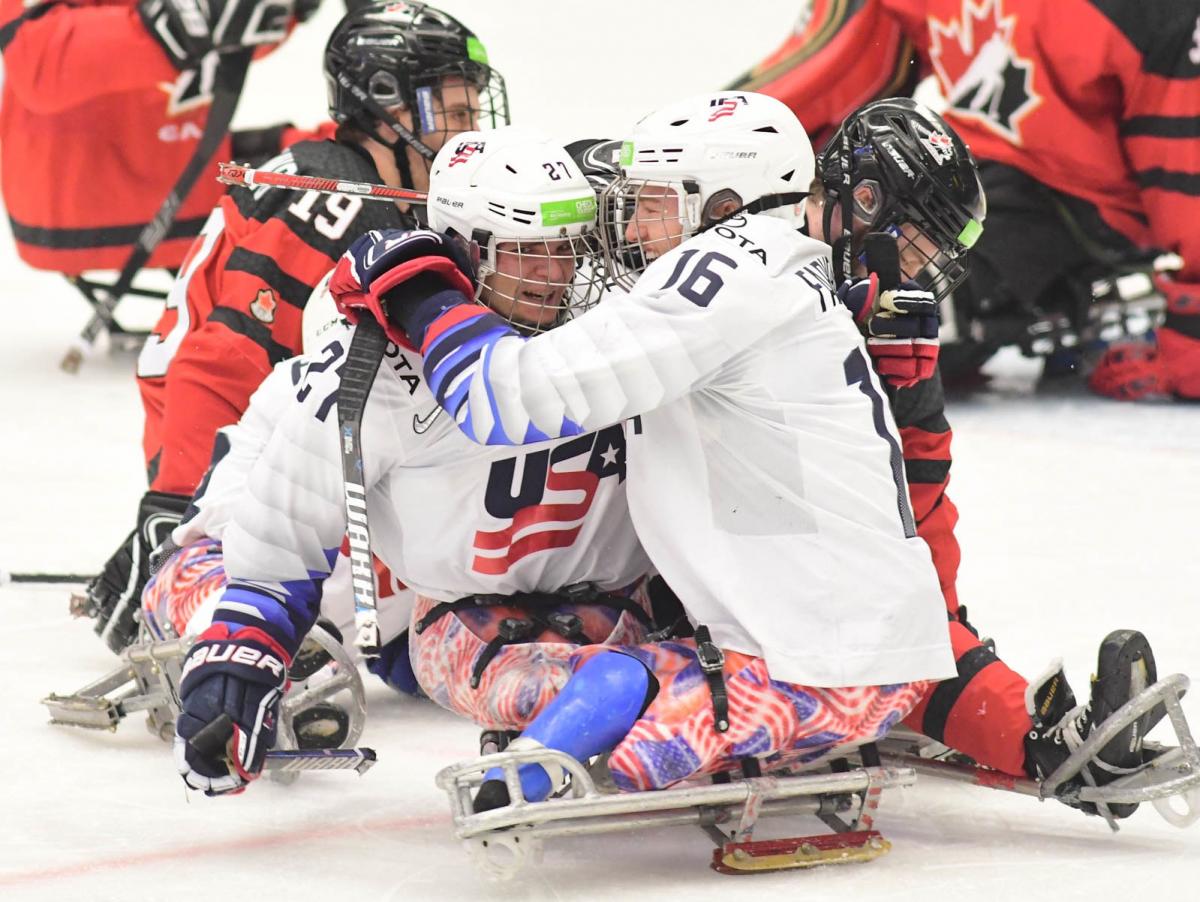 ⒸOstrava 2019 LOC
By Stuart Lieberman | For World Para Ice Hockey
This week marks two years since USA won its record-tying fourth world title in Ostrava, Czech Republic, after scoring a game-winning goal in an overtime thriller for a 3-2 victory over Canada. 
"I can recall my ears ringing during each intermission from how loud the fans were," goaltender and four-time Paralympic medalist Steve Cash said. "That was by far the biggest and most electric crowd I've played in front of. I was happy to see the turnout as it helps the sport gain traction and new interest."
Now, the US, winners of four of the last six World Championships, will travel to the World Para Ice Hockey Championships in Ostrava, Czech Republic in June looking to remain the only team to win back-to-back world titles. 
And it will aim to do so for the second time. 
The programme's dominance over the last two decades includes four World Championships golds and four Paralympic golds, including three consecutive of the latter. 
Roster revealed
USA revealed their roster last week for the event, which includes 15 returnees, along with two newcomers in Joey Woodke and David Eustace.
"I think we'll be extra hungry for game action going into this World Championships," said Josh Pauls, recently named team captain for the fourth season. "With us not playing games for over a year, the guys will be chomping at the bit to get real games under their belt and have the chance to compete for a gold medal.
"Some players have changed, but I think overall we're still going in with the same expectations and work ethic that's carried us to gold medals in the past. I've been very impressed with the way guys trained over the extended break between seasons, and personally I'm down about 20 pounds from my playing weight last year, and I'm excited to see how that translates to playing."
Coached for the third season by David Hoff, the star-studded US line-up will once again include Pauls and Jack Wallace leading the defensemen, Declan Farmer and Brody Roybal at forward, and Cash and Jen Lee splitting time in the net.
The last time the US national team played an international contest was 15 February 2020 when they defeated Canada 2-0 to win the 2020 World Sledge Hockey Challenge. Last month, the squad gathered in Madison, Wisconsin for the first time in more than a year, having been separated across the country for most of the COVID-19 pandemic. 
"Obviously, it has been a rough year for a lot of people, and we have used it to fuel our training because we just haven't known when the next opportunity will be," Cash said. 
"We want to stay fresh, so I know the guys who have access to ice are using it to their full advantage and the ones who haven't been so lucky are supplementing in other ways. We always look for solutions to overcome challenges and obstacles and I think that's helped us be successful over the years."
"We pride ourselves in consistency so that has been one of our themes even during this time of uncertainty, though you might notice that some of our beards have gotten thicker, and for some, the flow has grown out through the quarantine," he joked.
The team has been able to stay connected through regularly scheduled online meetings as opposed to in-person camps, including separate monthly calls for the offensive and defensive units. 
Grey beard
Cash added that he set up additional sessions for himself and backup goaltender Jen Lee to discuss necessary topics and trends. 
Pauls, who in the past has served as a special ambassador for the NHL's "Hockey is for Everyone" campaign, along with Cash – often called the "grey beard" of the group – are certainly seen as veterans on the national team whom others look up to for advice.
Cash, however, believes listening, just as much as talking, will be the key to leading the team to another world title.
"There is a mutual respect among players on our team, whether you are tenured or just joining for your first season," Cash said. "We don't treat ourselves any different than the rest of the team, so we hope that no one feels there is an inequity between veterans and first year players." 
Pauls fully concurred. 
"Even as captain, I lean on everyone for advice and leadership in their own way," he said. "I'd hope all the guys know they can ask me for advice or if they just need to talk because ultimately our goal is a gold medal, and we want everyone to be contributing towards that in their own unique way."
The Ostrava 2021 World Championships will take place from 19 to 26 June. You can follow all the action on World Para Ice Hockey website and social media channels.