Paralympic legend Libby Kosmala retires
Australia's 78-year-old shooter won 13 medals and competed in 12 Games from Heidelberg 1972 to Rio 2016
03 Sep 2020
Imagen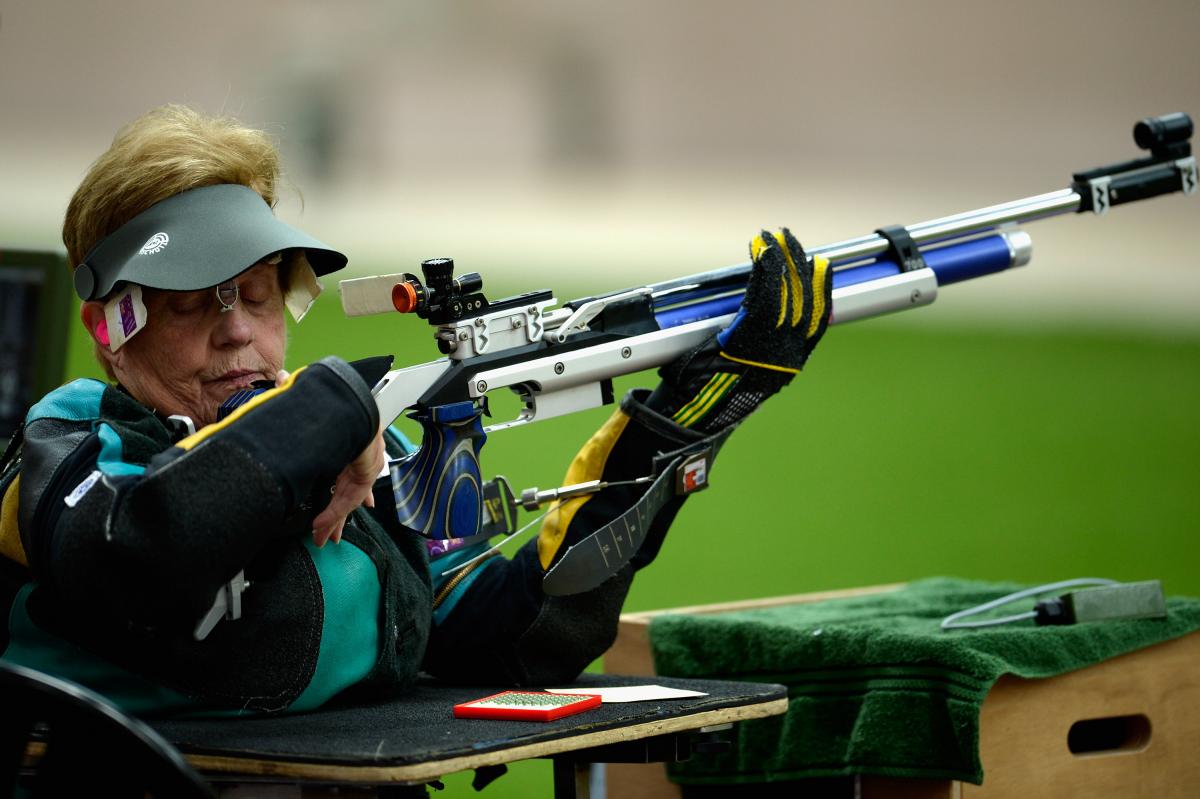 ⒸDennis Grombkowski/Getty Images
By World Shooting Para Sport
She has competed in 12 Paralympic Games and won 13 medals for Australia. Now, Libby Kosmala plans to watch Tokyo 2020 in a completely unfamiliar way, from TV. 
"I have officially retired. I've been to enough Paralympic Games, more than most people," the 78-year-old said in an interview to Australia's Paralympic broadcaster Seven Network. 
"I don't know [the feeling of watching the Games on TV], I haven't done that for years," she added with a smile.
Her announcement followed immediate reactions across social media.
The International Paralympic Committee (IPC) President Andrew Parsons posted:
"You have aimed at living by the Paralympic values and you did hit the bull's-eye. As always! A true legend!"
Three-time Paralympic champion and Vice President of the IPC Athletes' Council Kurt Fearnley said:
"One of Australia's all time sporting greats! Libby has a list of Australian representative honours that our better known sporting legends could only dream of. We represent on the foundation created by the hard work from the likes of Libby."
From 1968 to 2016
A paraplegic due to complications at birth, Kosmala attended her first Paralympic Games at Tel Aviv 1968 as an assistant secretary of the Australian delegation. 
She competed in different Para sports and made her Paralympic debut at Heidelberg 1972 winning a bronze medal in swimming as part of the women's 3x50m medley relay. 
Then she discovered shooting Para sport. 
"I was given a rifle, I loaded the rifle and they said: 'just shoot that black dot on that target.' And I was: 'oh, where is the trigger?' That is how much I knew about a rifle," Kosmala recalled on her TV interview.
"Then they showed me the trigger and I squeezed the trigger and the shot went straight to the middle."
Four years later, at the Toronto 1976 Paralympics, she won the first of her nine gold medals, in the mixed rifle shooting 2-5. 
At the 1984 Games in Stoke Mandeville, Great Britain, Kosmala competed in four events and took gold medals in all of them.
Seoul 1988 were also special Games for Kosmala as she won three golds and a silver, while her husband Stan also took a gold medal in lawn bowls.
Libby Kosmala's last participation at the Paralympics was four years ago in Rio, where she was oldest athlete from any nation at the Games. 
New challenges
"It has been a wonderful life. I've had a wonderful life and I don't think of myself as a person with a disability," she said.
That mentality was something Kosmala took from sport to all different areas she has been involved in. 
Kosmala has been very active advocating for the rights of persons with disabilities in her city Adelaide and the South Australia state. 
She played an important part in the introduction of parking spaces for people with disabilities in the region.
"I did push my barrel quite a bit. The more people do that, the more Australia and South Australia will be fully accessible place for all persons with a disability."
Retiring from competitions does not mean Kosmala will be far from shooting ranges. Her focus now is on the next generation of Australian shooters.
"At my height, I'm in a wheelchair and they are only a little bit higher than I am, so they listen to me very carefully," she said.
Libby Kosmala's Paralympic medals:
Heidelberg 1972
1 bronze medal, women's 3x50m medley relay (swimming)
Toronto 1976
1 gold medal, mixed rifle shooting 2-5
Arnhem 1980
1 gold medal, mixed air rifle prone 2-5
1 silver medal, mixed air rifle 3 positions 2-5
1 silver medal, mixed air rifle kneeling 2-5
Stoke Mandeville & New York 1984
1 gold medal, women's air rifle standing 2-6
1 gold medal, women's air rifle kneeling 2-6
1 gold medal, women's air rifle prone 2-6
1 gold medal, women's air rifle 3 positions 2-6
Seoul 1988
1 gold medal, women's air rifle kneeling 2-6
1 gold medal, women's air rifle prone 2-6
1 gold medal, women's air rifle 3 positions 2-6
1 silver medal, women's air rifle standing 2-6