Passion comes first for Germany's Heinrich Popow
"If your coach is telling you to do this or that and you don't like it and you don't have the passion for it, then don't do it"
20 May 2020
Imagen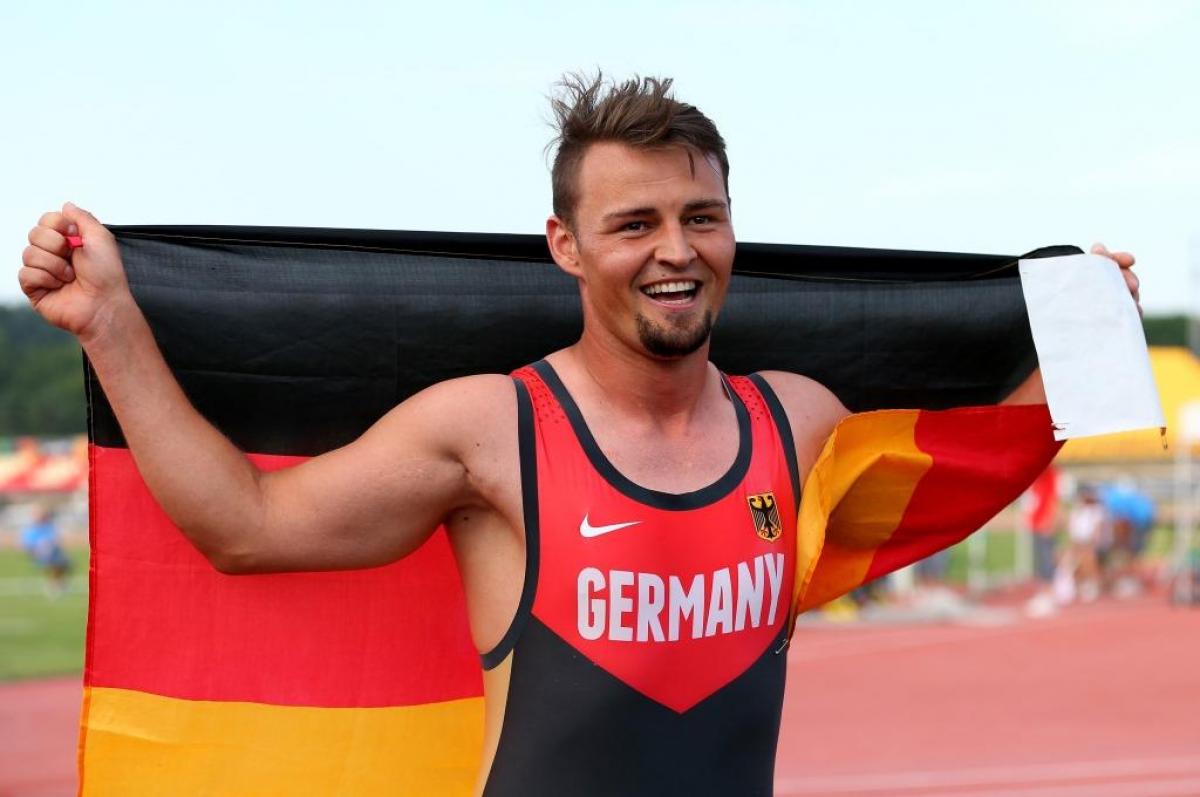 ⒸGetty Images
By Hernan Goldzycher | The IPC
There is no substitute for passion, commitment and love if you want to become a Paralympic champion, asserted Germany's Heinrich Popow, during an Ottobock Instagram live chat with Iraqi scuba diver Zainab Al Eqabi.
"One should enjoy what they are doing. If your coach is telling you to do this or that and you don't like it and you don't have the passion for it, then don't do it. It's not necessary. First you need the passion and then you can push yourself," said the two-time athletics gold medallist.
Popow retired following his participation at the Berlin 2018 European Championships. Throughout his career, he claimed 15 major medals across four Paralympic Games and four World Championships.
"I hated the people who told me you can't do this, or you can't do that. I was always looking for my own limits and I think I never found them. I had to stop my career because of my age, I was too old," revealed the 36-year-old.
Enjoying the adrenaline
At the beginning of his career, Popow said that he was "really obsessed" with the 100m. "I really liked the adrenaline before the start: on your marks, get set, go. Then, if you don't react you can go home."
"I was never feeling pressure, I was just into 'Let this little kid run'. During my whole career I was a little kid, I'm still a little kid."
But things changed over the years. "When I became older, I was not into that. I was more obsessed about long jump. There you can enjoy the competition, talk to your competitions, you can really have a chat in between. This is what I really loved at the end of my career."
Learnings
Popow admits that he has also massively evolved as a person outside the track. "When I started off, I was really selfish. I couldn't even see myself helping one person. Then I realised that it was different, I needed to help people."
He also recalls one experience with his father that really changed him.
"After I won my gold medal at London 2012, I went back home and thought I was a hero. I thought I was the king of the world. I started to become different. 
"Then we had a Sunday morning breakfast with the family. My dad looked in my face and he said to me 'You know what? Leave your medal in the room and then come back to breakfast, sit down and enjoy the time with your family. If you forget where you are coming from, you will lose your biggest fan.'
"This situation showed me that being a Paralympic athlete is not only about winning a medal, it's much more than this."
Unknown side
Few know that before his successful career in Para athletics, Popow tried swimming. "I was not free in the water, I felt something was wrong," he explained.
"I had no problems with my amputation, I didn't have to deal with it, it was just the water. I think I'm made for running and this is something everyone has to find (themselves)."
Outside the field of play, Popow gained some more fans following his participation in the 'Let's Dance' reality show on German TV in 2006.
"They asked me to attend the show and I said 'No, thank you'. On the second time, I said I was busy with being an athlete. On the third time, I realised I had to do it because I was telling everyone that everything was possible.
"I'm lucky enough that I'm my own orthopaedic technician, so I was able to try out different legs for different dances. For salsa or contemporary, for example, I changed my legs.
"I was afraid of the challenge; I was afraid of the reaction of the people. At first, they didn't want me to show my prosthetic. I said, 'No guys, I went through lots of situations in my whole life and I'm not hiding my prosthetic'."