Refugee athletes Parfait Hakizimana and Anas Al Khalifa defy the odds in Tokyo
Hakizimana will compete in Para taekwondo while Al Khalifa will participate in the canoe competition
01 Sep 2021
Imagen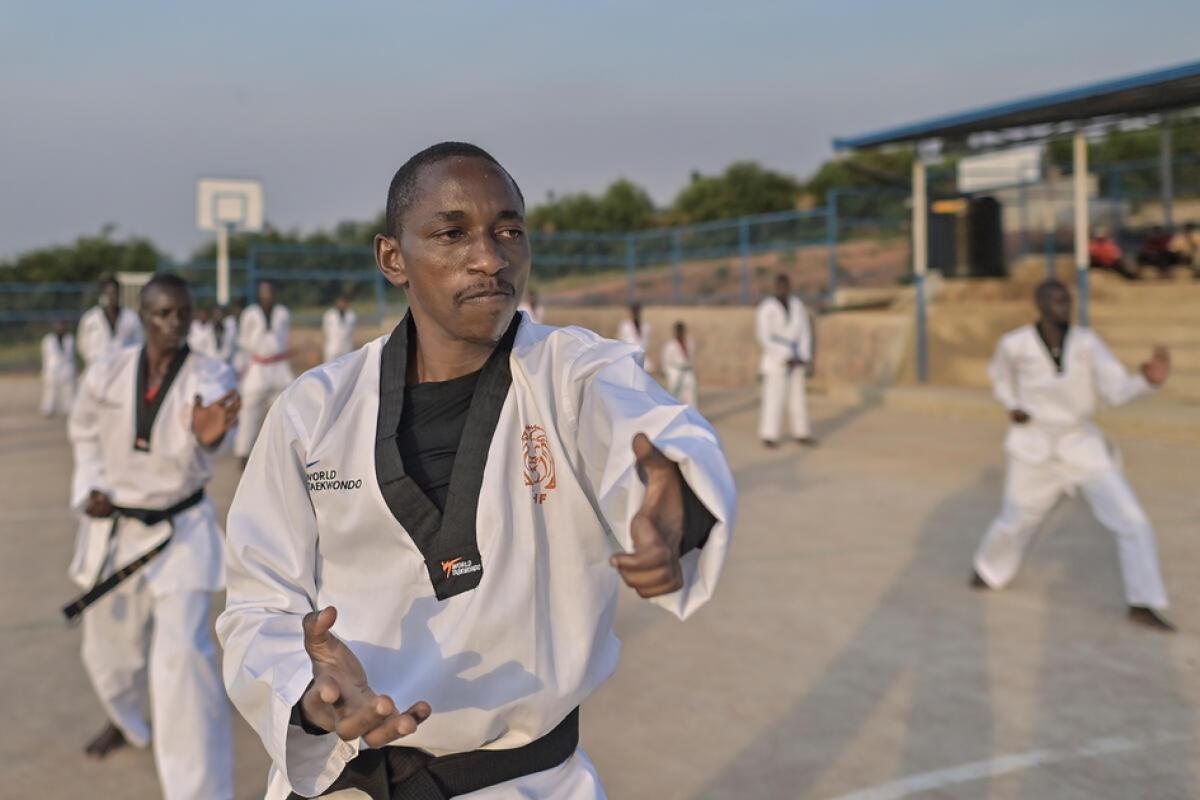 ⒸUNHCR/Anthony Karumba
By Teddy Katz | For the IPC
Two members of the Refugee Paralympic Team who have had incredible journeys to get to Tokyo are in action on Thursday (2 September) at the Tokyo 2020 Paralympic Games.
Parfait Hakizimana competes in Para taekwondo in the K44 -61kg category as the sport makes its Paralympic debut.
Hakizimana comes to the Games from the Mahama Refugee Camp in Rwanda. That is where he has lived since 2015 when he fled the violence in nearby Burundi where he was born.
Hakizimana says sport means everything to him and getting to the highest level at the Paralympics is something he has dreamed about a lot.
"I love taekwondo. It has given me hope in life. It's taught me how to stay calm and forget some of the things that have happened in my life."  
When he was eight, the internal displacement camp where Hakizimana lived came under attack. His mother was killed, and he was shot in the hand that rendered his arm permanently debilitated.
He says sport helped his recovery.
"I love taekwondo. It gave me hope in life. It helps me stay calm and forget some of those painful memories."
Since the beginning of 2021, Hakizimana has received extra support so he could live in the capital city, Kigali, to be closer to his coach and to prepare for the Games.
In June when he was officially named to the Refugee Paralympic Team, he was not the only one celebrating.
"When everybody in the camp heard the good news that I was joining the Refugee Paralympic Team, they were all so happy for me. They all are hoping I can win and do something special."  
Hakizimana says he is competing for all the people in the camp as well as himself.
"I want to send a message to all the refugees around the world that you have to stay patient and courageous, disciplined and work hard and good things can happen in the future."
Anas Al Khalifa ⒸReinaldo Coddou H - Getty Images
 
Another member of the Refugee Paralympic Team, Anas Al Khalifa, also had to overcome the odds to compete in the KL1 and VL2 events as the canoe competition gets underway at the Sea Forest Waterway.
Al Khalifa fled the civil war in Syria and has not seen his family in a decade. But he knows his family is proud he has made it to Tokyo.
"It will be tough for them to watch because they don't have electricity or the internet all the time. If there is power, I will try call them and keep them updated.  
Al Khalifa has made a remarkable journey of his own to get to Tokyo.
When the war broke out in Syria, Al Khalifa lived in internment camps beside the border with Turkey for two years before crossing. He made the treacherous journey to Greece and eventually landed in Germany hoping to start a new life.
He was working in construction installing solar panels on a roof when he fell to the ground and broke his spinal cord.
It was a dark period in his life. During his long recovery process in the hospital, a physiotherapist recommended the sport.
"At the beginning, I didn't want to try the sport because I didn't know what a paddle or a kayak was because we don't know about this in Syria."
That changed in a hurry. He quickly fell in love with the sport. In only one year, he has made a remarkable rise in the sport.
"I feel like the boat has become my legs."
At the canoe club where he was introduced to the sport, he met Ognyana Dusheva who became his coach. Ogi, as she is known, competed for Bulgaria and won a bronze medal in the sport at the 1988 Olympics in Seoul. She saw real potential in Al Khalifa.
"She asked me from day one, 'do you believe in yourself. If you do and are willing to work hard, you will make it to Tokyo'."  
Al Khalifa says the coach means everything to him.
"She really works with her heart. She's really committed to seeing me succeed. She never gives me a break even on weekends. She has me always doing the sport and I appreciate what she's done."
For both Al Khalifa and Hakizimana, just competing in Tokyo is already a big victory.