Refugee Paralympic Team Airbnb Online Experience inspires Tokyo youth
IIeana Rodriguez hosts Tokyo schoolchildren in exclusive Experience
30 Aug 2021
Imagen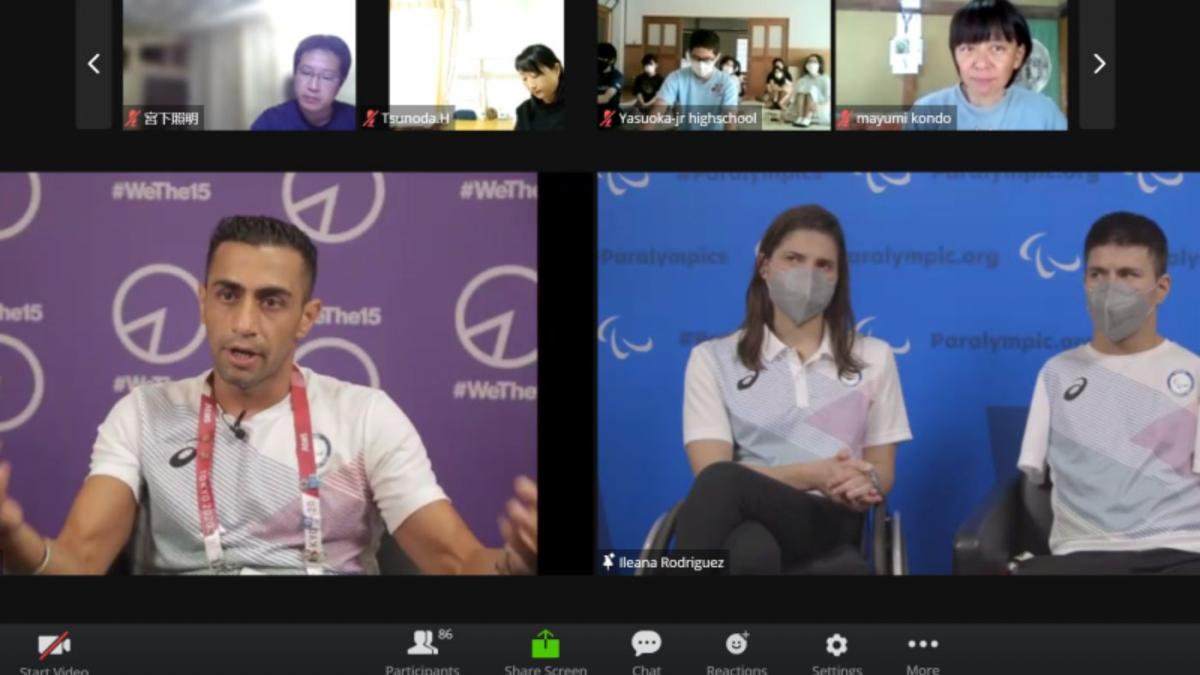 By Ruth Faulkner I For the IPC
It was a 'rare and moving experience' for Yasuoka Junior High schoolchildren who joined an exclusive Airbnb Online Experience with the Refugee Paralympic Team (RPT), hosted by distinguished Paralympic swimmer, architect and RPT Chef de Mission IIeana Rodriguez. The Experience, delivered virtually, saw Rodriguez facilitate an in-depth conversation with swimmers Abbas Karimi, refugee from Afghanistan living in Fort Lauderdale, USA, and Ibrahim Al Hussein, a Syrian refugee living in Athens, Greece.
As well as competing in their respective sports, the six person Refugee Paralympic Team are using their platform in the Tokyo 2020 Paralympic Games to share a message of hope with other refugees around the world, representing the more than 82 million people around the world who have been forced to flee war, persecution, and human rights abuses, 12 million of whom live with a disability. Using the Airbnb Online Experiences to share this message is a perfect fit, aligning with Airbnb's work to make travel more inclusive and their efforts towards diversity and improving accessibility. This is just one of over 200 Experiences as part of a curated Olympic and Paralympic Airbnb Online Experience set, designed to bring the world closer to the magic of Tokyo 2020.
The RPT Airbnb Online Experience covered themes of friendship, breaking barriers and always striving for your best. Karimi shared the friendship and deep bond he and Al Hussein have, despite not speaking the same language. "It's been three years that we've known each other and we've been very heart to heart and I believe that he's a brother from another mother. We love each other so much and always been supportive of each other in our competitions.
"When you're a family sometimes you don't need words and you still understand each other," Al Hussein has said previously.
Karimi, who made it to the final of the men's 500m butterfly S5 on Friday 27 August – the first from the RPT to make the final – also shared his personal story with the audience, commenting it was "moving and inspiring."
"I got bullied and judged a lot because I was born without arms. But I found my talents, I have many talents, but swimming is one of them and I put in a lot of work to get this far. 
"I just kept swimming and swimming saved my life," he said.
He shared his advice with the youth in the audience: "As long as we live in this world we all live and then we die. In order to shape and become a better person in our world you have to set goals. Never give up in life, always set high goals and move forward with life and achieve success," Karimi told them.
Airbnb is a Worldwide Partner for both the International Paralympic Committee (IPC) and the International Olympic Committee (IOC), and one of their special relationships has been with both the Paralympic and Olympic Refugee Teams, providing key support with logistics and these Airbnb Online Experiences. 
"We are thrilled to provide a way for refugee athletes to share their journeys and connect with people all over the world through these one-of-a-kind Airbnb Online Experiences. We hope the intimate and authentic moments with these incredible athletes will help others find motivation, inspiration and courage during challenging times," said Joe Gebbia, Airbnb Co-founder, Chairman of Samara and Airbnb.org.
The income from hosting Airbnb Online Experience has been a mechanism to help economically empower the RPT team members, allowing them to earn a small honorarium for their role. During the pandemic this became invaluable for Ibrahim Al Hussein as his business selling souvenirs for tourists in Athens dried up. The support that he got from hosting experiences helped him pay his daily expenses, allowing him to do what he does best and focus on his swimming. 
The Experiences have also provided global connections, allowing him to share his story with the world. "I've been hosting for more than a year now with Airbnb.  I am so happy about it. Through this experience, I've met so many new people and even made friends. Some are connecting with me on social media. Many have reached out and asked me to come visit them after Covid. That was the most beautiful thing about this experience: being able to make friends from all over the world." 
"Working with the team at Airbnb over the past year has really been a transformative part of my life," Al Hussein reiterated.
The income from the exclusive Airbnb Online Experience in Tokyo was donated by the RPT to the Taekwondo Humanitarian Foundation (THF), whose mission is to empower refugees and displaced persons worldwide by training them in taekwondo. 
Rodriguez called out the support of Airbnb as invaluable to help them make such donations. "Thank you to our wonderful supporter Airbnb who is helping us to pay forward as the Refugee Paralympic Team," she said.