Reigning champions Iran continue their dominance in sitting volleyball
While Brazil take the women's sitting volleyball bronze medal
04 Sep 2021
Imagen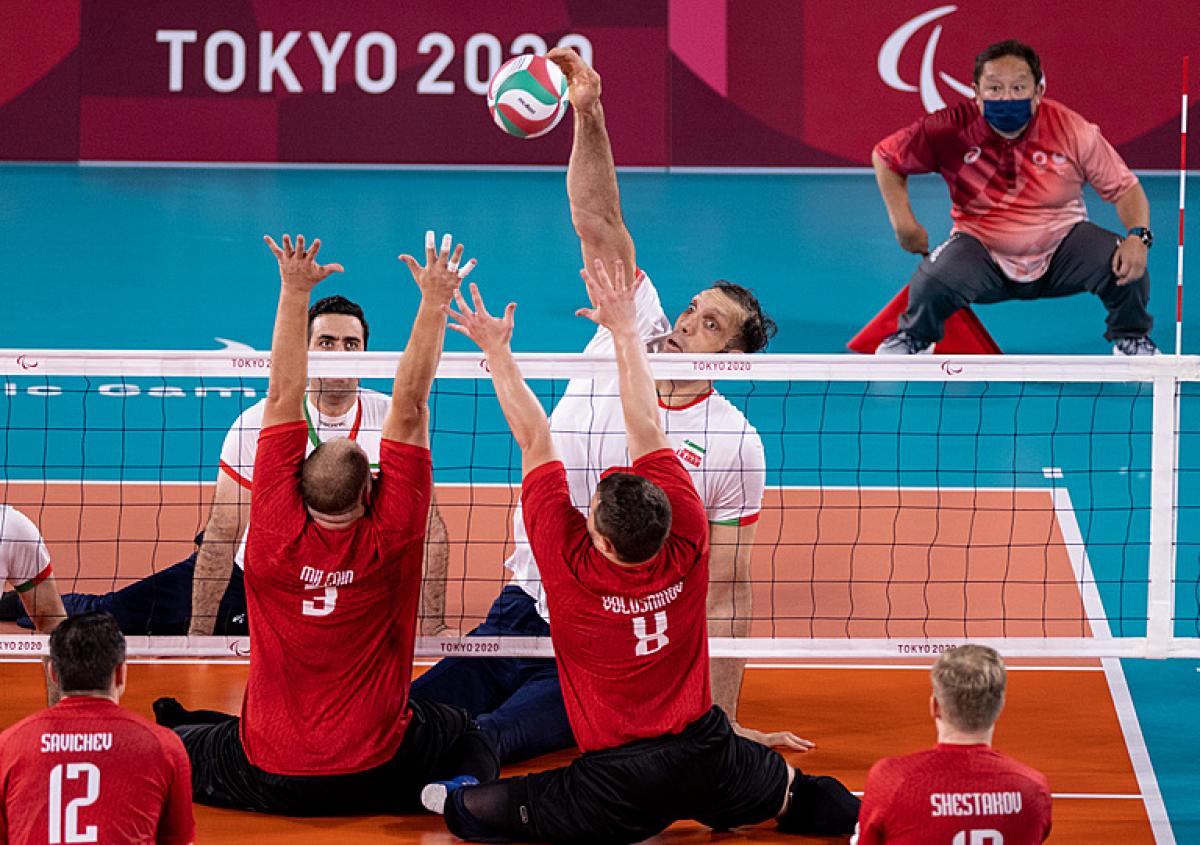 ⒸOIS
By Ruth Faulkner I For the IPC
A high intensity day of sitting volleyball at Mahuhari Messe Hall A gave us the men's gold, silver and bronze medallists and the women's bronze medallists, wrapping up the 35th game out of 36 games at Tokyo 2020.
The gold medal went to reigning Paralympic and world champions Iran, cementing their position as the most successful sitting volleyball team in history.
Iran, who have now won seven out of 12 gold medals on offer since 1976, beat the Russian Paralympic Committee (RPC) with a total 94:77.
The reigning champions took the first two sets in their stride, 25:21 and 25:14 respectively, but RPC pushed back to take the third set with 25:19. The Iranians came back with force to secure a four set finish of 25:17.
RPC were the only team to win a set against the Iranians at the Tokyo 2020. "Today we won one set but this is just one game. We could've won two or more sets, it just depends on the process of the game. And every team can make mistakes," said RPC's Viktor Milenin.
Iran's key to success includes a rigorous training regime of around 200 days of practice per year. "The first reason (for success) is the unity among the team members.
"When we set a goal as a championship in the Paralympic Games, we need to do that. It is a necessity to try to train more and more when we are at such level," said Iran's libero Ramezan Salehihajikolaei.
The men's bronze medal match saw Brazil take on two-time Paralympic champions Bosnia and Herzegovina. Bosnia's appearance in the bronze medal was one of the big upsets of the Games. Before Tokyo, the team was always in the final against Iran, with the winners swapping every cycle for the last 21 years. However, in the pool play the RPC team best Bosnia to send them into a semi-final collision course with their biggest rivals. Iran overcame them in the semi-finals, leading to the bronze medal match placement.
Despite being up against one of the greatest sitting volleyball teams, Brazil put up a fight and took the first set, beating the veterans 25 to 23. Bosnia then won each subsequent set to finish the game at 98:72.
Most of Bosnia's core players are part of the 'golden generation' who have notched between four and six Paralympic appearances, and as many medals. Their performance at Tokyo 2020 might prompt a changing of the guard, initiating fresh blood into the team.
"Right now we are facing a problem with the younger generation who need to continue to play for the national team of Bosnia, and we are hoping to find some younger players who can compete at this high level of competition," said Ermin Jusufovic, who is at his fifth Paralympic Games.
The Brazilian team, who also finished fourth at Rio 2016, now have to wait until Paris 2024 for another shot at a Paralympic medal, but hope to make an impact at the Hangzhou 2022 Sitting Volleyball World Championships.
"I think it can change for next year's world championship. Brazil need to be in the final. I'm telling the boys, 'we need to be at the party', and the party is the final," said top scorer Gilberto Lourenco da Silva, who delivered 15 of their points.
However, the outside hitter could put this loss into perspective with what has been an unbelievably hard year. "With everything that I went through this year, diagnosed with thrombosis (a blood clot), losing my father and sister with Covid, I was not training for three months and for me this is not a particular disappointment."
Brazil's Edwarda de Oliveira Dias 
In the women's bronze medal Canada also faced Brazil with Brazil's team here coming out victorious. Brazil came out strong dominating the first set, but felt Canada pushing back, taking the second set 26:24. For the third set the Canadian team stayed competitive, with the set finished 26:24 in Brazil's favour. Brazil secured their win with a final flourish in set four for a 25:14 win.
The Brazilian team were jubilant with maintaining their bronze medal position from Rio 2016. "We knew that their team has developed a lot but we all gave it all on the court and I think that this is the Brazilian spirit. We showed that Brazil is about joy, we played with a lot of happiness and brought home that bronze," said Edwarda de Oliveira Dias.
"We let our inner child out," the 22 year old beamed.