From tragedy to triumph, Tang Xuemei finds true calling for sitting volleyball
Chinese player survives earthquake and goes on to become Paralympic champion
12 May 2021
Imagen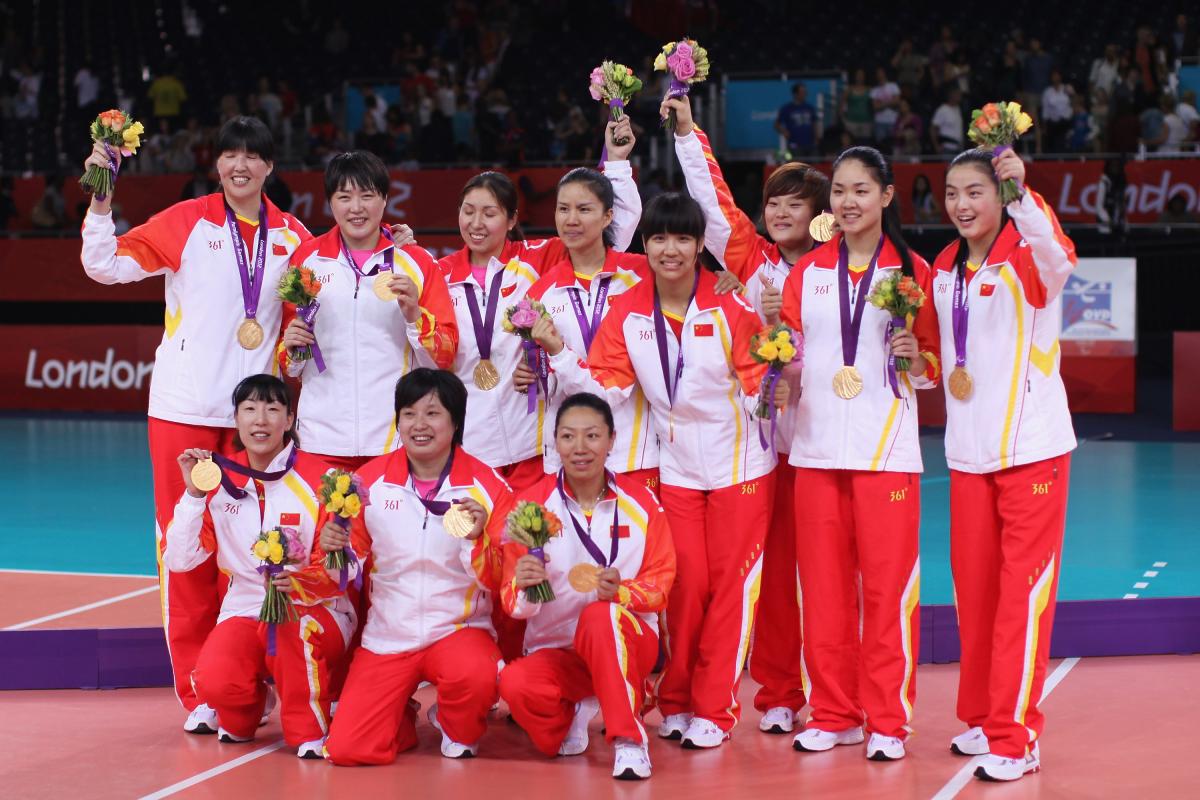 ⒸGetty Images
By Tokyo 2020
"I longed to live"
It was 12 May 2008, 2:28 p.m. in the afternoon. The whole world around Tang Xuemei started to shake.
In her school's dormitory building, she suddenly found herself surrounded by a panicking crowd shouting: "Earthquake! Earthquake!"
She began to run, but only after a few steps, the floor under her feet disappeared and she stepped into the void. It only lasted for a few seconds, but for Tang, it felt like a lifetime. When she finally got back her composure, the 14-year-old was surrounded by pitch black, and her left leg seemed to be pinned down by something, while her right leg was hanging in the air.
Fortunately amidst all that chaos, she survived because a bowl was on her head and the wall did not collapse further but only miraculously formed a frame around her head.
She slowly began to hear the voices calling for help around her. And not long after, she heard her dad's voice, who told her to hold on while he went to find someone to get her out.
Tang knew that her father would find someone to rescue her, so she waited in the dark, but did not know how long it would take. The voices around her gradually faded away, until they all fell silent.
She knew what that meant.
In the moment, she thought she would die for sure. And she thought of her mom and dad.
"Between life and death, you only think of the people that matters to you the most," Tang said "And thinking of my parents, I knew that I cannot die, I had to live."
She waited in complete silence for almost 28 hours.
When Tang was finally rescued, her left calf needed to be amputated. Her parents hesitated, thinking that their daughter would have only one healthy leg for the rest of her life, and struggled to sign that paper for Tang's amputation.
"My mom and dad begged the doctors not to amputate my leg because they didn't know exactly what my future path would be like, but I knew exactly how much I wanted to live after I waited 28 long hours down there, even if I would be missing a leg. So I told them, I will sign if you won't , because I want to live," Tang recalled. "While I was down there, I was neither thirsty nor hungry, I was thinking only that someone would come and get me out, I longed to live."
Encounter with reality
After being rescued, Tang did not have time to process the fact that she had lost part of a leg. In the disaster known as the Wenchuan Earthquake, there were 70,000 fatalities and more than 370,000 injured. It is the deadliest earthquake to hit China since the 1976 Tangshan earthquake. However, upon seeing all the devastation around, Tang felt very lucky to survive.
When the strong emotions of mourning and shock slowly settled, Tang began to think about her future. There was one particular moment that made it very clear to her that there would be challenges ahead.
One night in the hospital, Tang wanted to go to the toilet and wanted her mother who was caring for her to get a good night's sleep. When she lifted her left leg quickly, and with her right leg following in reflex, Tang went out of balance and fell heavily on the floor.
Lying on the cold floor, she suddenly realised what her future will be.
The ultimate mixed blessing
With her impairment, Tang became quiet and withdrawn.
Fortunately, due to the state's help for children affected by the earthquake, Tang was soon fitted with a prosthetic leg, and the joy of being able to stand up again dulled her worries about the future.
But what really lit up Tang's life again was sitting volleyball.
Once in Shanghai, she participated in an event organised for disabled children and youth, she saw a sitting volleyball match. The smiles of the players on the court touched her deeply. To Tang, it represented hope that those living with impairment can live well and be self-reliant.
Despite only being 14-years-old, Tang already was 1.68m, and before the earthquake, she was quite athletic playing on the school's basketball team and table tennis. So when she had the chance to train for Shanghai women's team, she gladly accepted.
She valued this opportunity very much and devoted herself to the sport.
After the regular training sessions in the morning and afternoon, she would give herself extra practice at night, repeating what she had not mastered during the day. Tang's progress was so rapid that she joined the national team a year later and featured at the 2010 World Championships. Then in 2012, she competed at her first Paralympic Games where she won gold.

Despite the harrowing experiences she had been through, Tang believes she is instead "fortunate".
"I am quite fortunate, people (in China) say 'there will be blessings after a great disaster', in fact, for me, it may just be a change of lifestyle, a change of platform, and this platform gives me a higher value. If I did not experience the earthquake in 2008, I sometimes talk to my mother and father, I would get married and have kids at twenty-three or twenty-four years old, and that's it," Tang said.
Buried under the rubble, Tang once just wanted to live, then wanted to live better.
When she first started playing sitting volleyball, Tang was only hoping to be able to support herself, she never thought that she could go all the way to win the Paralympic gold medal.
"I didn't expect all these [things] to happen, and I didn't expect this stage could give me so much," said Tang Xuemei said.
"Volleyball also changed me. Before I was shy and not very talkative, but then slowly, because volleyball gave me a lot of confidence, I think that I also found my own position in this world.
"It's lucky to be able to do what you truly like."
Preparing for Tokyo 2020 Games
The Olympic and Paralympic Games were postponed for one year, and for Chinese women's sitting volleyball national team, it also meant that a year of closed training was extended to two years. But Tang and her teammates were relieved to hear the news.
"We are especially worried about the cancellation," she said, adding, "The Olympic Games [and Paralympic Games] happen only once in four years, and it's everyone's dream to stand on such a stage."
With only three months to go, Tang and her teammates are training very hard every day.
This year in Tokyo, their goal is to reclaim the title. China are one of the top teams in the world, and has had a winning streak since sitting volleyball was introduced in the 2004 Paralympic Games until Rio 2016, where they lost to their long-time rival the USA and secured a silver.
Despite of uncertainties the pandemic have caused, they are working hard. The volleyball test event held earlier this month also gave them more faith.
"Seeing that our volleyball teams can go to Japan and play games, it is a real comfort. If they can go now, we would also be able to go then," said Tang, "I can really feel that the Games are coming".
The women's sitting volleyball tournament at the Tokyo 2020 Paralympic Games will take place from 27 August to 5 September 2021 at Makuhari Messe Hall A.