Sabine Ellerbrock bids farewell to wheelchair tennis following successful career
German former world No. 1 says goodbye to women's circuit
06 May 2020
Imagen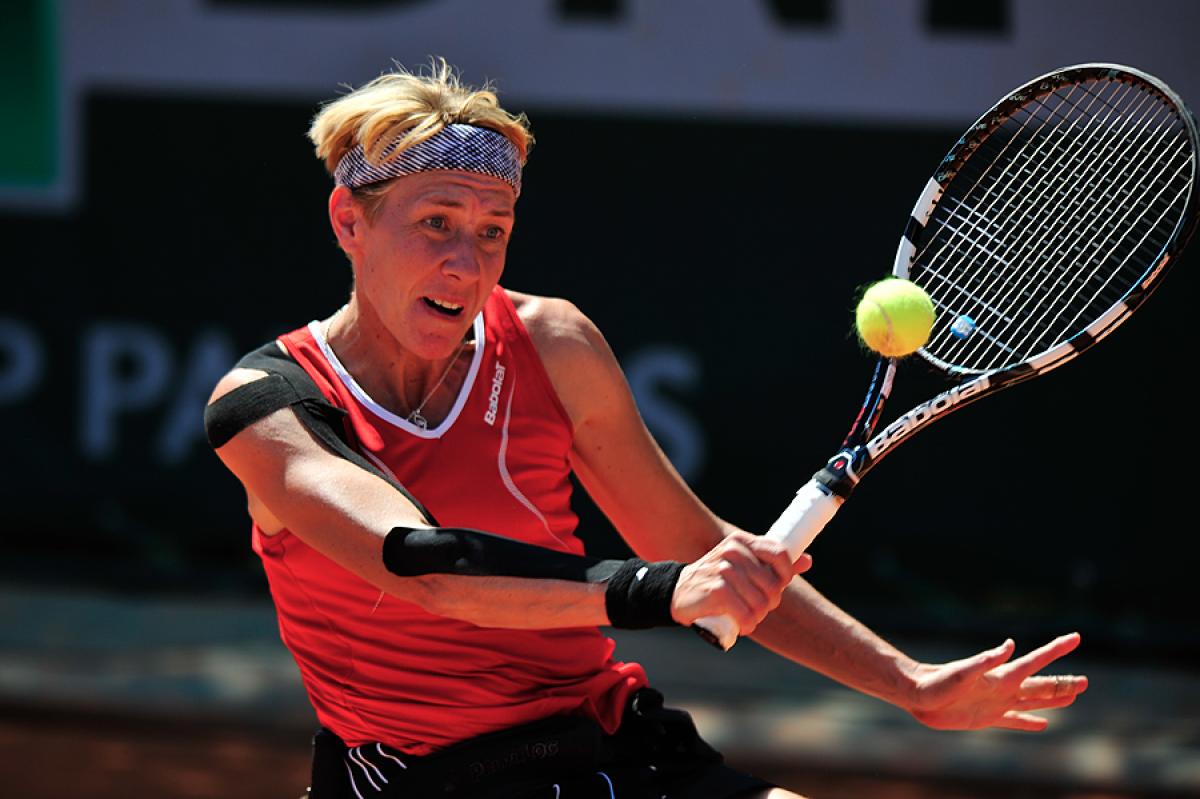 ⒸLuc Percival
By Santiago Menichelli
After a dream career in wheelchair tennis, Germany's Sabine Ellerbrock announced her retirement from the courts. 
It was a decision that had been impending for a while and she gave a good thought to it before putting her racquet to rest, revealed Ellerbrock. 
Having won 26 singles titles, the 44-year-old had leap frogged to the top of the world rankings in 2013, but this success came with its fair share of pressure, leaving her uncomfortable.
"One of my greatest goals had been achieved," recalled Ellerbrock adding, "But I felt more pressure. Everyone who's been in that situation knows that it's easier to climb the rankings than to defend the No 1 spot.
"From that moment on, I set my goals differently. I tried to stay away from the ranking and focussed more on exploiting my potential."
After a dream season, Ellerbrock went on to clinch the 2014 Australian Open, beating Japan's Yui Kamiji in three sets. 
She was clearly at the pinnacle of her career when she had to undergo a surgery that resulted in post-traumatic stress disorder.
"I was No 1 in the world when I went into the hospital and was unable to get the ball over the net when I came out. Few people know that I had to relearn all the complex movements after that incident," said Ellerbrock.
The German underwent several phases of depression, but she coped with them and continued to participate in major tournaments.
In 2017, she even had her lower right leg amputated, but that too did not deter her. Four months later, in the Wimbledon semi-finals she beat Kamiji again, who had by then snatched the top rankings from the former.
"I won 7-6 in the third set and with a new coach, Ingo Herzgerodt. That semi-final was one of the best games I ever played," said Ellerbrock who was trying her level best to rediscover her full potential but felt she was slowly fading. 
Retirement
Alternating between good and bad results and battling health woes, Ellerbrock decided to end her career.
"Until November last year, I always had a strict plan for 2020. My goal was to finish my career in Tokyo," said Ellerbrock, asserting that the post-traumatic stress disorder had clearly taken a toll on her and that prompted her to call it a day. 
"I lost the fun on the court at tournaments," she admitted. "I've kept many wonderful moments and great people in my heart from my career. But I also knew the most brutal face of high sports competition, with some situations that affected me."
"Of course, I miss the training sessions and people at my training sessions in Hannover, just as I miss the tour. But I think this is the only decision I could make, even when it was a very, very tough one and one I'm still dealing with emotionally," said Ellerbrock, who now plans to give it back to the community and the sport that is so dear to her. 
"I'm aware of how much sport has helped me to deal with my disability. I want to encourage others and help them get started. I want to be a role model for my students."
Knowing about her vocation for teaching, some people have already asked her if she is interested in coaching. "I say that I am always happy to help others with my experience, but at this moment I am not sure how I will do it," said Ellerbrock, who  for now is into acrylic painting - a hobby she discovered during her many hospital stays. 
"I can't live without sports, that's for sure. I've been playing table tennis with my prosthetic leg and went back to cycling in the streets. I enjoy doing this, but people who know me know that I do things fully or not at all. I'm curious to find out how great my potential is. We'll see how far I can go."