Sarah Hope helping create 'something brand new'
Former wheelchair basketball player enjoying her new career as part of the British national team going to the first Women's World Challenge
08 Aug 2022
Imagen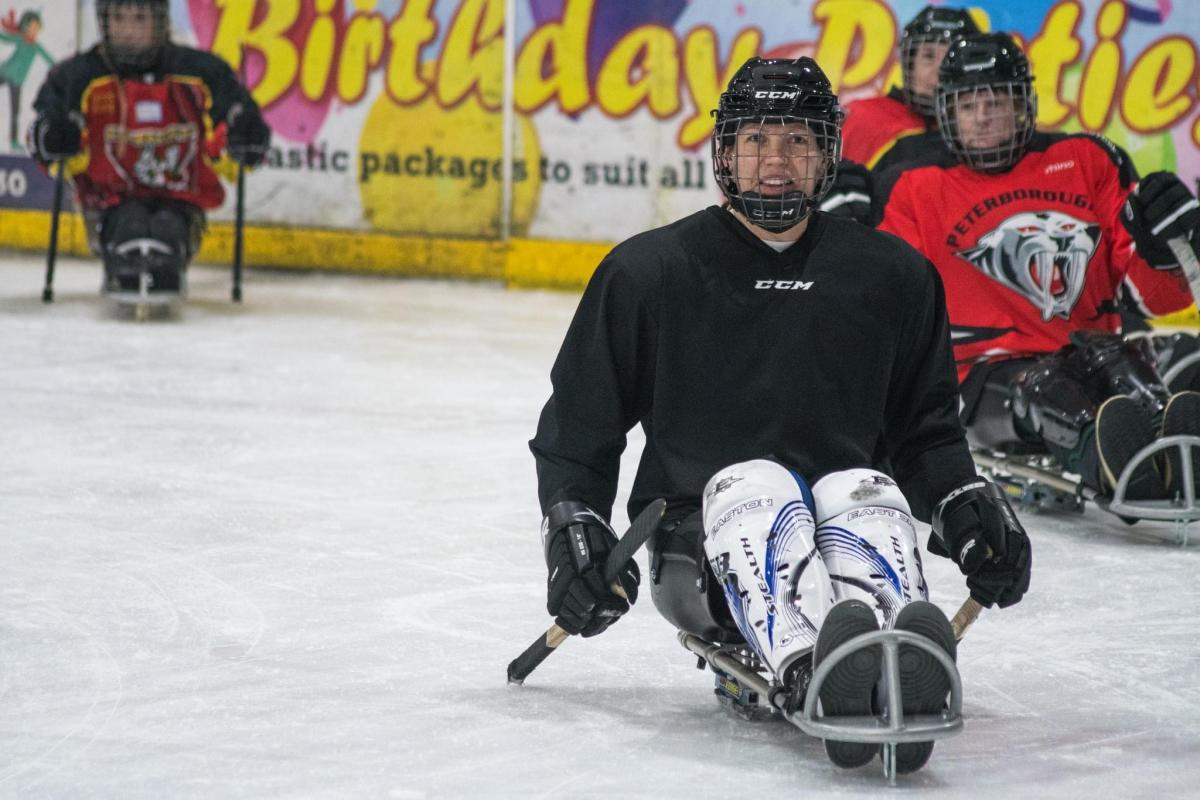 ⒸHaganova Photo
By Stuart Lieberman | For World Para Ice Hockey
During her international wheelchair basketball career with Great Britain, Sarah Hope was consistently asked one question by the media: "If you weren't playing wheelchair basketball, what would you be doing?" 
"I always said ice hockey," she commented. "It just seemed like the Winter Games version of basketball to me." 
But her coaches at the time were hesitant to let her play hockey; they were afraid of injuries from all the contact. 
After the Tokyo 2020 Paralympic cycle, Hope left competitive international wheelchair basketball, and spared no time before taking to a sledge on the ice.
Now 10 months into her Para ice hockey career, the Burgess Hill, England native will be one of 15 athletes representing Great Britain at the first-ever Para Ice Hockey Women's World Challenge from 26-28 August in Green Bay, Wisconsin in the USA. 
Sponsored by Citi, the event will also include teams from Canada, USA and a Team World.
"I'm excited to see what this is going to be like," Hope said. "To see how much time, effort and money people are willing to put into making this tournament happen goes to show how committed people are to making this a success." 
It was only at this time last year the British Para Ice Hockey Association announced the official launch of its women's programme and began recruiting women in the country interested in taking up the sport regardless of their experience or access to equipment. 
The programme immediately received an outpouring of support, and Hope said she went around showing people who had never heard of the sport photos and videos of it on her phone. 
"There was a little surprise that there wasn't already an established women's programme," she said. "A lot of people are learning about women in Para ice hockey, and we now have the support of the standup women's hockey team as well, which is really great." 
From hardcourt to ice
Hope grew up as an able-bodied runner until a rare disability called Hereditary Peripheral Neuropathy began more seriously affecting her lower limbs. She then started playing wheelchair basketball as it was the first sport doctors told her about, and worked her way up the ranks to eventually represent Great Britain at a World Championships.
After more than a decade on the hardcourt, she's traded in her basketball chair for a sledge.
"I knew that my international career in wheelchair basketball was going to come to an end as I'm getting on in age, in athlete years, but I knew that I wanted to still be involved in sport and I was looking for a way to give back. 
"I saw we were creating a GB women's programme for Para ice hockey here from scratch and I thought 'Oh yeah, that would still allow me to be competitive as an athlete, but also perhaps I've got that experience of what it's like to be part of an international programme and I can help in creating something brand new."
As a forward on the national team and for her club team, the Peterborough Phantoms, she commits herself to driving more than 150 kilometres each way to and from her training venue to get ice time, and is already in peak fitness because of her decade spent in wheelchair basketball.
"There's so much more transferable than I thought," she said. "Yes it's a different technique, but being able to use your left and right hands and not looking down when you're moving with the puck is the same as not looking down when you're moving with the ball. 
"The spacing between you and your teammates. It's all pretty much the same. Also, there's the team psychology of getting on with people from all different backgrounds, personalities and communication styles."
Hope and Great Britain will kick off their competition slate at the Para Ice Hockey Women's World Challenge with a game against Team World on 26 August at 15:00 local time.