Sir Lee Pearson, the knight on a quest to add to his 11 Paralympic gold medals
'As a man you never plan to change your title. You think you are always going to be a mister'
24 Aug 2021
Imagen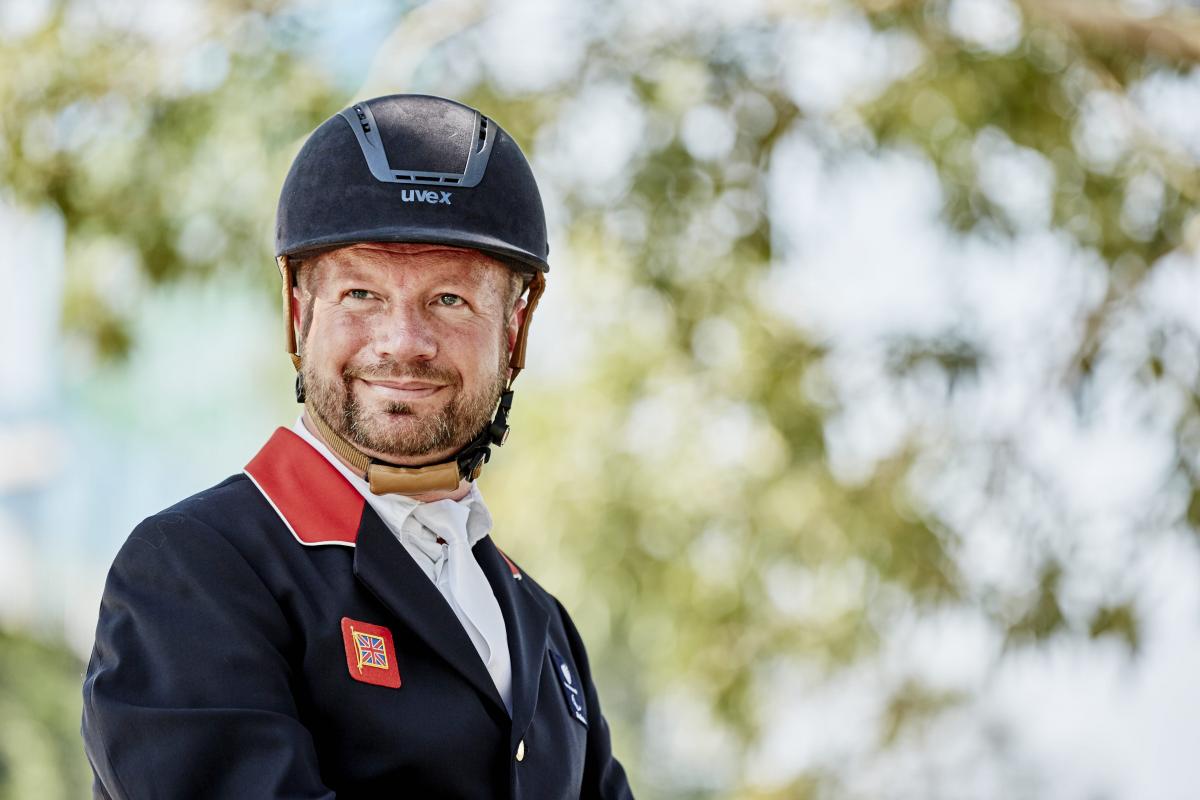 ⒸFEI
By IPC/OIS
A British knight will be hoping to ride to further equestrian glory at the Tokyo 2020 Paralympic Games.
Eleven-time Paralympic Games equestrian gold medallist for Great Britain, Lee Pearson admits he is still pinching himself after this latest honour in 2017, although his title counts for nothing as he prepares for his quest in Japan.
"Very surreal. I think as a man, you never really plan to change your title. You generally think you're always going to be a mister," said Pearson.
"So although I've tried to campaign for more equality between Olympic honours and Paralympic honours, when it actually came it, I was very embarrassed at first to be honest, and still sometimes I am. It still took quite a few years to get used to having a different title."
Pearson, who has met the Queen on many occasions, revealed his sense of humour as he revealed that he took Prince William to task for talking about legs.
"We had a little chat about horses and he said he was still doing a bit of polo but he wasn't riding so much because his knees or hips were aching. And I was like, 'You can't complain about your legs around me, mate, that's just not on'.
"He was in stitches, and my mum said afterwards, 'What on earth did you say to Prince William, to be laughing for as long as he was?'. I just gave him a bit of grief about his legs."
There were real tears earlier this year when Pearson's horse, Gentleman, died at the age of 20. Together they won gold at Beijing 2008 and London 2012.
"I probably had the strangest relationship with him, than any of my horses. He was quite an awkward, sensitive horse to train, and to cajole around an arena, but he was very talented when he was playing ball. He was cantankerous, but we got on really well. So it was very, very sad.'
Para dressage first appeared on the Paralympic programme at Stoke Mandeville 1984 and  has featured at every Games since Atlanta 1996. It is a gender equal sport with both male and female athletes with any type of physical or vision impairment competing against each other based on a classification system.
Britain enter the Games as defending dressage champions, with Team GB in fact having won gold at every Paralympics since Atlanta. Sophie Wells, Natasha Baker, and Georgia Wilson,  who replaces eight-time Paralympic champion Sophie Christiansen, make up the rest of the team.
Netherlands rider Sanne Voets will be hoping to upset the British applecart.
While most of her fellow riders focus solely on dressage, Voets has spent many years financing her equestrian career by working as a freelance journalist and editor, often reporting on her own sport.
"I've had so much fun doing that," Voets said. "It helps me because when I do interviews, I try and organise my thoughts so it comes across as one story. I think I know a little more about (what) journalists are looking for. But sometimes I'll then read an interview back and be like, 'Oh, did I really tell it like that?'."
VOETS' success in the dressage arena has provided much for the media to write about. After winning gold in the Grade III individual freestyle at the Rio 2016 Paralympic Games, she has been dominant in recent years.
As the world and European champion for the team, individual and freestyle events in her class, a similar hat-trick at Tokyo 2020 would land her an elusive triple-triple of gold medals, a feat also achieved by Pearson.
And in her quest for Games immortality, Voets has taken a unique and risky decision. Her freestyle routine will be performed to music from Haevn, one of the Netherlands' most popular bands.
"I'm not sure if it's suitable. Because it's really, really different to every other dressage music you hear. But this is like fairytale music. It has a very light piano and some electric sounds, and the singer has a very unique voice."
The competition runs from August 25 to 30 at Tokyo's Equestrian Park.