Slater, Zijderveld in record-breaking form at IPC Swimming Euros
Brit smashes world record by more than a second on Wednesday morning as home favourite Zijderveld wins gold with a European record.
07 Aug 2014
Imagen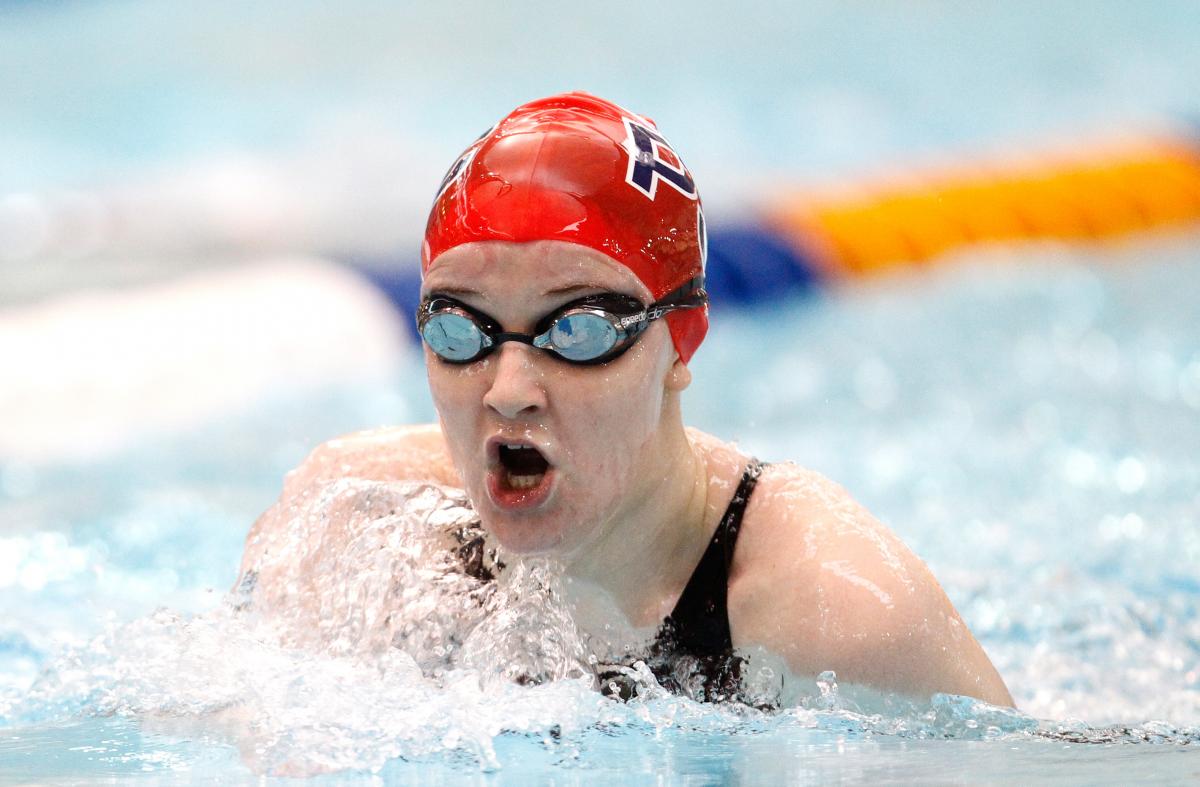 ⒸGetty Images
By IPC
Great Britain's Stephanie Slater smashed the 100m butterfly S8 world record by more than one second to take gold on Wednesday (6 August) morning, day three of the 2014 IPC Swimming European Championships in Eindhoven, the Netherlands.
In a dramatic race, world silver medallist Slater (1:08.20) was pushed all the way by Ukraine's Kateryna Istomina (1:09.09) but touched home 1.4 seconds inside the previous world record set by the USA's Jessica Long in April.
Denmark's rising star Amalie Vinther (1:19.36) collected her second medal of the meet with bronze.
During a morning session which featured 10 medals events, 13-year-old home favourite Chantalle Zijderveld set a new European record to secure the Netherlands' third gold of the Championships in the women's 100m breaststroke SB9.
Leading throughout, Zijderveld (1:17.39) showed exceptional composure beyond her years to touch home ahead of Ukraine's previous record holder Khrystyna Yurchenko (1:19.32). Russia's Nina Ryabova (1:20.57) picked up the bronze.
"It's just great. I never expected that. I am so happy," said Zijderveld afterwards.
Britain's Paralympic, World and Commonwealth champion Oliver Hynd (2:25.22) won the men's 200m individual medley SM8 title, adding to his 400m freestyle gold from Tuesday. Russia's Konstantin Lisenkov (2:30.34) and Norway's Niels Korfitz Mortensen (2:32.81) completed the podium.
Despite Slater and Hynd's success, Great Britain fell to third in the overall medals table after Russia won three golds to move up to second, behind leaders Ukraine.
Oxana Guseva (3:16.05) led the Russian gold rush in the women's 200m individual medley SM7. Silver went to Italy's Arianna Talamona (3:26.11) and Norway's Mina Marie Heyerdal Klausen (3:37.41) was delighted with bronze.
"I thought it was good. It was hard but I did the best I could so I'm happy with it," she said.
Darya Stukalova (2:29.39) won her first European gold in the women's 100m individual medley SM12 to exact revenge over
Great Britain's Hannah Russell (2:35.79), who had beaten the 19-year-old to Tuesday's 100m backstroke title. Spain's Maria Delgado (2:44.97) won bronze.
"It's the first time I've ever entered this event on an international stage so to come away with a silver medal is unbelievable," said Russell.
Russia's final gold of the morning came in the men's 100m breaststroke SB9 and saw Pavel Poltavtsev (1:06.65) joined on the podium by his team-mates Dmitry Grigorev (1:09.28) and Dmitry Bartasinskiy (1:11.14).
Daniela Schulte (2:58.63) fought back from third place with 50m to go claim Germany's fourth gold of Eindhoven in the women's 200m individual medley SM11.
"I am very happy because the last few years were not so good for me. I was ill for a long time," said Schulte. "I am so happy about the time and the race."
Estonia's Elisabeth Egel (3:01.54) took silver and Sweden's Maija Reichard (3:02.40) the bronze.
Joanna Mendak (2:38.67) won Poland's second gold of the week in the women's 200m individual medley SM13. Silver and bronze went to Spain's Deborah Font (2:40.31) and Germany's Elena Krawzow (2:41.99).
In the men's 200m individual medley SM7, Spain's Israel Oliver (2:26.90) led two Ukrainians, Oleksandr Mashcehnko (2:29.83) and Viktor Smyrnov (2:34.68) onto the podium, to win his second medal of the week.
Ukraine won their only gold of the morning through Dmytro Vynoradets. The 28-year-old collected his third individual title in as many events in the men's 200m freestyle S3. Joining him on the podium were Spain's Miguel Martinez (3:52.95) and Greece's Ioannis Kostakis (4:02.46).
Heats
Prior to the medal events, Ukraine's Olga Sviderska (3:38.21) took nearly eight seconds off her S3 world record in the heats of the women's 200m freestyle S4 to qualify third fastest behind Italy's Arjola Trimi (3:22.28).
Russia's S2 swimmer Alexandra Agafonova (1:12.18) also took more than one and half seconds off her own world record in the heats of the women's 50m butterfly S5. Norway's Sarah Louise Rung (42.50) was fastest.
The Netherlands' Marta Toeters (1:16.97) delighted home fans at the Pieter van den Hoogenband Swimming Stadium by finishing just 0.12 seconds off the world record to qualify fastest in the women's 100m breaststroke SB14.
The men's 100m breaststroke SB14 final will be a mouth-watering prospect after a close heat saw the Netherlands' world record holder and world champion Marc Evers (1:07.77) narrowly edge Great Britain's Scott Quinn (1:08.15).
Spain's Jose Mari (57.51) is the favourite for gold in the men's 100m freestyle S10 having posted the fastest qualifying time, as is Great Britain's European record holder Andrew Mullen (38.29) who was quickest in the men's 50m butterfly S5 heat.
France will be optimistic of landing their first gold of the meeting after Paralympic champion Charles Rozoy (1:04.14) took pole position in the men's 100m butterfly S8, as will Azerbaijan after Dzmitry Salei (2:15.27) comfortably qualified fastest in the men's 200m individual medley SM12.
Great Britain's medal prospects on Wednesday evening include Eleanor Simmonds (35.76) who qualified strongly in the women's 50m freestyle S6 heat and Sascha Kindred (32.89) who led the men's equivalent.
Ukraine's world record holder Yevheniy Bohodayko (2:43.74) qualified first in the men's 200m individual medley SM7.
The 2014 IPC Swimming European Championships continue until 10 August and feature around 380 of the world's best swimmers from 37 countries.
Tickets are still available at www.eindhoven2014.com, as well as high quality photos of the event.
All morning and evening sessions will be livestreamed at www.ParalympicSport.TV and live results will be available at the Eindhoven 2014 website.
Live updates will be posted to the IPC Swimming Facebook page and the Twitter account or search #Eindhoven2014.