Slovakia living the Para ice hockey dream
Only 12 years since starting the sport and less than a year after its A-Pool debut, national team will play in its first Winter Paralympics at Beijing 2022
09 Dec 2021
Imagen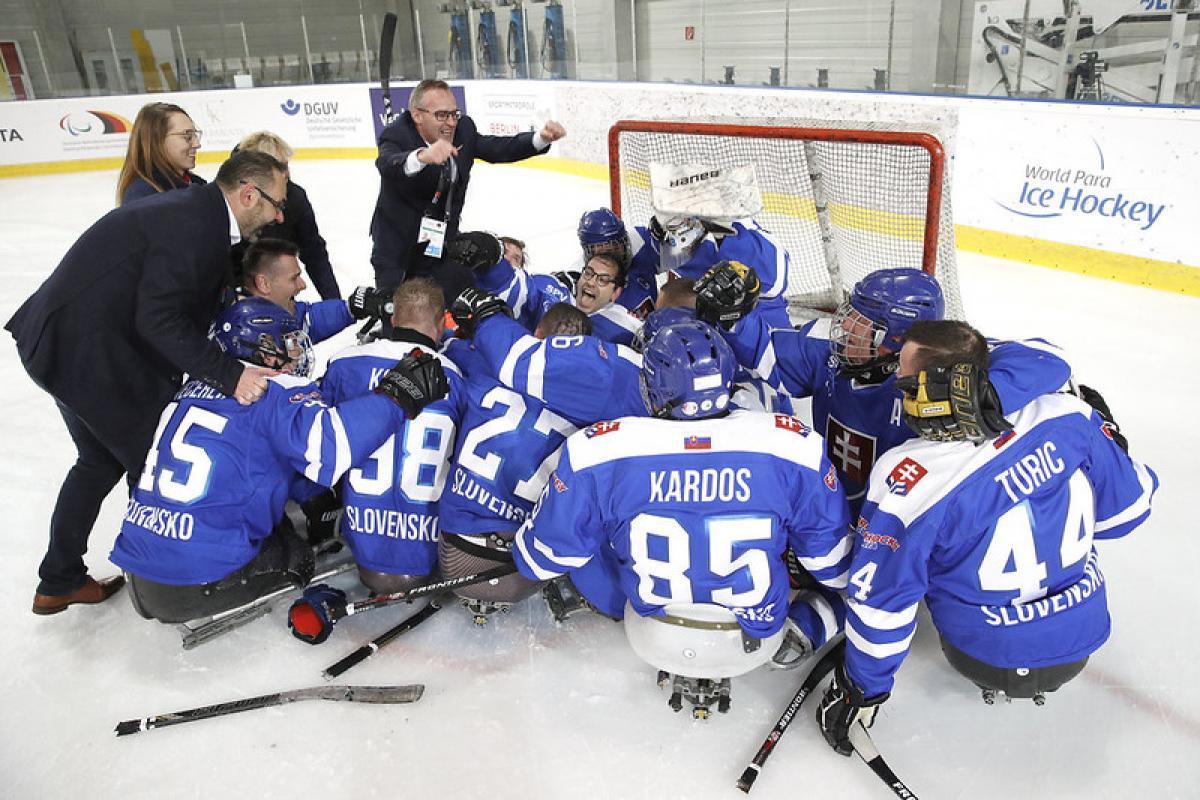 ⒸJoachim Sielski/DBS
By Stuart Lieberman | For World Para Ice Hockey
Slovakia has consistently been ranked among the top 10 countries where ice hockey is the most popular during the modern era. 
The sport was popularized there during the 1925 European Championships, when it was formerly part of Czechoslovakia, and the first official tournament took place in the country in 1929.
But it was not until 2010 when Slovakia established a Para ice hockey programme for the first time. As soon as the nation established it, the hype began building and the recruitment of athletes took off.
Only 12 years since starting Para ice hockey in their country, two years since it made its World Championship B-Pool debut, and less than a year since making its A-Pool debut, Slovakia will now progress to the biggest stage possible in the sport next March – the Beijing 2022 Paralympic Winter Games.
Slovakia is still riding high after a second-place finish at the Paralympic Winter Games Qualification Tournament last week in Berlin, where it stood out on both ends of the ice.
Star forward Martin Joppa led all skaters at the tournament with nine points, including six goals and three assists, and Eduard Lepacek was named Best Goaltender, leading all netminders with an 87.50 save percentage to go along with his 1.40 goals against average. 
PARA ICE HOCKEY BUZZ
"It means a lot to us. It is the biggest success in the history of Para ice hockey in Slovakia," said head coach Radoslav Bielecka.
"Thanks to the successful qualification for the Paralympic Games, we have been given more space in the media to present this sport. There will also be more financial support, which we hope will attract more people to the sport and will improve the conditions," Bielecka added.
The head coach said that because hockey is such a popular and highly visible sport in Slovakia, the Para ice hockey programme is being perceived very positively and showcased as such. The team was welcomed home from Berlin at the airport by a swarm of fans and media, with national media outlets such as SportNet profiling Joppa's journey and TA3 TV capturing the team's excitement. 
What has been the key to Slovakia's quick success? "The coach!" Bielečka joked, before saying "But seriously now, the work of all the people around the team in its 12 years of existence and giving credit where credit is due."
Slovakia's able-bodied men's ice hockey team has competed in six Olympics and 27 World Championships – having won a world title in 2002 – and now its Para ice hockey team hopes to follow suit with starting a legacy of its own.
"We are a small community. We try to be visible and I think that thanks to the popularity of ice hockey we are perceived positively." Bielečka said. "Para ice hockey is a collective sport. I will be glad if people follow us as a team, and they will then get to know the best players and more about the sport."
The Beijing 2022 Paralympic Winter Games will take place from 4 to 13 March next year.