Spain shines brighter on first Open Water Cup in Sardinia
Five-time Paralympic medallist Javier Torres leads the pack in the men's races; Poland, Sweden and Switzerland make history in the women's races in Italy
24 Sep 2023
Imagen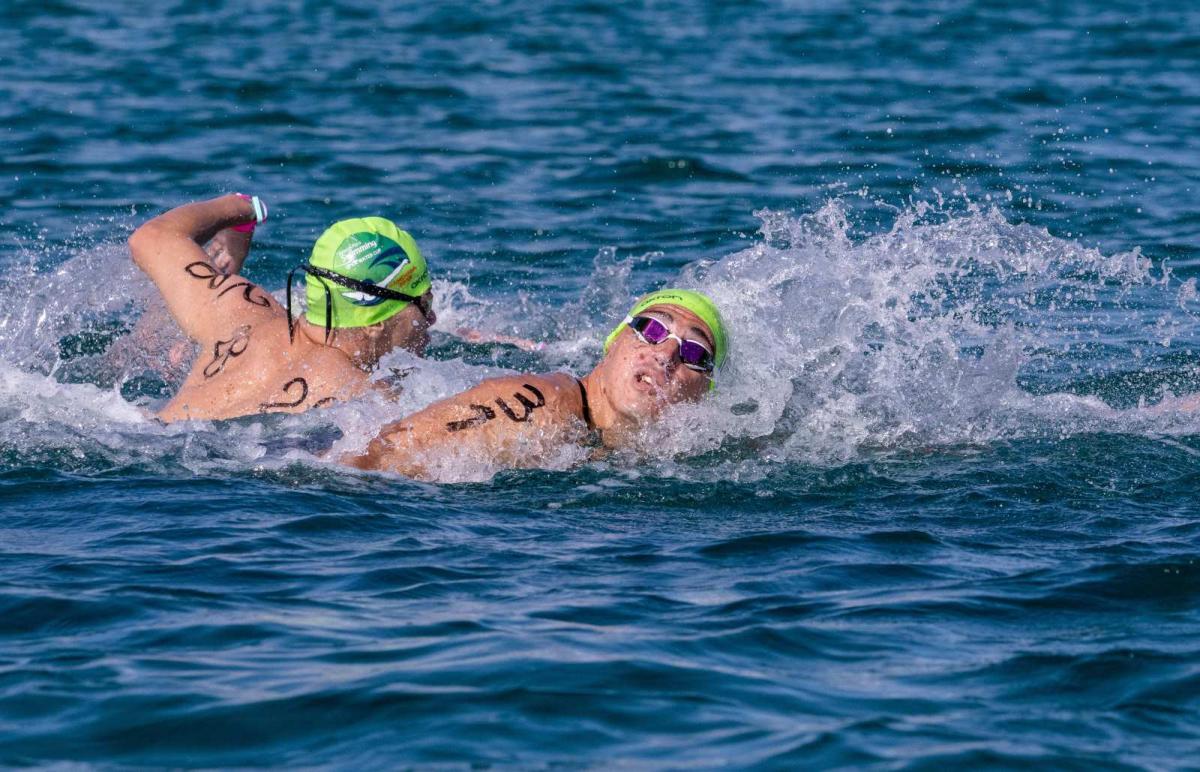 ⒸDeep Media Blue
By Victor Pereira | For World Para Swimming
Spain's Javier Torres added a new gold to her impressive collection as he became the first-ever champion of the World Para Swimming Open Water Cup on Saturday (29 September) at San Teodoro beach in Sardinia, Italy.
The five-time Paralympic and 16-time world champion finished first in the men's 1.5km open water multi-class race in a weighted time of 28:10.68 followed by the Turkish duo Berkin Koral (class S6) and Ugur Senel (S6) on silver and bronze, respectively.
"It has been fantastic to be able to enjoy this water on a day in which we have faced not only rivals but also the weather conditions, wind, and waves that also make this kind of competition more beautiful and interesting", said S4 swimmer Torres.
The Spanish national anthem was played two other times in the men's 3km races. Jacobo Brun (S9) won the S7-S10 event in a Spanish one-two podium with Inigo Llopis (S8) – Poland's Alan Ogorzalek (S10) finished third. 
Alejandro Medero (S14) triumphed in the S11-S14 event with Italy's Federico Bassani (S11) in second place.
Winning debut for Meister
Sardinia 2023 was special to a young Swiss star too. Twenty-year-old Nora Meister (S6) picked her first gold medal in a global World Para Swimming event in her first time competing in an open water race.
The Paralympic bronze medallist won the women's 1.5km open water S4-S6 event finishing in 21:37.00 followed by Italy's Caterina Meschini in second.
"Luckily, I didn't meet any jellyfish. I was really afraid when I was swimming because I was thinking if there would be any. I really enjoyed, I liked long-distance swimming and I hope there's going to have more of open water cups", said Meister.
In the women's 3km event, the champions were Poland's Oliwia Jablonska (S10) in the S7-S10 race and Sweden's Pernilla Lindberg (S14) in the S11-S14 race.
Jablonska clocked 38:43.68 ahead of silver medallist Taylor Winner (S10) of USA and bronze medallist Nahia Zudaire (S8) of Spain.
Lindberg finished in 38:03.00 followed by Spain's Ariadna Beltran (S13) in second and Marina Pettinella (S14) of Italy in third.
Sardinia 2023 marked the return of open water events to the World Para Swimming calendar in over a decade marking an important milestone to increase participation numbers and further competition opportunities.
Complete of the Sardinia 2023 World Para Swimming Open Water Cup can be found here.