Nora Meister makes history for Switzerland
Teenage talent takes second gold in Madeira and joins Italy's Barlaam and Gilli setting new world records on day four
20 May 2021
Imagen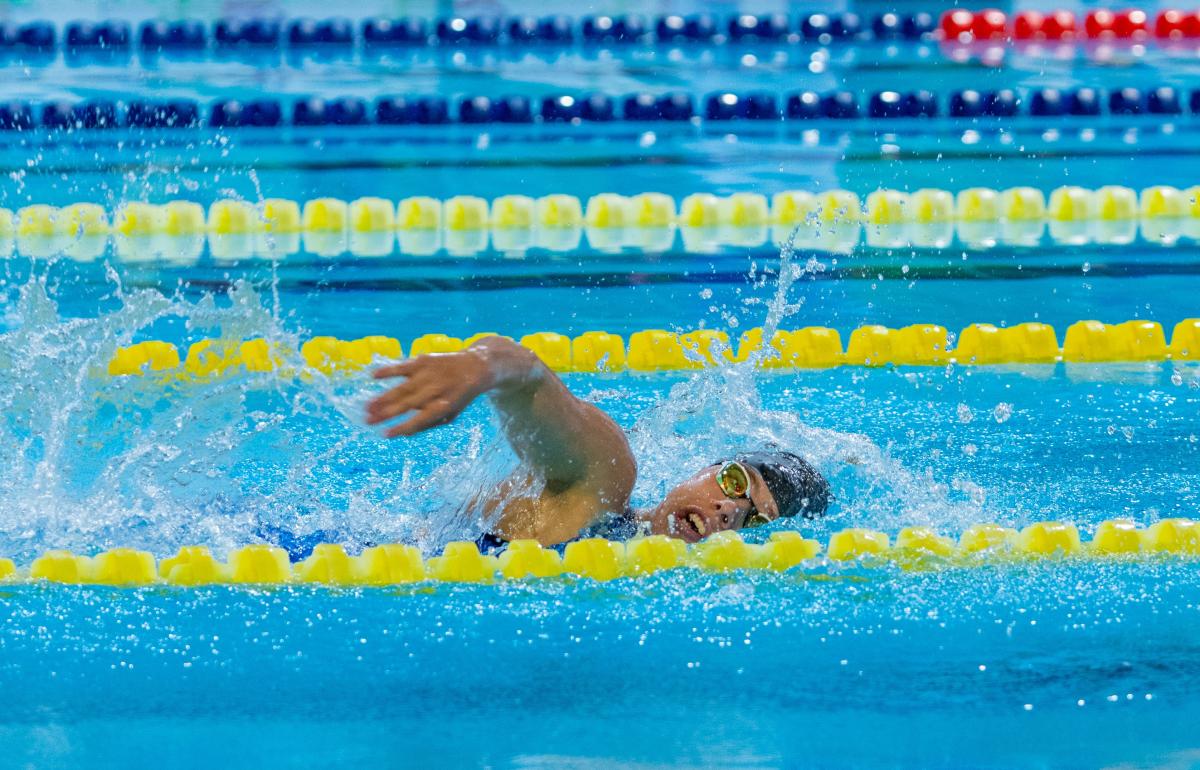 ⒸFPN / Pedro Vasconcelos
By Mary Barber and Filip Ozbolt| For World Para Swimming
Switzerland's Nora Meister is still only 17 but she is leading the charge for Para swimming in her country with a world record and a second gold medal at the Madeira 2020 European Para Swimming Open Championships.
The teenage talent was elated after she hit the wall first in the 400m freestyle S6 in 5:12.87 on Wednesday (19 May). She had fought off a challenge from favourite Yelyzaveta Mereshko from Ukraine who came in second followed by Germany's Verena Schott.
"I am really tired. My arms really hurt, but I am happy for breaking the world record and for winning another gold medal. I hadn't expected it," Meister said.
It was Meister's second gold medal at the Penteada Olympic Pools Complex in the capital Funchal. She made her debut at the Championships in the same venue in 2016 and later competed in Dublin 2018, where she won two titles.
She has now set her sights on her first Paralympic Games in Tokyo this summer. Her success there, she hopes, will raise the profile of Para swimming in her country. There have only ever been two gold medals in swimming for Switzerland, the last at Toronto 1976.
"Paralympics are my biggest goal. Now it looks good for me and I am happy to be there," added the Swiss, who will make her final race in Madeira on Friday in the 100m breaststroke SB6.
Gilli and Barlaam break world records
On day four world records also tumbled for Italians Carlotta Gilli and Simone Barlaam. Gilli lowered the time she set in Dublin 2018 in the 100m backstroke S13 and collected her third gold medal in Portugal.
The reigning world and European champion held off Russia's Anna Krivshina who came second. Ireland's 16-year-old Roisin Ni Riann had an excellent swim to finish third.
Her teammate Barlaam was thrilled after he lowered the time he set in February in the 100m freestyle S9. In one of the most eagerly awaited races of the night, Barlaam led from the front to win his second gold medal, with France's Ugo Didier finishing two seconds behind and Russia's Bogdan Mozgovoi third.
Italy had a dream start to the finals with Antonio Fantin's win in the men's 400m freestyle S6, and Xenia Palazzo gold in the women's 100m freestyle S8.
The biggest cheer of the night, though, came from the Portuguese in the venue when Susana Veiga won silver in the 100m freestyle S9. There were no spectators due to COVID-19 restrictions, but teammates and staff for the host nation were jubilant at the 21-year-old's outstanding performance. 
She fought hard against European record holder Sarai Gascon of Spain and narrowly missed gold. France's Clair Supiot was third. 
"I have a lot of respect for Sarai and it was an honour to compete against her. I don't mind the silver medal," said Veiga.
"I am really young and have a lot of time to improve my swimming and to win big medals. I am just happy to enjoy this moment in front of my people. It was amazing."
Third gold for Boki and Zhdanov
It was also an excellent night for Belarus's superstar Ihar Boki and Russia's Roman Zhdanov who each claimed their third gold medals. Boki dominated the 100m backstroke S13 to win his 22nd European Championship title while Zhdanov finished strongly in the 50m backstroke S4.
 
Greece turned in an excellent performance with two gold medals. Dimosthensis Michalentzakis landed his second win of the competition in the 100m freestyle S8. He touched first in a closely-fought contest ahead of Russia's Andrei Nikolaev and Italy's Alberto Amodeo.
"It was a very difficult race. I really did my best. I am not full of energy yet. It's very good that I won two races in that condition," Michalentzakis admitted after the race. "It will make me mentally stronger, and it is another step towards Tokyo."
Alexandra Stamatopoulou also forged ahead in another tight battle in 50m backstroke S4. Ukraine's Olga Sviderska and Russia's Nataliia Butkova tied in second place.
In the 100m backstroke S7, Israel's Mark Malyar claimed a stunning victory over nearest rivals Italy's Federico Bicelli and Ukraine's Andrii Trusov. 
"I didn't expect to win this one, but I am really happy for it," he said. "I felt really good in the morning, I knew I can go fast and I just repeated that in the afternoon."
Malyar now has his sights on another gold: "I am swimming in the 100m breaststroke and should also be good there. I hope that I will win another gold."
Four victories for Ukraine
Azerbaijan's teenage sensation Vali Israfilov caused an upset in the men's 100m breaststroke SB12 when the 18-year-old beat world record holder Oleksii Fedyna on the line to claim gold.
Alberto Abarza from Chile won his second event in Madeira in the men's 200m freestyle S1-S2. There were also gold medal winning performances for Russia from Maria Latritskaia in 100m breaststroke SB12 and Iuliia Shishova in 50m backstroke S3.
Ukraine also had another excellent day with four victories. Mykhailo Serbin led the way in the men's 200m individual medley SM11, Denys Ostapchenko in the men's 50m backstroke S3 and Anna Hontar in the women's 100m backstroke S7, followed by a victory in the mixed 4x100m medley relay. 
Spain won the other relay of the evening in Madeira, in the mixed 4x100m freestyle S14.
The full results and a complete schedule can be found on the Madeira 2020 website.
You can watch day five live on World Para Swimming website and Facebook page (with geo-block restrictions in Spain and the United Kingdom).
Behind the scenes and all action from Madeira can also be followed on Instagram and Twitter.