Newcomer Fernandez gets off to a golden start
Spanish swimmer takes her first international gold with a world record in the third day of the European Open Championships in Madeira
19 May 2021
Imagen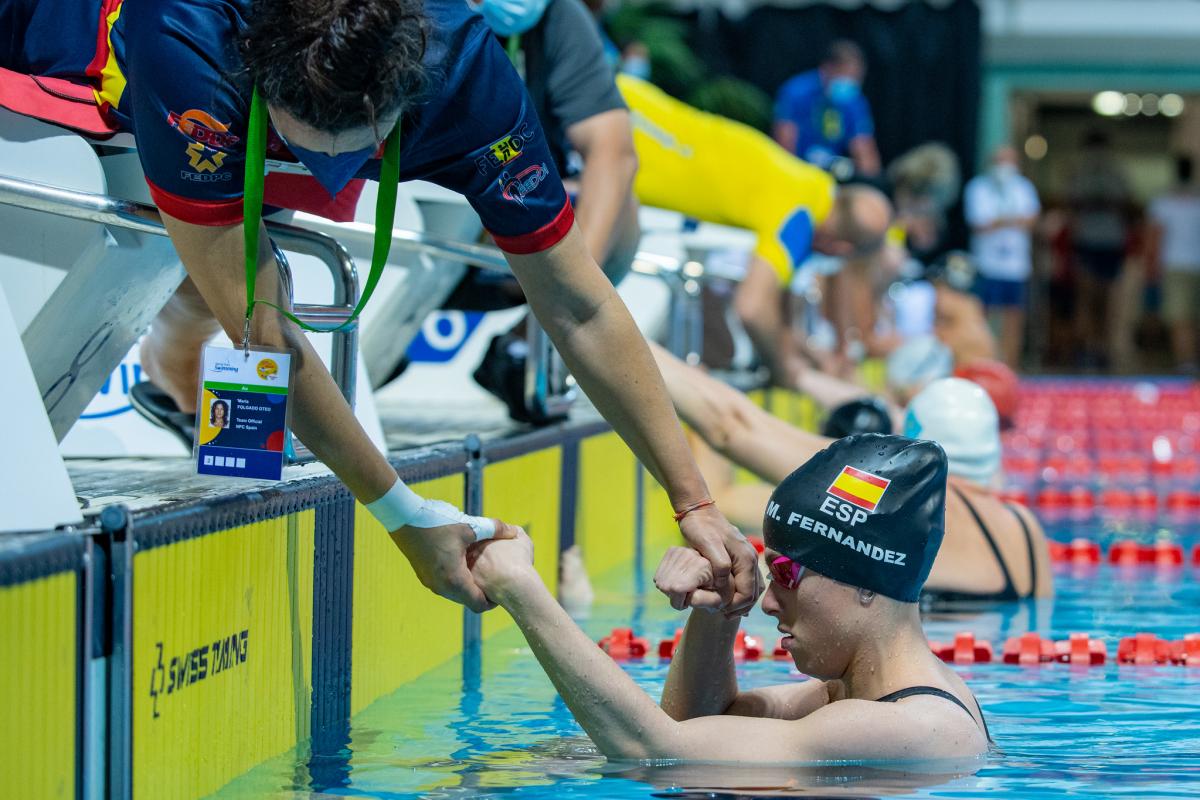 ⒸFPN
By Mary Barber and Filip Ozbolt| For World Para Swimming
Spain's Marta Fernandez Infante has had a sensational start to her international career by taking gold, two silvers, a bronze and breaking a world record at the Madeira 2020 European Para Swimming Open Championships. 
When the 26-year-old came into the week-long competition she was an unknown quantity, but she will leave it as one of the star performers. On day three (18 May) she claimed her biggest prize when she led from the front to win gold and an S4 world record in the 50m butterfly S5 final.
The newcomer looked emotional after she hit the wall in 43.22 ahead of Turkey's Sevilay Ozturk and Italy's Giulia Ghiretti. 
"I am very satisfied with this win, not only because I broke the world record, but also because I felt good in the water," she said. "I was training a lot during the pandemic and all the work paid off now. It is giving me great results. I now want to enjoy the Paralympic Games and fight for the medals. I feel I am ready for it."
Her victory on Tuesday followed an outstanding swim by compatriot Michelle Alonso Morales, who claimed her second gold of the meet in the 100m breaststroke SB14. She landed in 1:12.87, which was just outside her world record time of 1:12.61. Her nearest rivals were Austria's Janina Falk and Sweden's Pernilla Lindberg. Alonso Morales also won gold in the mixed 4x100m mixed relay S14. 
The medals tally was further boosted on day three by Antoni Ponce Bertran with a silver in the 200m individual medley SM6. Russia's Andrei Granichka claimed the gold. Ponce Bertrain also won bronze in the 50m butterfly S5 behind first place Ukraine's Yaroslav Semenenko.
Spain now lies fourth in the medals table, with 22, including six golds. Followed closely by Hungary in fifth with five golds.
Two golds for Hungary
One of the most thrilling finals of the evening was the women's 400m freestyle S10. Hungary's Bianka Pap went neck-and-neck with Poland's Oliwia Jablonska for most of the race before she hit the wall in in 4:31.53, which was just a fingertip ahead of her rival who finished in 4:31.79. France's Anaelle Roulet was third.
"When I woke up in the morning, my goal was to swim fast, and I did it. It's a phenomenal feeling to win this gold. I am very happy," said Pap.
Her teammate Zsofia Konkoly notched up her second gold of the competition in the 100m butterfly S9 in 1:07.66 on Tuesday. She led from the half-way stage ahead of Spain's Sarai Gascon who finished in second and Russia's Viktoriia Ischiulova third.
"I am very happy for my win. I would be even happier if I had broken the European record, but it wasn't meant to be today," she said. "When I put that aside, the second gold medal in Madeira is a fantastic achievement."
Russia, which lies third in the medals table, behind Italy and Ukraine, took home a phenomenal seven gold medals and a new world and European records.
In the men's 150m individual medley SM4, Roman Zhdanov broke the world record set in 2016 and his own 2019 European record to finish in 2:22.38. He charged to the finish ahead of Israel's Ami Omer Dadaon and Italy's Efrem Morelli. 
Also going home with gold was Nataliia Butkova in the 150m individual medley SM4, Daria Pikalova in 50m freestyle S12; Egor Efrosinin in 100m breaststroke SB7 and Mariia Pavlova in 100m breaststroke SB7. 
Vladimir Danilenko picked up the European Champion title in the 100m backstroke S2. He was second behind Chile's Alberto Abarza who won the European Open title. 
The competition is open to non-European athletes ahead of the Paralympic in Tokyo in August. Brazil's Gabriel Bandeira will be one to watch at the Games after picking up his third gold medal in Madeira. 
He pulled away from the rest of the field in the 100m breaststroke SB14 to claim gold in a Brazilian one-two with Joao Pedro Brutos in second. Ukraine's Vasyl Krainyk was third.
Barlaam starts with gold
Ukraine had another great day with six gold medals. Maksym Krypak won his third with a win in 400m freestyle S10. The world and European record holder dominated the race pulling away from nearest rival Italy's Stefano Raimondo.
There were also wins for Yelzaveta Mereshko in 200m individual medley SM6 in 2.59.96, which was the first time she had gone under the three minutes, Yana Berezhna in 100m breaststroke SB11 and Illia Yaremenko in 50m freestyle S12.
Belarus' legend Ihar Boki won his 21st European champion title in the 100m freestyle S13 final. He has four more races ahead until Championships end on Saturday.
Italy's world and European champion Simone Barlaam also got his campaign off to a flying start by dipping under a minute for the first time in the 100m butterfly S9 in 59.28. He was a second ahead of Russia's Alexander Skaliukh.
"It feels good, it feels great," he said after his win. "It is my first 100 metres butterfly race under a minute which is great. I like the way I started the European Championships.
The Italians won four golds on Tuesday. World and European champion Carlotta Gilli took the 100m freestyle S13, Francesco Bettella won 100m backstroke S1 and there was gold in the mixed 4x50m freestyle relay 20pt.
There were also wins for Greece's Dimosthenis Michalentzakis in the 100m butterfly S8 and Lithuania Edgaras Matakas in the 100m breaststroke SB11.
The European Championships continue in Madeira on Wednesday (19 May) with 20 finals. Full results and a complete schedule can be found on the Madeira 2020 website.
You can watch day two live on World Para Swimming website and Facebook page (with geo-block restrictions in Spain and the United Kingdom).