Fantastic Fantin leads Italy on golden Monday
Day two sees Italian swimmer break two world records, a battle of brothers from different countries and impressive Ukrainian performances
18 May 2021
Imagen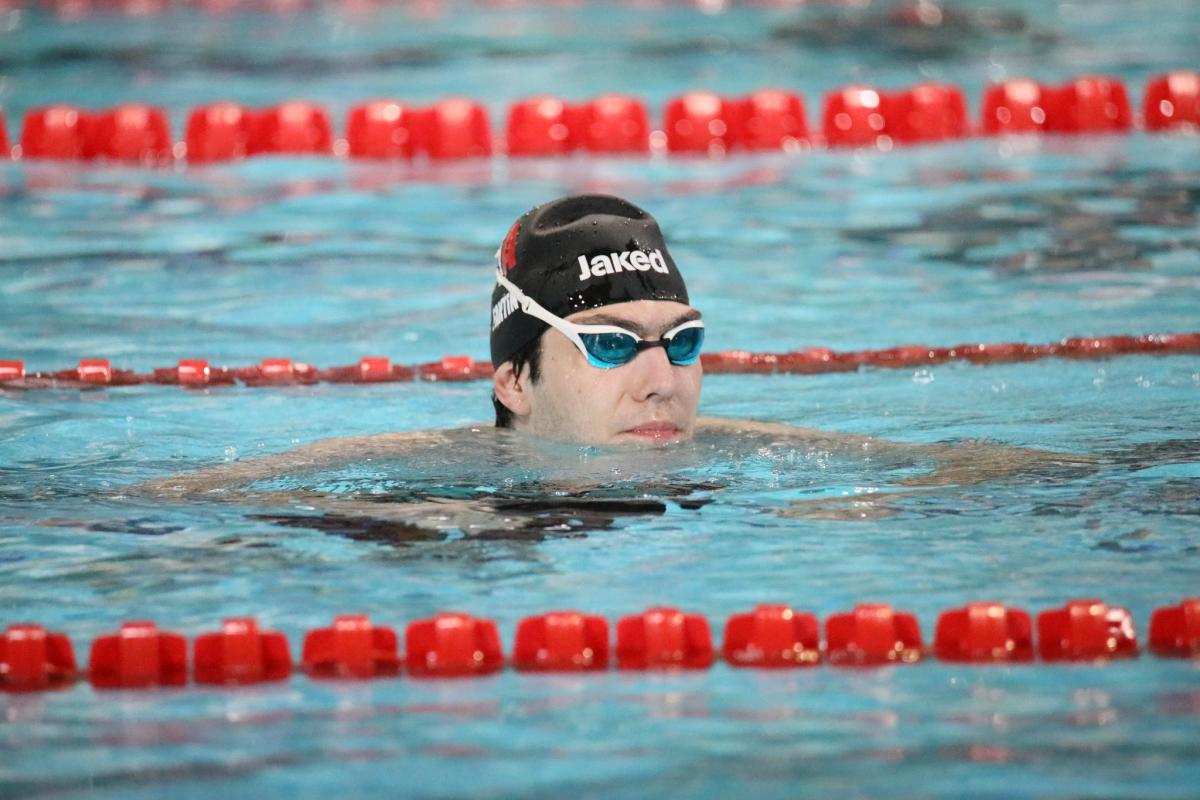 ⒸFPN LFNunes
By Mary Barber and Filip Ozbolt| For World Para Swimming
When Antonio Fantin smashed his world record at the Madeira 2020 European Para Swimming Open Championships on Tuesday (17 May) it felt so good that he smashed it again a few hours later. 
The 19-year-old Italian ripped through the field in the final of the 100m freestyle S6 to win in a record-breaking time of 1.03.76. He was also four seconds ahead of Ukraine's Oleksandr Komarov and Cuba's Lorenzo Perez Escalona.
Just hours earlier in the heats he had lowered the world record he had set just a month ago in another blistering display in 1:04.01.
"The feeling is fantastic," said an elated Fantin after the final. "I put 100 per cent into the morning heat as I wanted to test my body and abilities. I think that the improvement of my world record was really important for my self-confidence. I am so happy."
Israel's Ami Omer Dadaon also set a world record in 100m freestyle S4 in 1:19.77. He cut nearly two seconds off the time set by Russia's Roman Zhdanov in 2019, who came second in the race. Italy's Luigi Beggiato took bronze.
Dadaon's win in the third race of the finals came just after his compatriots Mark Malyar and Erel Halevi were denied victory in the last seconds of their respective races in the 400m freestyle S7. "I didn't look at the time," Dadaon admitted. "It was just another day in the office for me."
Battle of Brothers
Day two also saw brothers Dzmitry and Raman Salei battle it out in an explosive final of the 100m butterfly S12. The pair, who compete for different nations, Belarus and Azerbaijan, had gone into the race as the two favourites after the heats. 
They were almost neck-and-neck in the last 50m of the final leg before Paralympic champion Dzmitry, 31, pulled away to hit the wall in 57.45. Raman, 27, who won gold for Belarus in the 100m backstroke S12, was in silver.
"The race went fine overall. The only thing I would have been more satisfied with is the world record," said Dzmitry, who added: "My brother and I are just rivals, it's completely normal for me. The strongest always wins."
Two European records were also broken at the Penteada Olympic Pools Complex in the Madeira capital Funchal on the second day of the Championships.
Along with Fantin, Arjoli Trimi helped the Italians to another sensational evening of medal-winning performances, with a gold and European record in the 100m freestyle S3. 
The world and European champion pushed just far enough ahead to win in 1:31.46. Spain's Marta Fernandez Infante was close on her heels in second and Germany's Gina Boettcher in third. 
"It was amazing. I won, but I don't feel like it was in a dominant fashion," said Trimi later. "I am very proud of this result, but I always want to go faster. It's a great start and I am relieved by this win. I just want to swim fast for my country."
Trimi also brought the Italians home to victory on the last leg in the mixed 4x50m relay medley. The team ended the night on four golds to add to the seven they one on the previous day.
Her teammate Monica Boggioni won gold on her final stroke of the 50m backstroke S5 in 44.42 just ahead of Turkey's Sevilay Ozturk on 44.46.
Outstanding Ukraine
France's teenage sensation Ugo Didier battled to the wall in the 200m individual medley SM9 to win gold and a European record in 2:16.04. He broke the record set by Russia's Andrei Kalina in 2012, who came second followed by Frederico Morlacchi of Italy.
"I am very happy with this race and the European record. I have to thank my whole team for this. I hope to keep this form and win some races, maybe even break some more European records."
But he admitted: "This race [200m IM] was one of the hardest in my life. The breaststroke was really difficult because I knew that it was the specialty of Andrei Kalina, so I gave it my all during freestyle."
Ukraine also had an outstanding second day, winning five gold medals. The haul was added to the four golds won on day one. 
The team claimed victory in the first race of the day when Andrii Trusov won gold in the 400m freestyle S7. There were also wins for Yaroslav Semenenko in the men's 50m backstroke S5, Krypak Maksyn in the men's 200m individual medley and Viktor Smyrnov in 100m butterfly S11. 
World record holder Yelyzaveta Mereshko made it four European Championship titles in a row when she won the 100m freestyle S6 in 1:12.16. She was three seconds ahead of Switzerland's Nora Meister and Great Britain's Eleanor Robinson.
Engel denies Boki
Ihar Boki, who hoped to win seven gold medals at the meet for Belarus to match his record set in Dublin 2018, had to make do with silver in the 100m breaststroke SB13.
He was denied the win by Germany's Taliso Engel who had a brilliant swim to finish two seconds ahead in 1:04.22. Russia's Maksim Nikiforov claimed bronze.
"I have so much respect for Ihar Boki. It always feels great to compete against him," said Engel, who admitted he did not have a great start to the race. "My glasses got full of water and I couldn't see anything. It felt great after that though and I think I had a really good race overall."
The competition is also open to non-European athletes ahead of the Paralympic Games in Tokyo in August. Brazil's Gabriel Bandeira won his second European open title in the men's 100m backstroke S14.
Great Britain's Jessica-Jane Applegate also won her second gold of the competition with a win in the 100m backstroke S14. 
"Everything clicked right in this race and I am really happy. This was my top time, and I can't hide that I am proud," she said.
It was also a golden Monday for Hungary with two golds in women's 200m individual medleys. First with Bianka Pap in the SM10 and then, 80 minutes later, with Zsofia Konkoly in the SM9.
There were also victories for Russia (Viktoriia Ishchiulova in the women's 100m backstroke S8) and Spain (Inigo Llopis in the men's 100m backstroke S8 and the mixed 4x100m relay S14) at the Euros, which continue on Tuesday (18 May) with 24 finals in Madeira. 
Full results and a complete schedule can be found on the Madeira 2020 website.
You can watch day three live on World Para Swimming website and Facebook page (with geo-block restrictions in Spain and United Kingdom).