Random acts of kindness central to Ibrahim Al Hussein's journey to Tokyo
Refugee Para athlete follows hopeful path to 2020 Paralympic Games
19 May 2021
Imagen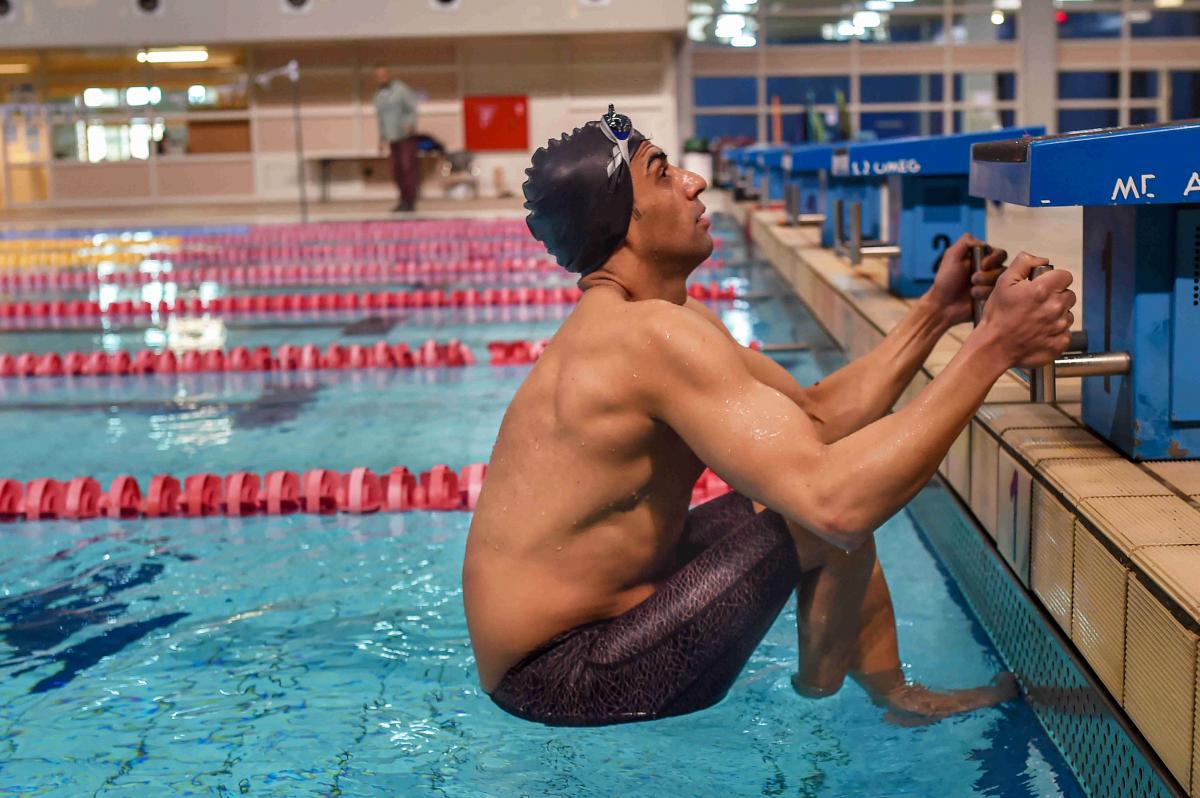 ⒸGetty Images/Milos Bicanski
By Teddy Katz | For the IPC
Few athletes have endured a more difficult but also a more hopeful journey to the Tokyo 2020 Paralympic Games than Ibrahim Al Hussein.  
Ibrahim Al Hussein's selfless act to rescue his friend in Syria set off a series of random acts of kindness from total strangers that helped make his journey towards Tokyo possible.
It all started rather innocently.  Like many kids around the world, Al Hussein fell in love with sport at a young age. He started swimming when he was just five.
Al Hussein was born in 1988 into an athletic family in Deir al Zor, Syria, which is on the banks of the Euphrates River about 100 kilometres from Iraq.
His father was a swimming coach, who in his youth won two silver medals at the Asian Championships. Al Hussein dreamed of following in his father's footsteps and perhaps even one day representing his country in the Olympics.
"I swam, did judo and other sports quite competitively.  I didn't want to train with my father though because he was really tough on his athletes," Al Hussein laughs.
Al Hussein's days were pretty full. He went to school in the morning, trained for swimming in the afternoons and practiced judo in the evenings.    
When he was not doing sports, he was into music or fishing with his friends on the Euphrates River.
It was a pretty idyllic childhood, full of happy memories.  
Everything changed on 15 March 2011 as the Syrian crisis broke out. 
"I could not train. We weren't allowed to go out.  That was the beginning of the hardest times in Syria."
Things got worse and worse and in early 2012, Al Hussein's 13 siblings and his parents fled to a   safer place.
The 22-year-old stayed behind.  
One day,  Al Hussein's life changed forever.

A friend was leaving Al Hussein's house and returning to his home when he was shot by a sniper.
"He fell to the ground and was crying for help. I knew if I went to help him, I could get shot as well. But I decided I had to help because I knew I would have never been able to forgive myself watching him die in the middle of the street."
Seconds later, a bomb exploded as Al Hussein and three others tried to help out their friend. Al Hussein lost his lower right leg in the blast and his left ankle was badly damaged among other injuries. The other friends suffered serious injuries as well.
Because of the war, medical personnel and facilities were hard to find. In fact, the doctor who cleaned Al Hussein's wounds was a dentist.
Al Hussein found himself in a wheelchair in desperate need of care. His hopes and ambitions were shattered in the blast. The formerly active youth was quickly sinking into a deep depression, not eating, not drinking and feeling lifeless.
After three months, Al Hussein decided he needed to flee in search of a safer place and better treatment.  
He was able to cross the Euphrates on a raft with the help of a friend.
Al Hussein and the friend continued on to Turkey, which at the time was one of the only places with its borders open from his province to those injured in the war in Syria.
He entered southeastern Turkey, but things were not much better with so many of the injured flocking there. So he eventually made his way to Istanbul.  
There, Al Hussein finally had some good fortune come his way.
He met some Syrian expats who helped him find shelter – a home rented by Syrians where people injured in the fighting were offered a place to stay in the basement.
Food was scarce. Money was in short supply.
Thankfully, he says, some Turkish neighbours heard about their plight and their injuries and made them meals every day.
In Istanbul, he was also finally able to get to a hospital and get treatment for his leg. They made him a prosthetic leg. But the quality was not great. He could not walk more than 300 metres without it falling apart.  
"I used to walk with a tool box in my backpack at all times. I'd sit on the street and fix it just to keep going."
He kept going. In talking to other refugees, he came to the conclusion he had to get somewhere else in Europe, if he was ever going to get the proper treatment he required. He set out to cross from Turkey into Greece.
With thousands of kilometres of coastline, Greece and the Greek island of Samos, in particular, have been on the front lines of Europe's refugee crisis. From 2014 to 2020, more than 1.2 million people came to Europe mostly through Greece according to the United Nations refugee agency.  
For many refugees, it has been a treacherous journey to freedom and a better life. More than 2,000 people died or were never seen again.
"I was not afraid. I was willing to take my chances even if it meant dying along the way," says Al Hussein of the danger he knew he was entering into. 
Al Hussein and other refugees crossed the Aegean the night of 27 February 2014 on a rubber dinghy.
"A lot of people had to redo their journey again and again because they were sent back  or their dinghy would sink. Luckily, we managed to arrive on Samos Island. I always say, 'this was the date I was born, the 27th of February 2014."
After arriving on Samos Island, the Greek police took him and the others to a detention centre where he stayed for 16 days.   
He hoped to take a ferry to get to the Greek capital Athens. But he did not have any money to buy a ticket. Once again, he had good fortune on his side. Some of the people who crossed with him from Turkey to Greece collected money from everyone in the group to pay for Al Hussein's ticket. 
That was the fourth act of kindness in Al Hussein's story, if you are counting. While the rest of the people he was travelling with continued on to other places in Europe, he stayed on his own in Athens. He did not speak the language, had nowhere to live and people to turn to for help.
Al Hussein slept in parks, gardens, and small hills around Athens. He ate whatever fruits he could pick from the trees. 
That was when something amazing happened.
"By luck, I met a Syrian expat who was very nice. He asked me about my story. I told him I was an athlete and was injured in the war in Syria and had to flee."
As fate would have it, that man had a Greek friend who had a similar disability and used a prosthetic leg. The Syrian man presented Al Hussein to his Greek friend who introduced Al Hussein to his doctor, with more kindness to follow that would change Ail Hussein's path forever.
The doctor, Angelos Chronopoulos, was keen to help Al Hussein. He is a specialist who fits people with prostethics.  
"That doctor is now like a brother to me. The leg would normally cost 12,000 Euros but he made it, paid for it out of his own pocket and provided maintenance for free."
At that time, Al Hussein was living at the home of the Syrian who helped him out.
Once Al Hussein learned how to walk with his new prosthetic leg, it gave him new freedom. He was able to start looking for work. He found a job at the bus station cleaning the washrooms. After a while, he earned enough money to rent a small apartment.  
Settling into his new home where he began to teach himself Greek, he started to explore opportunities to rebuild his life. He thought the best way to do that would be to participate in sport once again but this time as an athlete with a disability.
He knew the transition was going to be difficult and he was going to have to learn a whole new way to train.
"Going back into sport wasn't easy.  It was a big challenge. But if you have a disability or whatever else you face, nothing should stop you from doing what you love."
© Milos Bicanski - Getty Images

He started to look for a sport club he could join as a swimmer. He told them he had been a top swimmer in Syria, that he had been in many events and had good qualifications. But every place rejected him because his earlier results came when he was an able-bodied athlete in Syria.
In May 2014, just a month after getting his prosthetic leg, he found a sport club that would take him, not as a swimmer but as a wheelchair basketball player.
For close to a year, he went to work as a cleaner in the morning, trained in the afternoon for basketball and kept searching for a swim club he could join.
In October 2015, after a year and a half of searching, the perseverance paid off and he finally found a pool where he could train. He couldn't believe his luck. 
"It was the Olympic pool during the 2004 Olympics and Paralympics in Athens. Being able to train at that pool after my journey as a refugee, that gave me a lot of motivation to carry on in the hopes that one day I could deliver a message to the whole world."  
He trained for basketball in the morning, swam in the afternoon and worked the late shift often into the early hours of the morning.
Six months later, there was a swimming championship in Athens and Al Hussein finished first in one of the events. That earned him an invitation a few days later to the Greek National Swimming Championship where he won a gold and silver in two of the events.  
Suddenly, with those results, Al Hussein was on the radar of Greek sport officials who learned about his story as a refugee.
With the Olympic torch about to be lit in Athens as it always is ahead of the Rio 2016 Olympics and Paralympics, the United Nations High Commissioner for Refugees (UNHCR) reached out to Al Hussein along with Greek sport leaders.  
In April 2016, they asked him to carry the torch through a refugee accommodation facility in Athens as a representative of refugees from around the world.
"I was so happy to be the first refugee ever in history to hold the Olympic torch. That was like not even a reality for me. It was a dream."  
When media interviewed him and asked about his wishes for the future, he said he hoped that one day, refugees could participate in the Olympic and Paralympic Games.
"I don't know who heard that or who saw that but 10 days after that event, I received a call from the International Paralympic Committee. That was a miracle. They invited me to be part of the first Independent Paralympic Team (in Rio)."
Al Hussein could barely contain his emotions on the other end of the line during that call.
"I was so happy. I couldn't sit still. I was nervously walking around in circles."
He adds, "All of these dreams were real now and I cried a lot from happiness. All the doors had been closed in my face and now, they were all open once again."
About one year after his return to swimming, he found himself in Rio for his first international event, which just happened to be the Rio 2016 Paralympics.
He was the flag bearer and carried the Paralympic flag into the stadium at the Opening Ceremony, representing the first ever Independent Paralympic Team which featured two athletes who were both refugees and asylum seekers.
"The day I entered Rio just thinking I was going to the Paralympic Games it was the most amazing day I have ever felt.  To arrive to the Olympic or Paralympic Games. That was my childhood dream."

With all the stress from the journey from refugee to Paralympian, the lack of time to train, he did not win a medal in Rio in the two events in which he competed. But he was awarded the Whang Youn Dai Achievement Award at the 2016 Games, which went to the athlete who best exemplifies the spirit of the Games and inspires and excites the world.
Back in Greece after those games, Al Hussein started feeling like it was his second home. He has now learned Greek and speaks it fluently. Al Hussein is working on a project that has become his passion. He started a wheelchair basketball team in Athens for refugees from around the world to give them a place to play. 
"I want every refugee to have opportunities in sport. I cannot imagine my life without sport. I can stop eating but I cannot stop having sport in my life. It is what keeps me going."
Al Hussein is hoping to lead a larger Refugee Paralympic Team in Tokyo, which may include as many as six athletes.  
"For us running from our countries, we are creating a new family as refugees from different backgrounds. It is an amazing feeling."
The past year has posed more challenges for all athletes because of the COVID-19 global pandemic.
It made training and accessing the pool difficult at times for Al Hussein.
Like many others, he also found it hard to make a living as his latest job manufacturing clay souvenirs practically dried up as the most of the shops he supplies in Athens closed.
There was one silver lining.
Airbnb, which is helping sponsor the Refugee Paralympic Team, asked Al Hussein to be one of the hosts of their Online Experiences, where the public can connect to hear first-hand accounts of prominent people on the Airbnb platform. Al Hussein receives an honourarium as a host.
"Especially during COVID, we can't meet face to face so it's been amazing that Airbnb gives us the opportunity to share our stories online."
© Milos Bicanski - Getty Images

Al Hussein says with the hardships everybody has endured in the past year with the pandemic, people are more interested than ever in hearing stories of resilience.
"There was a lot of suffering and struggle on the journey. Being a person with a disability and being a refugee as well, I had to cross from place to place not knowing what the future would bring.
He would love nothing more than to continue sharing his story and helping others.
That friend, whom he helped in Syria, not only survived he now has three children.
"We have a saying in Arabic. Do good and throw it in the ocean. One day it will come back to you."
And it has for All Hussein – his courage in helping his friend has seen random acts of kindness that have changed his life. He wants to continue paying it forward.