Refugee Para swimmer Abbas Karimi driven to prove a lesson at Tokyo 2020
Born without arms, Karimi fled his home in Afghanistan to explore a new future
12 May 2021
Imagen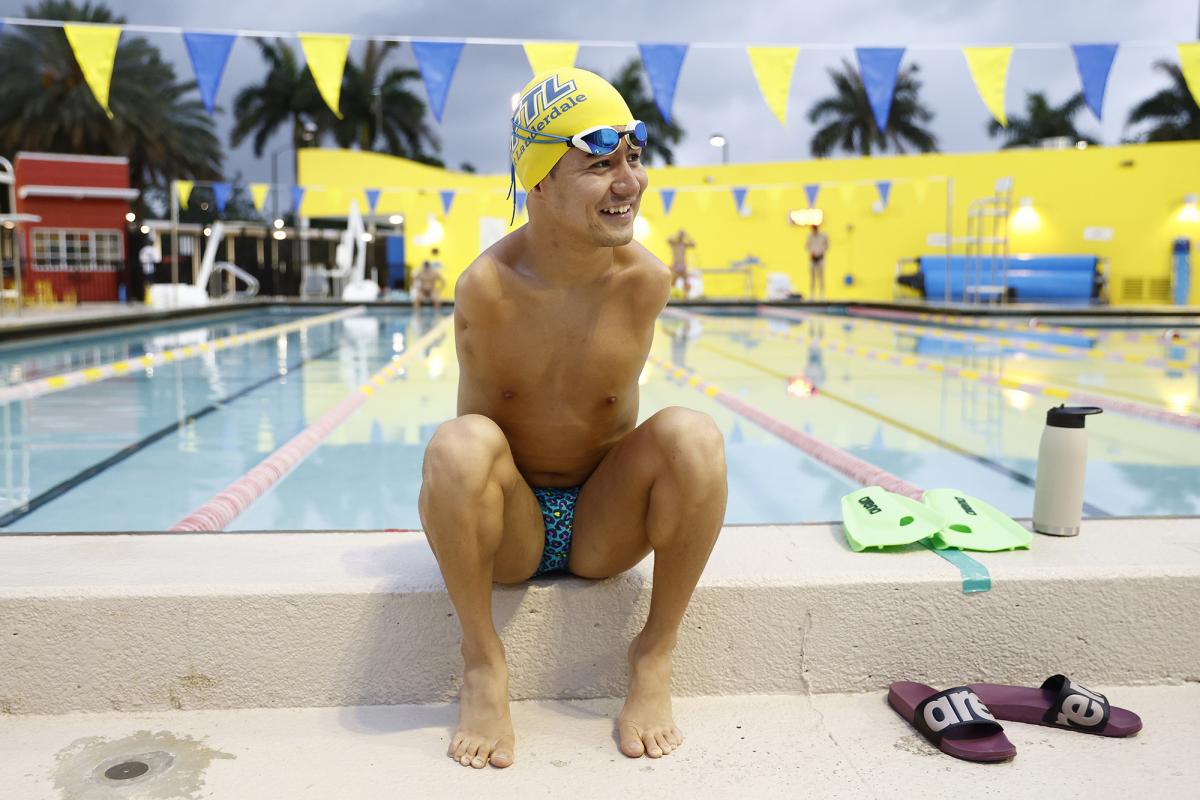 ⒸMichael Reaves/Getty Images
By Teddy Katz | For the IPC
When Abbas Karimi stepped onto the podium after winning a silver medal in the S5 50m butterfly competition at the Mexico 2017 World Para Swimming Championships, he had trouble standing still and posing for the cameras.
"I was trying to smile but my lips were shaking, my body was shaking.  I'm standing there thinking about how I'm representing 80 million displaced people from around the world.  I'm the only refugee to ever win an international title like this.  I made history.  But I'm also thinking, I'm not done."
Karimi is pinching himself thinking about how far he has come and the incredible odds and obstacles he has had to overcome from day one. 
Karimi was born without arms in the capital of Afghanistan, Kabul.  
"When you are born disabled without arms or legs or missing body parts in Afghanistan, you are considered hopeless," Karimi says.
His parents tried to protect him by keeping him inside the house and focused on school, but Karimi just wanted to go out and play like all the other kids.  He quickly learned that was not easy.
"I was getting bullied.  A lot of the other kids called me names – things like 'armless or cripple'.  I had a really angry childhood."  
When he was 12, Karimi started his first sport – kickboxing.  He actually took it up so he could defend himself. He admits to fighting people big and small, kicking the other kids in the face if he had to and leaving them with bloody noses.  He looks back at what he says were a lot of horrible things he did and mistakes he made in his youth.
The next year when he was 13, his brother built a 25 metre swimming pool for a community near Karimi's home.  Everything changed the first day he plunged into the water.
"I was so scared.  I asked the lifeguard, 'Do you think I can learn how to swim?' He said, 'Of course you can.  There are people in the world who don't have arms and legs and who swim.' So, I put on a life jacket and didn't drown.  That day gave me a lot of hope."
The water and swimming became his oasis, his safe space.
"Swimming calms me down.  It's like a shield for me, always protecting me. If I'm upset or anytime that I have any issues, I just get in the water and it relaxes me.  Swimming saved my life.
"I believe without swimming, I'd be a very dangerous person, I'd be in trouble.  Swimming opened my heart. It's in my soul."
He has learned how to swim gracefully gliding through the water similar to a dolphin.
Although he at first he doubted he could master the sport without arms, Karimi has learned to excel by making the most of his feet.
In fact, he eats, showers, gets dressed, drives a car and even writes with his feet.
"I believe God took my arms by mistake, but he gave me a talent in my feet."
Karimi's father was not crazy about him focusing on swimming, preferring to see him as a leader in the mosque but Karimi had other ideas.
In his first competition, Karimi became Afghan national champion, proudly racing in front of his father.  But Karimi did not see much of a future if he stayed in his birth country.
"I just wanted to get out of that world and prove them wrong.  As a person with a disability, I didn't fit into that society.  I had to leave."
Karimi also worried about his safety in his homeland which has been at war from the time he was born.
"There were a lot of bombs exploding in Kabul.  I wasn't the type of kid to stay inside the house so I could have been killed at any time if I stayed."
At 16, Karimi secretly hatched a plan to flee.  First, he flew to Iran.  Then he began a three day harrowing journey through the Zagros mountains, a journey that if he could survive the extreme conditions would take him from Iran to Turkey.
Smugglers put him in the back of a truck.  He had to sit there with his feet close together as they covered all those fleeing with plastic. As they headed to the border, the truck stopped to pick up others.  The newcomers piled onto the truck, jumping on top of Karimi who they couldn't see underneath all the plastic, making it hard for him to breathe.  
When they got to the first mountain range, there was a path they had to walk along.
"We had to keep walking and walking.  It was a never ending path.  Night was coming.  It was starting to get really cold.  We had to stay the night there to hide from the Iranian border police."
Karimi was not sure he would survive that night.  His biggest fear was being caught by the Iranian police and being deported back to Afghanistan.
He put his head between his knees and tried to find some way not to freeze to death.  In the morning, Karimi could not walk, his legs were so numb.
"I couldn't feel my feet, my legs.  They told me I had to keep moving.  I've never been so cold, so hungry in my life."
Karimi and the others were taken to another mountain range, where 20 wild dogs tried to attack them, and someone had to shoo the dogs away with a stick.
After three seemingly endless days and nights like that, they made it to Turkey.
"I prayed a lot and God must have been with me on that path. Otherwise, I wouldn't have survived.  Imagine people doing this journey through the mountains with arms and legs.  I had to do this horrible journey without arms, but I was determined because I wanted a new life."
In Turkey, Karimi eventually ended up in a refugee camp for orphans where they provided shelter to refugees and asylum seekers under 18. 
There were strict rules about minors leaving the camp on their own.  He begged the people running the camp to allow him to go out to train for swimming.
During his four years in Turkey from 2013 to 2016, Karimi lived in four different refugee camps.
In the second camp which was for people with disabilities, he went to a pool every day, twice a day to train.  He travelled an hour by bus to get to that pool, had swimming practice and then headed back to the camp for lunch. After lunch, he did the same trek for a second swim, a gruelling routine he kept up for eight months.
What was driving him was his belief that swimming would provide a better life and that he could be a role model for the younger generation.
"When I die, I want people to know that Abbas Karimi, without arms, he never gave up on his dreams and his goals.  I can do something to change the world.
"I realised I could do that by being a champion, a Paralympic champion."
During his time in Turkey, Karima won 15 medals including two Turkish national championships.  He was even photographed with Turkey's President Recep Tayyip Erdogan.
Still, he was unable to compete internationally because he did ot have a passport and the proper documentation. 
In September 2015, Mike Ives, a retired teacher and former wrestling coach in the United States saw a video Karimi posted on Facebook.  In the video, Karimi showed off his swimming skills and asked the Afghanistan government to support him so he could represent the country at the Rio 2016 Paralympic Games.
Ives sent Karimi a long message encouraging him to come to Portland in the USA and telling him he would support him.
"He's like my American father, another father figure to me.  I thought it's not possible to go to the USA just like that.  But he made it happen."
Ives worked with the United Nations High Commissioner for Refugees (UNHCR) to get him the proper documentation and helped Karimi resettle in Portland in 2016.
The next year, in 2017, is when Karimi went to that World Championship in Mexico and saw his swimming career take off with the silver medal that left him trembling on the podium.
"Going to the USA gave me a second chance in life to pursue my dreams."
At his second World Championship in London in 2019, he finished sixth in the 50m butterfly, a result he found disappointing. A few days after those Championships, he received some horrible news from back home. His father had died.

"I went back to Afghanistan for 11 days to be with my mother.  I cried so much.  I wanted to quit because when I put myself on this path, I gave up everything.  It cost me so much to try to become a Paralympic champion."
Nine years of sacrifice, living by himself away from his family, being homesick almost every day, he paid a big price.
"It wasn't easy, but I'm alive. Sometimes I think success can be a lonely road," the 24-year-old says.
At the time of his father's funeral, he remembered one of the last things his father said to him.
"He said, 'I knew when you were born that you were going to be something special'. He added that, 'Among of all my kids, all my sons and daughters, you're the only one who put my name on top of the world'."
Rather than quitting the sport, in typical Karimi style, when he returned back to the United States, Karimi dedicated himself even more to his dream of becoming a Paralympic champion.
He moved to the other side of the country to train with Marty Hendrick, a top coach in Fort Lauderdale, Florida, who told Karimi he could help him become a faster swimmer.
While he will not find out until June if he has officially on the Refugee Paralympic Team, Karimi is doing everything to be ready including training six days a week, sometimes twice a day, to shave seconds off his times.
"I want to make the podium in Tokyo.  I'm not just going there to compete. I hate losing," said Karimi, who was recently appointed a 'High Profile Supporter for UNHCR, the UN Refugee Agency.'
"When I make the podium, I'm going to make a lot of refugees around the world happy.  For me, I'll feel like I'm a lion, someone who always fights hard and never gives up no matter what."