UNHCR releases powerful video in support of Refugee Paralympic and Olympic teams
'The Journey' tells dramatised story of a refugee to mark UN's International Day of Sport for Development and Peace on 6 April
06 Apr 2021
Imagen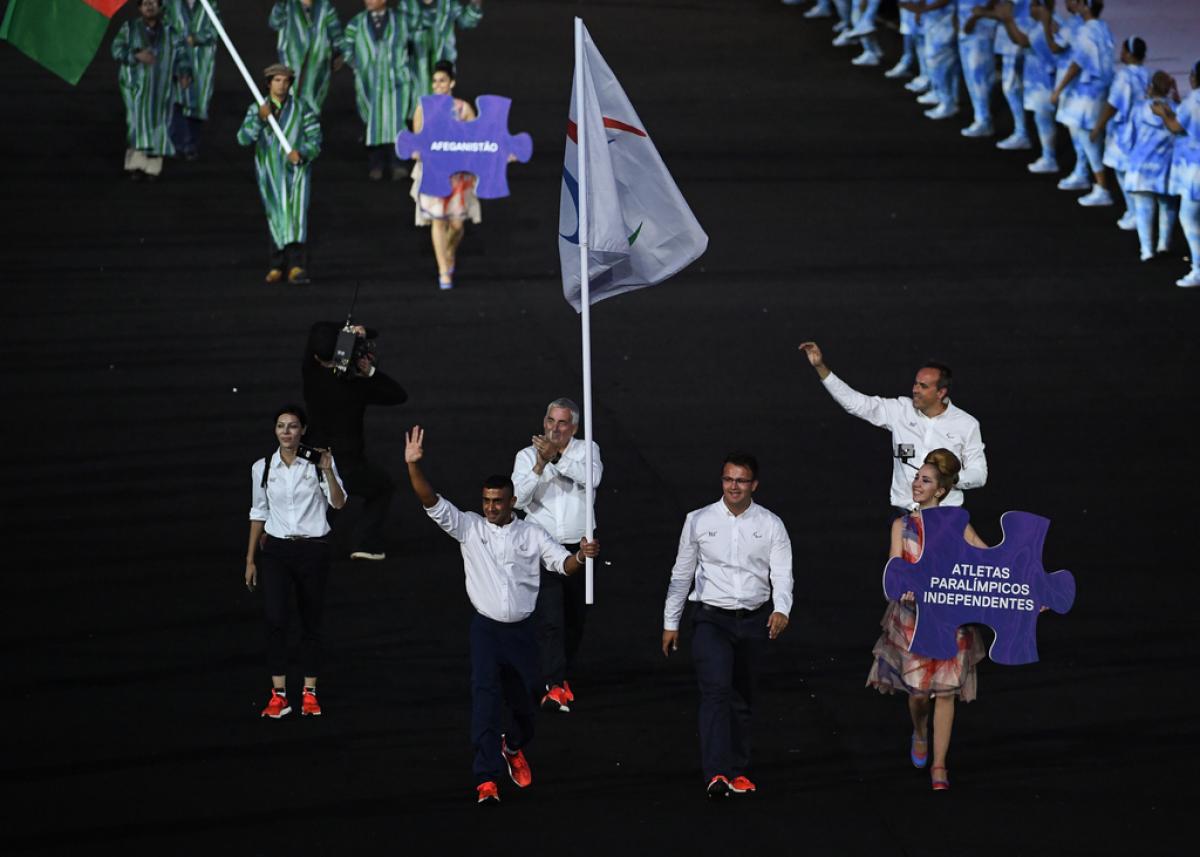 ⒸOIS
By UNHCR and IPC
The United Nations High Commissioner for Refugees (UNHCR) today launched a powerful social media campaign calling for the world to support the Refugee Paralympic and Olympic Teams at the forthcoming Games in Tokyo. 
At the centre of the global campaign is 'The Journey' – a social video dramatically depicting the extraordinary stories of the refugee Paralympic and Olympic hopefuls and released on 6 April to mark the UN's International Day of Sport for Development and Peace.
It tells the dramatised story of a refugee who is forced to flee her home on foot escaping conflict and persecution. Travelling by land and sea, she eventually reaches safety, reestablishes her life and starts running towards a new goal: a medal. 

Created in collaboration with two IOC Refugee Athlete Scholarship-holders, 'The Journey' social video highlights the power of sport to bring hope and change for all those forced to flee. 
  
The International Paralympic Committee (IPC) has confirmed plans to send up to six athletes to the Tokyo 2020 Paralympic Games as part of a Refugee Paralympic Team (RPT). 
Its creation is tied in with pledges of commitment the IPC signed at the UNHCR Global Refugee Forum in December 2019. Then, the IPC promised to promote access to sporting facilities, organised sports, and equal participation in sporting events for refugees.
Leading the team will be Ileana Rodriguez – herself both a former refugee and a London 2012 Paralympian – who has been appointed the Chef de Mission for the RPT.
UNHCR's Director of External Relations Dominique Hyde: "We at UNHCR are so proud to support the refugee athletes training for the Olympic and Paralympic Games. Against the odds, these extraordinary athletes have kept their dreams alive to represent millions of refugees around the world. Together with our partners the IOC and IPC we're dedicated to a world in which all those who have been forced to flee – including those with disabilities – can access their right to sport and play at all levels."  

There are currently over 60 refugee athletes and Para athletes training in the hope of competing at the Tokyo 2020 Olympic and Paralympic Games. 
UNHCR is working closely with the International Olympic Committee (IOC) and the IPC to support the current refugee athletes who – despite the challenges of displacement and the Covid 19 pandemic – continue to train to keep their dreams of competing in Tokyo alive. 
As the world's leading agency protecting people who have been forced to flee their homes, UNHCR knows that sport is more than just a leisure activity; it has the power to bring hope, heal and help refugees reclaim their futures. 
Rio 2016 Paralympian Ibrahim Al-Hussein, a refugee who was born in Syria, said: "The story depicted in 'The Journey' represents the lives of my fellow refugee athletes. I wish there was no need for a Refugee Olympic and Paralympic Team, that there was no more blood in the streets or war in the world, and that every athlete could train under their country's flag. But my participation in the Rio Paralympic Games was a key moment in my life – it opened new doors for me and for other refugee athletes too."
"Sport is my life," continued Al-Hussein, who competed in Para swimming in 2016 as part of the Independent Paralympic Athletes team. "If I stopped training I think my life would stop. When I'm swimming, it may be tiring, but it helps me stop thinking about my impairment and makes me feel good. After my injury I had two goals in my life: to start walking again and to go back to sports." 
With over 80 million people now displaced worldwide, UNHCR is working together with governments, the sporting world, civil society and refugees everywhere to build a better world in which every person forced to flee – including those with disabilities – can access and participate in sport, at all levels.  
'The Journey' was created for UNHCR, in partnership with the IPC and IOC, by award winning agency Don't Panic, and directed by Pantera through Anonymous Content.