World Refugee Day: Para taekwondo becomes prime medium for inclusion
Initiative led by the Taekwondo Humanitarian Foundation and UNHCR has made a difference for many lives in Rwanda refugee camps
20 Jun 2020
Imagen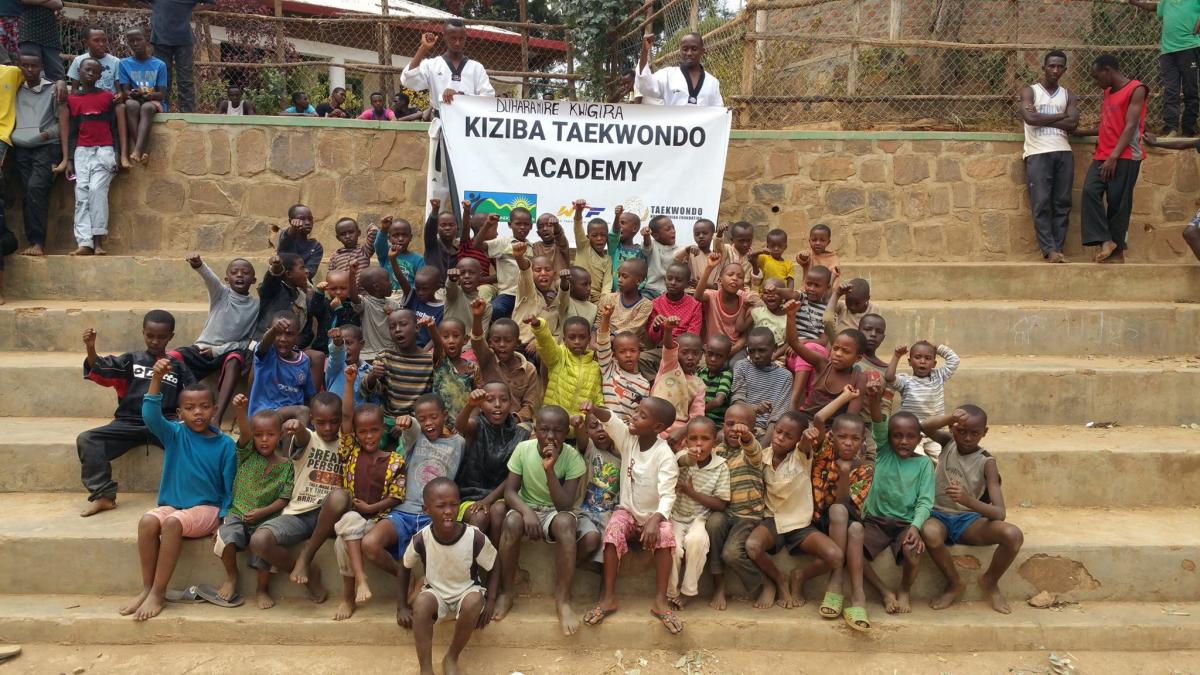 ⒸTaekwondo Humanitarian Foundation
By Ros Dumlao | For the IPC
Para taekwondo has been making a difference in the lives of many in Kiziba and Mahama, two of the biggest refugee camps in Rwanda.
It began with an inspiration from President of World Taekwondo Chungwon Choue to settle the first African development programme in Rwanda.  Now, that inspiration has evolved to empower refugees through the sport, exemplifying this year's World Refugee Day (20 June) theme of "Everyone can make a difference. Every action counts."
Recognising the high number of refugees in both camps – mostly from eastern Democratic Republic of Congo and Burundi – the Taekwondo Humanitarian Foundation (THF) partnered with Rwanda's national taekwondo federation and the United Nations Human Rights Council (UNHCR) to share the power that taekwondo can bring to one's life.
 "For the refugees, it is to improve their daily life," THF Project Manager Sophie Roduit said. "Research suggests that taekwondo training has many psychological benefits, such as enhanced self-esteem, self-concept and reducing aggressiveness decrease scores on anxiety and increase scores on personal independence and ability to take a leadership role."
The project in Rwanda began in 2017, and Para taekwondo was later added in 2019 after learning of a number refugees with disabilities. 
Kiziba hosts more than 17,000 refugees, with 200 students of the sport. Mahama houses nearly 60,000 refugees, with 0.5 per cent having a disability. Knowing that, and the expectation that the figure between the two camps will raise for 3 per cent in the coming years, there was an awareness to expand the project's efforts to be more inclusive.
It also helps that the sport can be practiced between able-bodied and people with a disability. 
"The rules for competition is very similar between taekwondo and Para taekwondo," said Olof Hansson, Para taekwondo director at World Taekwondo. "Most Para taekwondo athletes in the world train together with their able-bodied counterparts. Taekwondo can be practised almost everywhere with very little or no equipment. These factors make the sport accessible to all, almost everywhere in the world, regardless of age, nationality, ethnicity, religion or ability."
Over 200 refugees have been training every week in the camp in Rwanda and THF hires only local coaches and some refugees from the camp as assistant coach. 
"Parfait is one of them," Roduit highlighted. 
Parfait came from the Mahama camp. A former Para taekwondo athlete who competed for Burundi, Parfait took it on his own to offer taekwondo lessons to other residents.
His help was much needed, as capacity and logistics has been one of the challenges for the project. 
"The number of side activities in the camps is very limited and in some camps, THF can't accept all the participants as THF hasn't enough coaches," Roduit explained. "THF developed also an educational toolkit focusing on soft skills like improving the well-being of refugees.
"And THF coaches are trained to highlight the well-being – most of the refugees suffered from a trauma and we have developed some psychological tools to overcome this trauma – the social inclusion and child protection."
It is stories and actions like those from Parfait that has made a difference not only for the refugees, but staff behind the initiative. 
"Up until (recently) , Parfait was the only refugee with an impairment whom we knew of," Hansson said. "We have since been informed of an additional four male and one female practitioners with an impairment taking part in the THF programme in Rwanda. Parfait has been an inspiration as a taekwondo instructor with the THF project in Rwanda."
Read more on Taekwondo Humanitarian Foundation's efforts in refugee camps on their website.