World Refugee Day: Changing lives through Para sport
Dozens of refugees inspired by Agitos Foundation programme in Greece.
20 Jun 2017
Imagen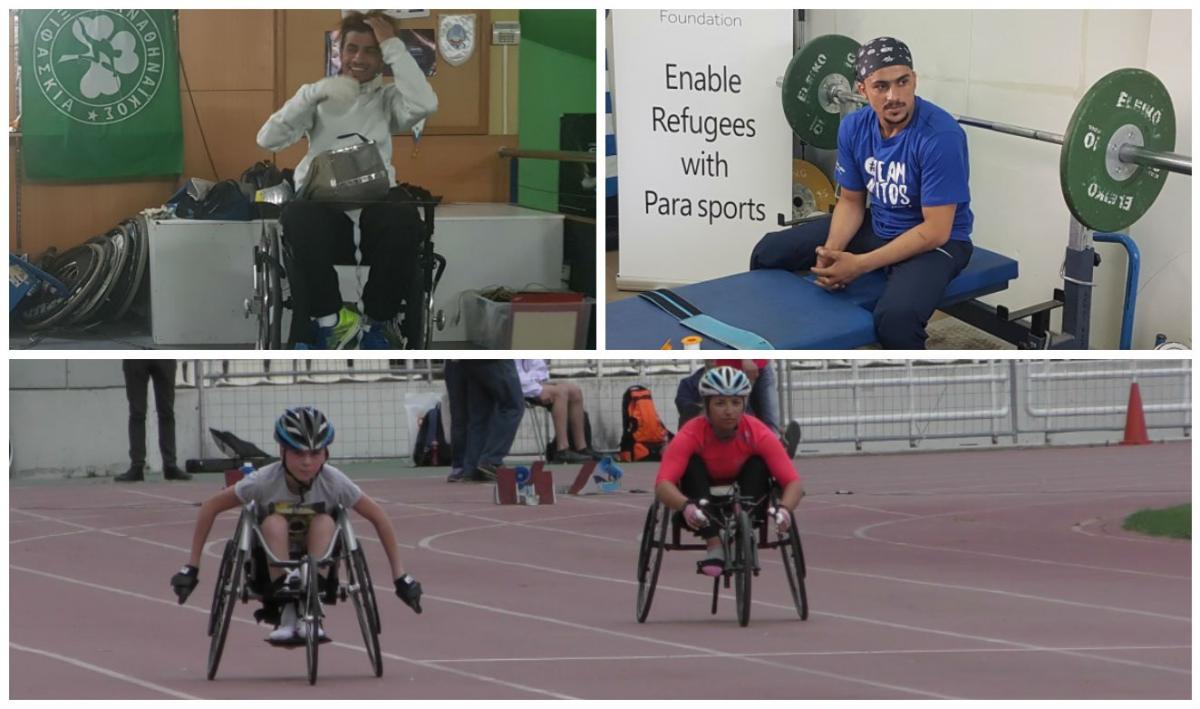 ⒸIPC
By IPC
Rio 2016 Paralympic swimmer Ibrahim Al Hussein is just one of many whose life took a new turn since taking up Para sports. The Syrian refugee's message of courage and determination is inspiring others to follow in his footsteps on World Refugee Day (20 June).
Thanks to an Agitos Foundation-funded programme in Greece, more refugees with impairments are getting the chance to experience the power of Para sport, and perhaps eventually compete at a high-performance level, like Al Hussein.
Rajab, Wisam and Najib are just three of the refugees whose athletic talents are being nurtured by "Paralympic Education Development in Refugee Populations," a project supported by the Agitos Foundation's Grant Support Programme (GSP).
The project, which began last October, was proposed by the Hellenic Paralympic Committee to create Paralympic awareness and training opportunities for refugees with impairments, both in their country and neighbouring nations, specifically Serbia and Cyprus.
It also provides opportunities for refugees with impairments to participate in training camps, and compete in local and national competitions – something Rajab, Najib and Wisam are experiencing already.
Twenty-two-year-old Rajab lost both his legs in a shell attack during the war in his native Iraq. Before arriving in Greece he had never participated in Para sports. But after getting involved in the GSP project, he has played wheelchair basketball, Para athletics (shot put), wheelchair fencing, cycling and powerlifting. His talent for powerlifting has led to him being trained by Greece's Paralympic champion Pavlos Mamalos.
"We have seen the progress in their lives since the beginning," said Fay Koutzoukou, Programme Coordinator/UNHCR Accommodation and Services grant from Solidarity Now; the Non-Government Organisation (NGO) has helped in reaching out to refugees on the United Nations High Commissioner for Refugees in Greece's (UNHCR's) mandate.
"Initially they were more introverted, not that willing to participate in activities we were organising. So this programme [Paralympic Education Development in Refugee Populations] has helped them be more social and get in touch not only with other refugees, but also Greeks, and that is very important."
Syrian Najib is just 13 years old and has a spinal cord injury from a shell attack. His participation in the project has led to him competing as a wheelchair racer at national athletics competitions, using a racing chair that he borrows from Greek Rio 2016 gold medallist Ana Korokida.
"Being a refugee with kinetic disabilities or other types of disabilities, it is very important for them to actually have an opportunity to do something better with their lives, both for the time that they will be accommodated here in Greece and then when they're relocated to another EU [European Union] country," Koutzoukou said.
Wisam from Iraq has a lower limb impairment due to polio and had experienced Para sports in the past as a sitting volleyball player. Thanks to the programme the 25-year-old has now discovered other sports, and in particular a special talent for wheelchair fencing.
"For those who will become recognised refugees in Greece and stay here, this is a ticket for doing something better with their lives," Koutzoukou said. "Because … [what] the system does is treat them as vulnerable asylum seekers. But through this programme they won't be treated as vulnerable but equal as others. So we think that is why it is important to support integration through sport."
So far, around 100 refugees with impairments in Greece have been identified and introduced to Para sports, with 10 of them marked as potential future elite competitors.
More about the "Paralympic Education Development in Refugee Populations"
The project's first stage has established a network of reliable contacts with theUNHCR.
The UNCHR provided a list of 100 refugees with impairments accommodated in Athens and the broader Attica region that are supported by several agents and NGOs subcontracting with the UNCHR.
NPC Cyprus has initiated a communications with UNCHR in their country and received a list of 15 refugees with impairments accommodated in the country. NPC Serbia is still to contact their respective government agencies to reach out to refugees in Serbia.
About the Agitos Foundation's GSP
The Agitos Foundation, the International Paralympic Committee's (IPC) development arm, has supported various projects that have been proposed by IPC members to help them develop Para sports. More information can be found on the Agitos Foundation's website.