Sydney 2019: Matt Skelhon 'laughs' his way to double gold
Debutant Tomas Pesek of the Czech Republic stuns the best for gold
18 Oct 2019
Imagen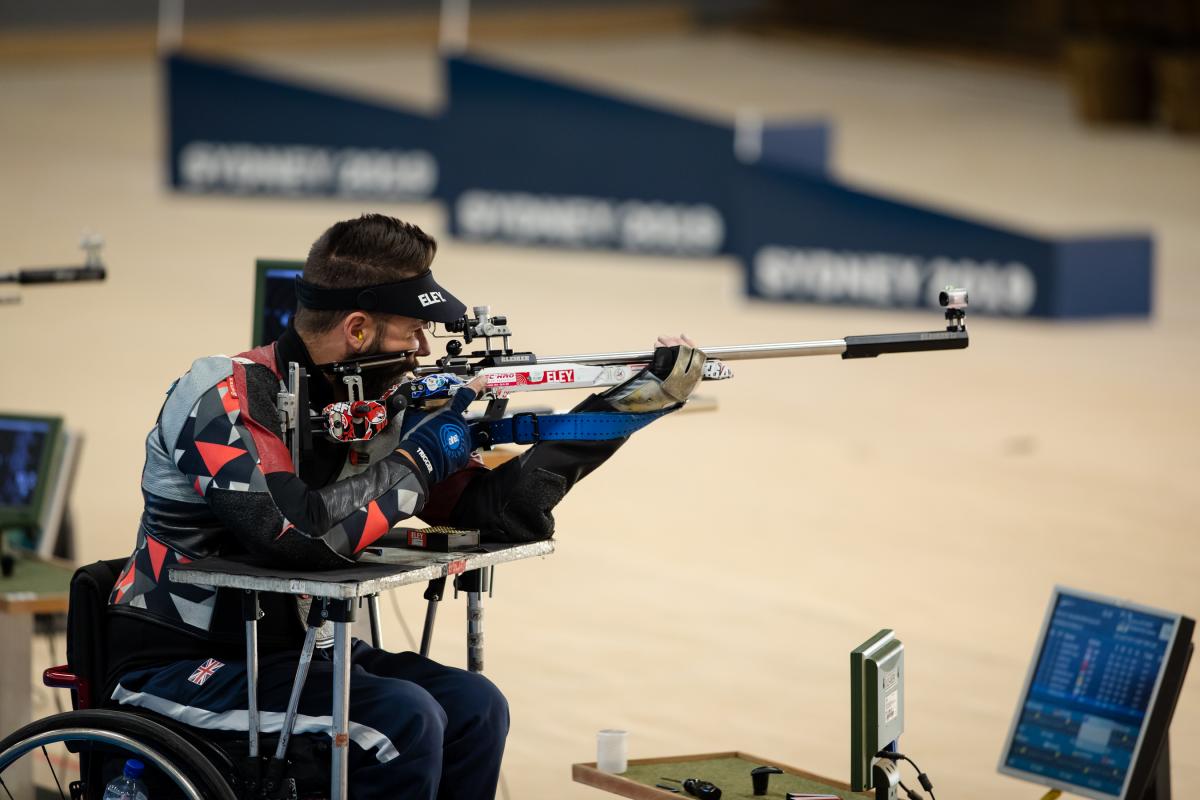 ⒸNarelle Spangher
By Ros Dumlao | World Shooting Para Sport
Matt Skelhon was seen cracking jokes in the tunnel leading to the hall where the summit clash was set to get underway.
The British shooter was clearly in a joyful mood before his last event and that seems to have proved to be a perfect winning recipe for him on Friday at the 2019 World Shooting Para Sport Championships in Sydney, Australia.
The stage was tailor made for Skelhon to relish. He was coming at the back of a gold medal winning performance and the packed house on the final day created an electrifying atmosphere.
Whatever the reason, Skelhon became a double world champion after securing the top honours in the R6 (mixed 50m rifle prone SH1). The achievement also saw him equal the world record of 215.4 set by Germany's Natascha Hiltrop in July.
Shelhon, thus, completing a grand double. He had earlier won gold in mixed 10 metre air rifle prone, on the opening day of the competition.
"There's no point in stressing before you get out here," said the Brit, who finished fifth in this event at the 2018 Worlds.
"I also think winning the R3 (mixed 10m air rifle prone SH1) title— I don't know, whenever that was. Last week?," joked Skelhon, the Beijing 2008 Paralympic Games gold medallist.
"That took the pressure off, so I could relax a bit. So ,it didn't really matter what happened today, so I could really enjoy myself," added Skelhon, who celebrated his triumph by fist pumping.
"I think once I was over a point in front, in my head I said, 'This is mine,' and stayed relaxed all the way through for a change, versus getting to the end and feeling (the pressure)," Skelhon said. "It was cool to feel a bit comfortable out in the front."
Hiltrop had no chance in catching Skelhon in the final shot series, finishing with a score of 247.8. Israel's Yuliya Chernoy claimed the bronze medal.
Memorable debut
The P1 (men's 10m air pistol SH1) saw the biggest surprise of the Championships when Tomas Pesek of the Czech Republic stunned the high- quality field to take the top prize.
Little was known of the World Championship debutant until spectators looked up at the score and saw him leading by almost two points.
 
"It is a beautiful feeling but I do not feel its full effect yet," said Pesek, who won by a huge margin of four points.
Pesek had not reached the finals at either World Cups in 2019, but his potential was seen last December when he won silver at the European Championships.
Despite defeating some big wigs comprising of China's Yang Chao and Huang Xing – medallists from the 2018 Worlds – and 2019 double world champion Oleksii Denysiuk of Ukraine, Pesek revealed that he was not sure about his chances of ending on the podium.
"No not at all, I didn't think I would win because this is the strongest competition I've ever faced. So it was also a big surprise for me.
"I had some expectation only when I saw I was one of the four left on the line."
Russia's Sergey Malyshev and India's Manish Narwal took silver and bronze, respectively.
Change is good
Pamela Novaglio is more at ease when shooting alongside Andrea Liverani.
It is a new feeling, one she would like to get used to as the Italian duo combined to win the R11 (mixed team air rifle standing SH2).
"This is a dream because I was in another sport (biathlon) and I did not have the possibility to compete in a team," Novaglio said.
"We were discovering a special way for training for this type of event, and we were synchronising in a special way in that we know whatever our teammate does, the other will do their best to cover their back."
 
Sydney 2019 has been historic by introducing the first mixed team events (three total) contested at a World Championships, further expanding the competition programme.
For the athletes, shooting as a team – especially in an individual sport – is a nice change.
Novaglio and Liverani shot a world record (497.0), overtaking the record shot by Sweden's Axelsson Vaughn and Jonsson in the qualification round earlier on Friday.
"It's a different mental experience to do this together, but we have been working together for the last month and we were able to win," revealed Liverani.
The Swedes took silver, followed by New Zealand, comprised of Brunzel and Michael Johnson.
The Sydney 2019 World Shooting Para Sport Championships ran from 12-18 October. Full medals table can be found online. Complete reviews and video highlights are available on the event website, and on the World Shooting Para Sport Facebook and Twitter page.