Sydney 2019: Second time is a charm for Anna Normann
Swedish shooter turns 2018 silver into golden memory at the World Shooting Para Sport Championships in Australia
14 Oct 2019
Imagen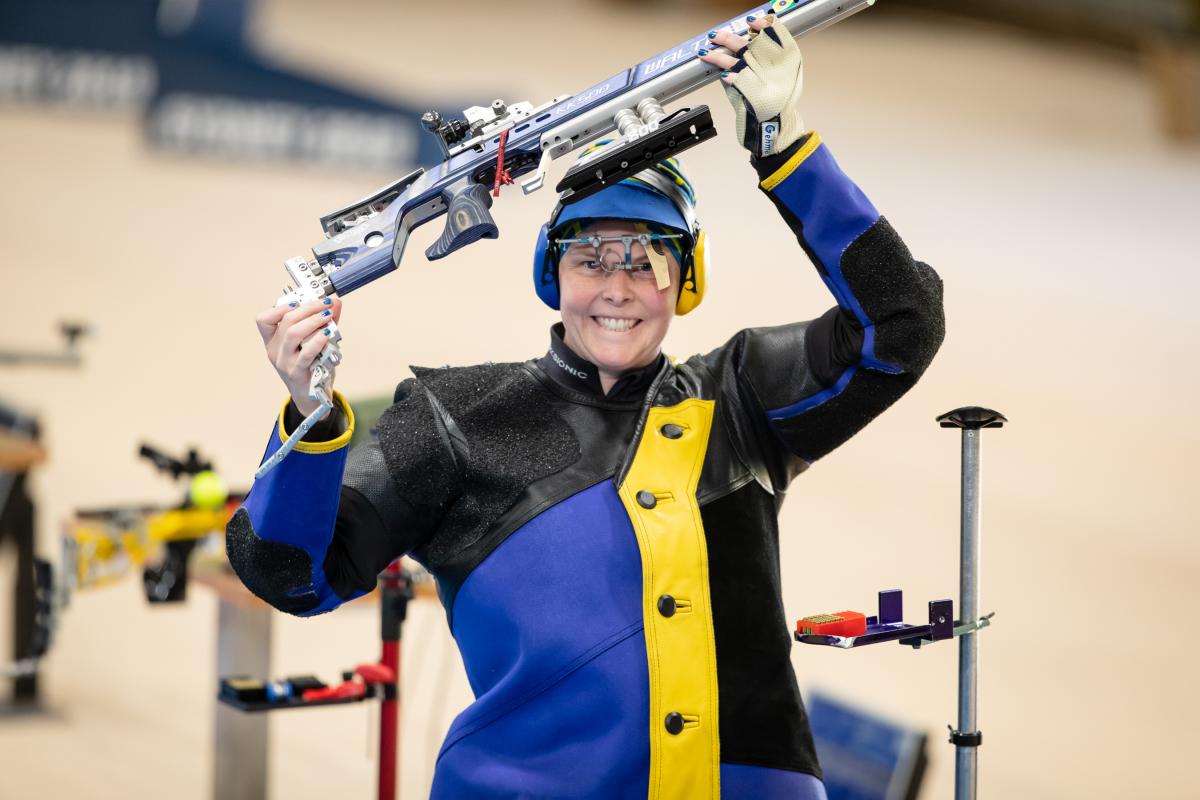 ⒸNarelle Spangher
By Ros Dumlao | World Shooting Para Sport
Anna Normann turned around toward the spectators with a confident smile, knowing – before it was even announced – that she secured her first gold medal at a World Shooting Para Sport Championships on Monday in Sydney, Australia.
The Swede took command from start to finish in the R8 (women's 50m rifle 3 positions SH1). But she admitted it was harder than it looked.
"I was very nervous," Normann said. "I shot well, but I had to fight for it. It was not smooth. I had to fight in every positon [kneeling, prone and standing] because if I did something wrong anything could have changed. So I'm so happy, this is really nice."
As one of the few 50m medal events, the R8 requires athletes to factor in wind speed and requires consistency across all positions. 
Normann also had to deal with other uncontrollable factors – her opponents.
She hit the nine-ring in her last few series, while South Korea's Yunri Lee found the 10-ring but could not quite catch up to the strong lead Normann had built early on to take silver.
Germany's Natascha Hiltrop appeared to make a comeback. But a 7.5 in her penultimate shot blew her chances of advancing. However, the German can celebrate her first World Championships medal after four appearances; last year she fell short of the podium. 
Normann, on the contrary, has not been in the shooting Para sport scene as long. 
She made her Worlds debut in 2018 in Cheongju, South Korea, where she impressed as a newcomer and took silver in the R8 (women's 50m rifle 3 positions SH1). 
"I actually changed my rifle after that, so I have a totally new rifle," Normann said. "I was not so happy with the old one. 
"I ordered it just two months after Cheongju but I didn't get it until this May. So it took 10 months to get the new rifle."
It did make a difference, as the former Swedish Army officer, who injured her ankle in 2014, won her first career gold in the sport at July's World Cup in Osijek, Croatia. 
And now, she has her first World Championships gold. 
New rifle king crowned
The R7 (men's 50m rifle 3 positions SH1) also saw a new face at the top of the podium in China's Tian Fugang. It was Tian's first World Championships finals appearance, as he did not reach either of his finals last year.
The experience was more memorable as he captured his highest individual career finish since shooting for almost 10 years.
"I just focused on shooting an average shot," Tian said. "I didn't even look at my opponents' results.
"Once the result came out, I was excited. But during the process, I just did what my coach said and what he taught us."
UAE's Abdulla Sultan Alaryani could not defend his title due to health issues, but that should have opened the way for South Korea's Jinho Park.
The South Korean was looking to make up for his silver medal from 2018. But his Chinese counterpart had a strong enough lead and was too consistent to be caught.
China's Dong Chao took bronze.
Pistol perfectionist
After winning individual gold on opening day, Ukraine's Oleksii Denysiuk teamed up with Iryna Liakhu to extend his pistol perfection. 
The duo combined for another world record victory of 477.2 in the P6 (mixed team 10m air pistol SH1). It was the first time the event was contested at a Worlds. China came in second, followed by Turkey. 
"It's a victory for our country," Liakhu said. "It's very comfortable and calm to compete alongside Denysiuk."
Action continues on Tuesday with vision impaired VIP (mixed 10m air rifle prone SH-VI); P4 (mixed 50m pistol SH1); and R5 (mixed 10m air rifle prone SH2).
The Sydney 2019 World Shooting Para Sport Championships run until Friday, 18 October. 
More information is available on the Sydney 2019 website, and on the World Shooting Para Sport Facebook and Twitter pages.