Three is the magic number for Vanhove brothers as Belgium go for goalball glory
Tom and Bruno Vanhove have been joined by younger brother Arne
29 Aug 2021
Imagen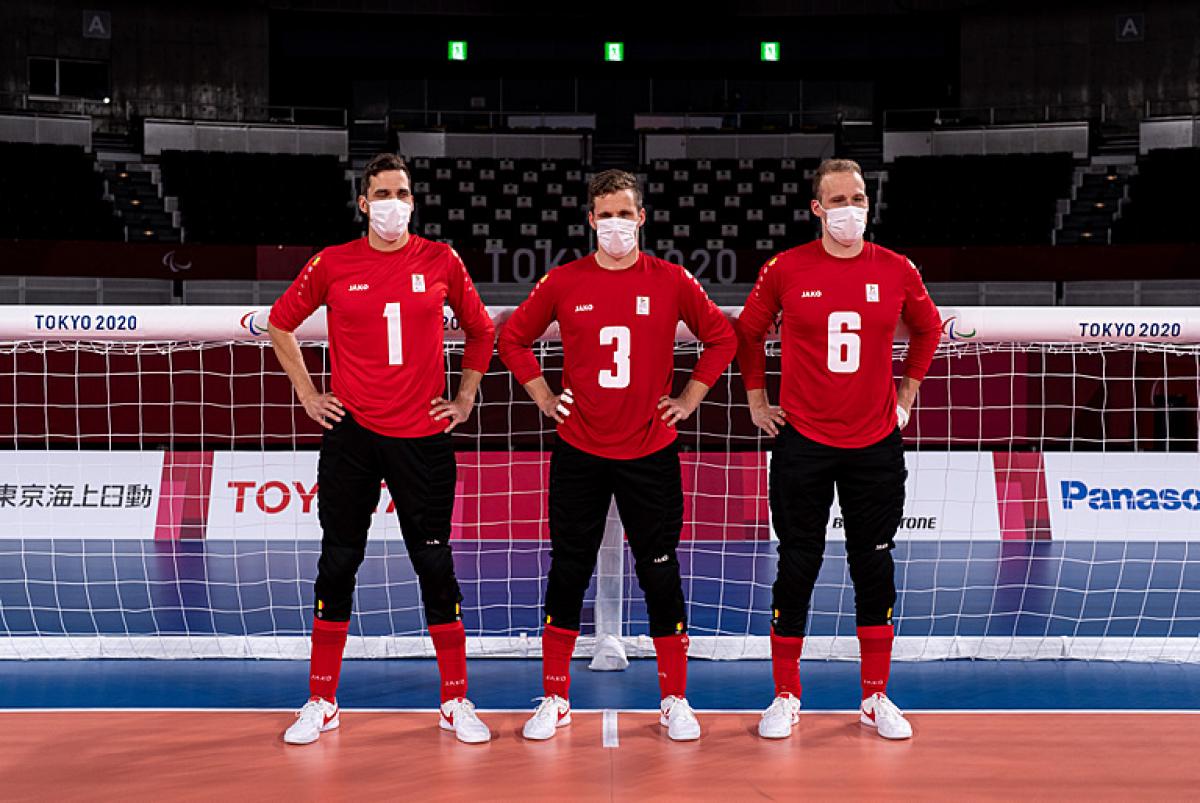 ⒸPhoto: OIS/Joe Toth
By OIS
Brothers Arne, Bruno and Tom Vanhove, who were born as part of sextuplets, are hoping to play their part in delivering Belgium's first goalball medal in Paralympic Games history.
The trio were born in Bruges in August 1983, along with three brothers who do not have visual impairments. They made national headlines for the rare nature of their start in life - and later started making headlines as goalball players.
Bruno represented Belgium at the Beijing 2008 Paralympic Games, and was joined by Tom at London 2012. At Tokyo 2020 with all three in the squad, and Belgium qualified for the quarterfinals, they are now hoping to make headlines for their performances rather than unique family ties.
"Being part of sextuplets is not an achievement," said Bruno. "Being here at the Paralympic Games is an achievement and something we're proud of."
The brothers played most sports in their garden as children, where they did not have to look far for teammates or opposition. "I think it helps being part of six," Tom said. "You're naturally playing together - and sport was always our thing."
Their visual impairments made it hard to take part in organised team sports, until at the age of 12. "The only developed sport with a ball, with a team, in Belgium at that time was torball (a game similar to goalball), so that was the only choice we had," Bruno said.
The brothers all moved onto playing goalball, with Arne eventually stepping away from the sport to concentrate on his studies and work. However, inspired by his siblings at the Games in 2008 and 2012, he decided to fight for a spot in the team for Tokyo 2020.
"Five or six years ago I said to myself, 'Maybe I can start over'," Arne said. "I saw my brothers play and it really got me excited.
"I worked hard towards my goal to get to the Paralympics. I'm glad I can share it with my brothers, but it's a team effort."
Indeed, the trio are always quick to mention the other members of the Belgian squad, including those who missed out on Tokyo 2020.
"We've always been focused on performances, regardless of whether you're a brother, because there are other teammates who train day in, day out every week," Bruno said. "They are friends too - almost family."
The close-knit squad have done enough to make it through to the knockout stage after wins against China and Turkey, and are now hoping to take a first goalball medal home to Belgium.
"That would be a very big thing, but we're keeping our feet on the ground," Arne said. "Our goal is to win the quarterfinal, and from then on everything is a win for us."
Bruno agrees: "We're focused on performances right now, but after the Games, it will be wonderful to look back on the Tokyo 2020 Games and talk about (it) at the family table," he said, "(But) we don't get medals for being sextuplets, we get medals for winning games."