Throwback Thursday: Chantal Petitclerc
The most decorated Canadian Paralympian is carrying over her experiences into her role as Chef de Mission.
24 Sep 2015
Imagen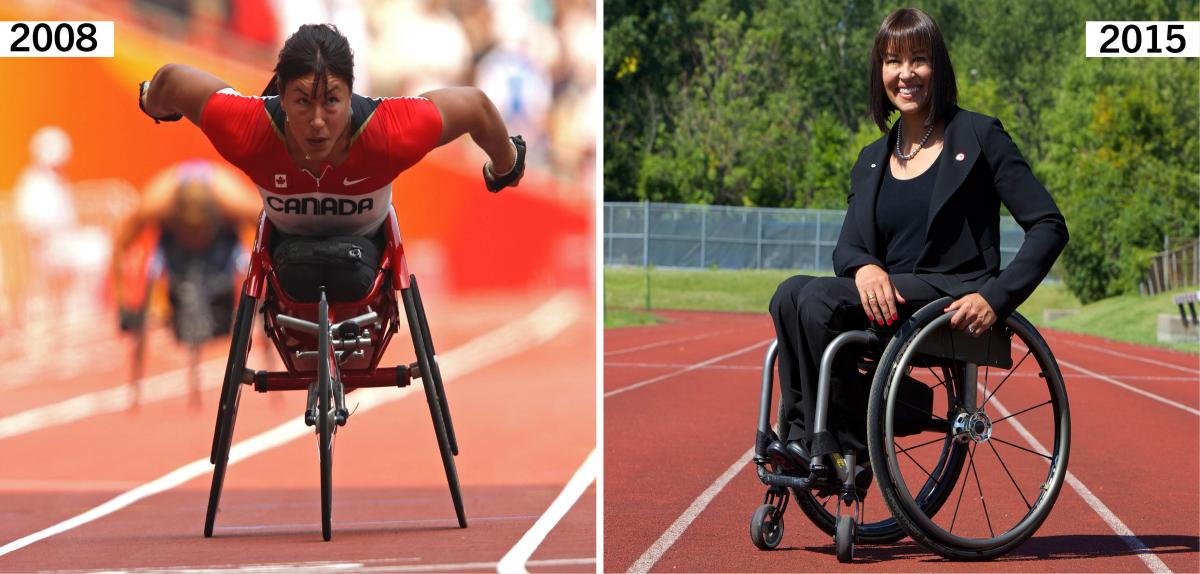 ⒸCanadian Paralympic Committee
By IPC
One of Chantal Petitclerc's favourite Paralympic memories was not captured on camera. For the most decorated Canadian Paralympian, it happened after winning the gold medal in the women's 100m T54 race at the Beijing 2008 Games.
"One the way back with my first gold medal of the Games, across security was the entire Chinese track team, so the silver and bronze medallists, coaches, everybody was properly lined up with their official uniforms," Petitclerc recalled. "It was late. Everything was finished [for that day]. But they did not wait until the next day to congratulate me.
"I didn't know them, they didn't know me; I kind of ruined the day for them. But in five Paralympic Games and 20 years, the ultimate sportsmanship and great class gesture that I've ever had [was from the Chinese]. … Every time I tell that story, it still brings memories and tears because I have this vision of them and my coach moving forward to shake hands."
It is moments like those that helped shape how Petitclerc approaches her role as Chef de Mission for the Canadian Paralympic team.
The Chef serves as the team leader and spokesperson for the athletes. As a former athlete – who won 21 medals, including 14 golds, and smashed world records – Petitclerc said her experiences from five Paralympic Games helps her understand what it is like to be in the athletes' shoes as they prepare for Rio 2016. She also worked as a coach and mentor with the British athletics team at the London 2012 Paralympics, which also gives her a different perspective.
"[With my experiences] I think I have the respect from the athletes because they know I know what it takes, and they have to believe me," Petitclerc said. "I know what it is like to be an athlete and I have also lived the Games as a coach and know how much work they do."
Compared to when she was competing, Petitclerc said the Chef no longer needs to handle operational aspects of Games preparations but instead can focus more on leadership and athlete support.
This winter, she will go on a cross-country tour, visiting 10 cities in Canada beginning in the winter to promote Paralympic sport and the athletes around the country.
"Always, always in the back of my mind is 'How is that going to help our athletes?' That is my only priority," Petitclerc said. "I truly believe that creating a positive dynamic sports environment and performance environment for the athletes is important as Chef."
Petitclerc retired after Beijing 2008, leaving the sport with five world records (100m, 200, 400m, 800m). But one of her opponents whom she had raced alongside in her career the USA's Tatyana McFadden has been knocking down those records down, so far in the 400m and 800m.
With the 2015 IPC Athletics World Championships coming in October to Doha, Qatar, Petitclerc knows world records will fall. But she hopes her 200m record will stand a bit longer.
"I have known her for such a long time and it is funny because in Lyon [France at the 2013 World Championships], she broke my world record in the 800m, and the reactions come in two movements," Petitclerc said. "At first, you think 'It's my world record.' You want to keep it, and the second wave I'm texting her and saying congrats because she is deserves it and she's talented."
"I think she can do it [break my 200m record]," Petitclerc said. "I hope it takes a long time because I like to stay on that title as long as possible."