Timothy Hodge leads home squad at season opener World Series in Australia
Citi Para Swimming World Series kicks off in Melbourne with 93 athletes from 11 countries including a local star aiming high for the new season
16 Feb 2023
Imagen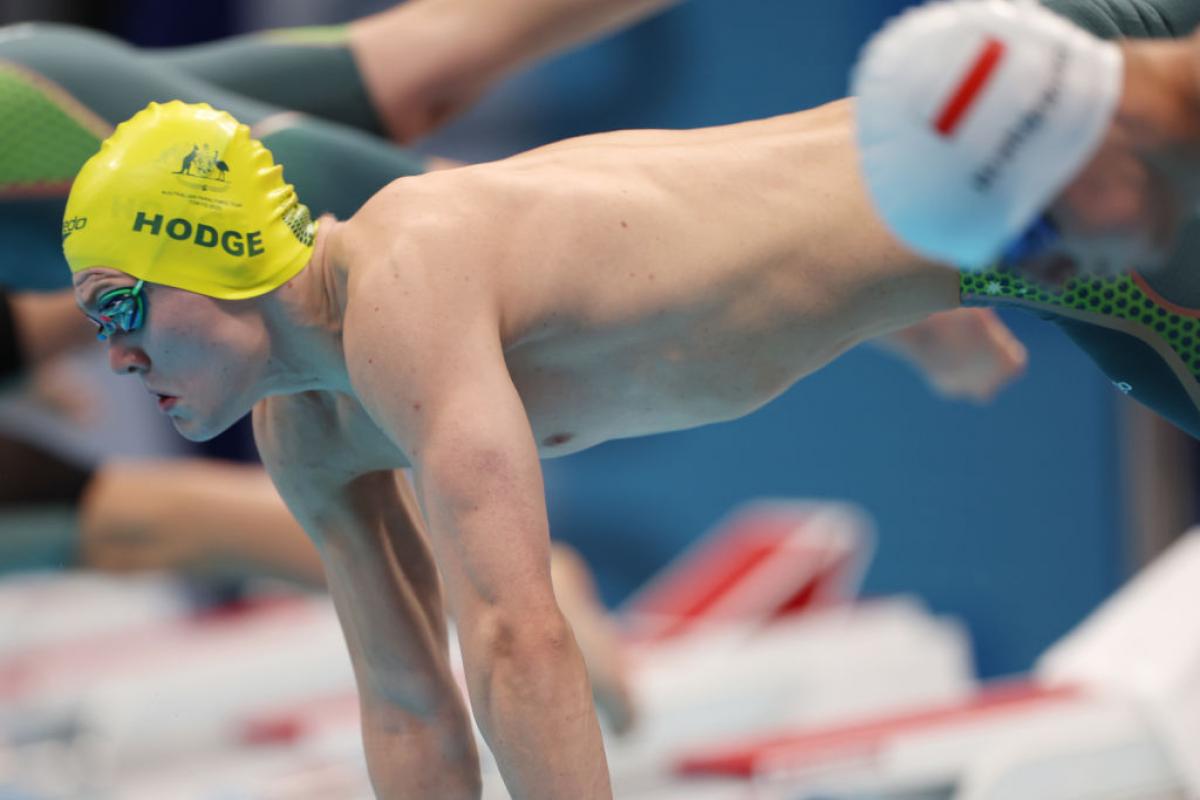 ⒸLintao Zhang/Getty Images
By Victor Pereira | For World Para Swimming
The wait is finally over and the world's best Para swimmers from different corners of the world are ready on their marks for the season opener Citi Para Swimming World Series Australia 2023.
From 17 to 19 February (Friday to Sunday), the Melbourne Sports and Aquatic Centre welcomes 93 athletes from 11 countries for multiclass races and the start of their journeys towards the Manchester 2023 Para Swimming World Championships and the Paris 2024 Paralympic Games. 
The competition will be streamed live on Swimming Victoria YouTube channel with finals live on the World Para Swimming website.
For local star Timothy Hodge, the World Series will be an important opportunity for improvements. 
"I've been working on improving on my weaker points of my race plans, and getting more experience in execution. I'm also preparing by putting in the hard yards in training both physically and mentally", said the 22-year-old.
Hodge kicks off the season among the favourites to medal in home waters coming off a successful 2022 season with high-level performances such as in the World Championship in Madeira, Portugal. The Australian swimmer grabbed his first gold medal at a global competition breaking a 14-year-old world record in the men's 200m individual medley SM9.
"Winning a World Champs gold and breaking a world record is hopefully just the tip of the iceberg. With every race, there's always room for improvement, and there's no set limit on what you can do, only what you believe you can do," Hodge said. 
The swimmer followed his gold in Madeira with another triumph at the Commonwealth Games in Birmingham, Great Britain, in the men's 100m backstroke S9. In Melbourne, he will be in the water in the 50m, 100m, 200m and 400m freestyle, 50m and 100m backstroke, 100m breaststroke and butterfly, and 200m medley.
"I believe I can always improve, whether it's in a new event or lowering my own World Record time," added Hodge, or Tim as he is best known. 
"My goals for the season include, firstly, qualifying for and competing at the World Champs in Manchester, as well as hitting my target times this year, and getting some solid training and technical development in the lead up to next year's Paris Paralympic Games".
Australia 2023 takes place at the Melbourne Sports and Aquatic Centre for the fourth time. Alongside Tim other 17 local swimmers are going to perform in front of the home crowd, with families and friends in the stands providing addition support for them to go the extra mile.
"It helps me remember how much support I have, and makes me proud to represent them and my country, with a home crowd to cheer me on to the finish. In international sport, these home experiences don't come too often, and it's important to enjoy the atmosphere and make the most of it", Hodge said.
Paralympic champion visitors
Other 10 nations from Americas, Asia and Europe will be represented at the opening Citi Para Swimming World Series of the 2023 season. Hosts aside, Canada brings the biggest team with 19 swimmers including 22-year-old Paralympic medallist and World Champion Tess Routliffe (S7).
Routliffe will be in the pool for the 100m freestyle race and the events she grabbed medals in the last World Championships - 100m breaststroke (gold) and 200m medley (silver). In addition to competing, Tess is also part of the World Para Swimming Athlete Advisory Group.
Their mission is to represent the views of the entire Para swimming population, including all impairment types, looking for equal gender representation, and making their voices heard within World Para Swimming.
Another member of the Athlete Advisory Group in action in Australia will be Ireland's Paralympic champion Ellen Keane (S9). She will compete in the 100m breaststroke event in which she won a gold medal at Tokyo 2020 and a silver at Madeira 2022. Keane also swims in the 100m freestyle and 200m medley races.
Para swimmers from Afghanistan, Singapore, China, and Hong Kong will be the Asian representatives at the World Series Australia 2023.
First of nine stops
Melbourne will be the first of nine cities across the globe to host the Citi Para Swimming World Series until November. 
The next stops will be Lignano Sabbiadoro, Italy and Sheffield, Great Britain in March followed by Indianapolis, USA and Singapore in April.
Germany and France will host Series in May and then Mexico will welcome the World Series in October with a final stop still to be confirmed.  
Athletes take part in multiclass races and their results at each Series are calculated using a standardised World Para Swimming points system.
At the end of a World Series' season, the best female and male swimmers' awards are picked based on rankings.
Last year, Colombia's Carlos Serrano and Germany's Tanja Scholz were the winners of the top overall male and female categories, respectively in the 2022 World Series.